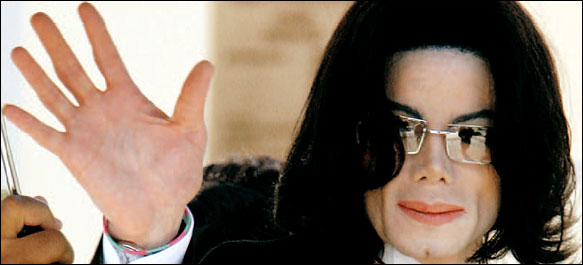 Michael A. Mariant/Associated PressMichael Jackson at his trial in April 2005.
The New York Times
Books
'On Michael Jackson,' by Margo Jefferson
The Man in the Mirror
Review by TOURÉ
Published: January 15, 2006
It's got to be really hard to write a short meditative essay about Michael Jackson, not unlike walking up to a sumptuous buffet and taking just a small plate. Jackson is probably the most deconstructable star of the past 30 years. His tabloid-headline life speaks to our obsession with fame. His seeming desire to slice the blackness from his face through repeated plastic surgery reflects our confusions about race as well as our overindulgence in cosmetic enhancement. The guttural cries and whoops, those prelingual ad-libs he includes in almost every song, link him to old blues recordings; but when laid over state-of-the-art grooves suggest a conversation about how to mix old-school Negro tropes with the latest African-American flavor. And I'm just getting started. How do you square Jackson's preoccupation with childhood innocence with the pseudomilitary iconography of his wardrobe and the flashes of violence in his videos? Or the business savvy that led him to purchase the lucrative song catalogs of the Beatles and Sly Stone with the gross financial mismanagement that may soon cost him those catalogs?
ON MICHAEL JACKSON
By Margo Jefferson.
146 pp. Pantheon Books. $20.
I could go on, but I'll run out of real estate. But despite the lack of any such restriction, Margo Jefferson, in her Kate Moss-thin book, moves through the major aspects of Jackson's life and ends quickly, without finding much uncharted territory. She touches on Jackson's love of Peter Pan, the increasing strangeness of his face, the way he studied the singer Jackie Wilson from the wings as a child, his standing up to his father's intimidation - all the usual Jacko touchstones, couched in the poetic writing you'd expect from a Pulitzer Prize-winning Times cultural critic. "He loves genres that emphasize mutable identities, carefree cartoons and horror tales," Jefferson writes. "And it's mutability that makes his dancing so special. That ability to turn a James Brown funky chicken smoothly into Josephine Baker's knock-kneed Charleston. . . . He has the ability to be liquid and percussive all at once, to create an aura of suspense and improvisation."
Lovely sentences, sure, but this meditation arrives years late, at a time when the story of the child star who became the world's biggest star and then became a freak has been told in so many books, articles, TV movies and documentaries that we know it by heart. Jefferson has a hard time finding new information that doesn't sound like fanzine factoids: Oldest brother Jackie is the one who first said little Michael should be the lead singer. Contrary to Jackson mythology, it wasn't Diana Ross who discovered the brothers but Gladys Knight. Jermaine "came to see Michael's eventual triumph as a betrayal." Marlon got the most beatings. Rebbie has released six albums in Japan. After Michael named his first two sons Prince Michael, Jermaine responded by naming his son Jermajesty.
Jefferson does sometimes find new ways to see Jackson, linking him to Shirley Temple (another child who mimicked and played with adult sexuality) and Little Richard. Michael has never suggested that Little Richard was an influence, but Jefferson argues that by watching him he learned how to bring both masculinity and femininity to the stage. "I am not saying that Michael Jackson is gay," she writes. "I am saying that he draws on gay culture - its signs and codes - but pretends that he doesn't and that we shouldn't notice."
Jefferson also points out that Jackson came along when American culture was particularly open to youthful sexuality: "The 70's were an interesting decade for child performers. The culture was clearly obsessed - let's say 'conflicted' - about children." It was the era when Brooke Shields and Tatum O'Neal arrived and Jodie Foster played a teenage hooker in "Taxi Driver." "This may seem distant from the Jackson Five, but it is not distant from Michael," Jefferson writes. "He was as much an object of sexual fantasies as any of these girls."
After Jackson's childhood, which was long on sexualization but short on self-esteem, it's not surprising that he grew up to have a strange sex life. Nearly everyone has an opinion on that sex life and on whether Jackson behaves inappropriately with little boys or is not touching them and is merely misunderstood. Jefferson wants it both ways so badly her conclusions are a bit hard to credit. She offers one of the most sympathetic explanations imaginable: "Is it possible that Michael Jackson sexually engages children? Yes. He compulsively reimagines the violation of his own innocence, then purifies himself with kind, caring acts. But isn't it just as possible that he is asexual? That he basks in that innocence and shelters it just as compulsively - that he is tempted but resists time and again? He sets the scene of his own violation, repeats the scenario but rewrites the ending. He rescues himself and the child. And yet, he experiences the excitement - the eros - of being tempted."
Sure, it's possible to believe that. If you're a Jacko fanatic. Or naïve. Jefferson grew up loving her subject, and maybe it's love that leads her to see Jackson so optimistically, and also to stop writing so soon. Whether you're looking at Jackson's face or his life, the longer you look the worse it appears.
Touré is a correspondent for BET and the author of "Soul City."