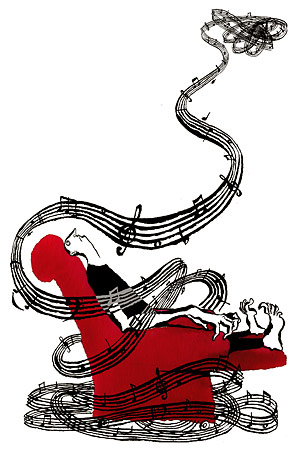 The New York Times
Art
January 15, 2006
Everyone's Invited to Wolfgang's Party, Willing or Not
By BERNARD HOLLAND
BRACE yourselves. The 250th anniversary of Mozart's birth is upon us, and there is heavy weather on the horizon. Blizzards are impressive both for their power and for their tendency to obscure our senses. We shall have Mozart blowing in our faces for the next year, and the accumulations will be staggering. We shall hear the good and the bad, the long and the short, the loud and the quiet, the famous and the obscure. It will take all of 2007 to dig our way out.
Concert programmers and opera managers can scarcely believe their luck. Here is a theme to hang one's season on, and nobody doesn't like Mozart. In Mozart's hometown, the Salzburg Festival is doing all the operas, including such childhood knockouts as "Ascanio in Alba" and the prepubescent "Bastien und Bastienne." Salzburg's chocolatiers may have to farm out production of Mozart kugels to Southeast Asia. Vienna, which stakes its claim as Mozart's home, too, during the 10 most productive years of his life, will present the appropriate products.
It was heartening to hear BBC Radio in London stand up and say no, not long ago. Having presented marathons of all of Bach (10 days) and all of Webern (less than four hours), the BBC took a pass on what would have been two relentless weeks of music from a man we hear so much of during any year. Officials feared a "too chocolate-boxy effect." One can puzzle over the explanation but be thankful for their decision. They must surely have looked back 15 years to Lincoln Center's we'll-perform-every- scrap-the-guy-ever-wrote assault on Mozart for the 200th anniversary of his death in 1991.
Art likes to set itself above commerce, but volume rules as much here as it does at U.S. Steel. More money makes banks better. More oil makes drilling operations better. More Mozart makes music better. There may be a revelatory "Don Giovanni" to come in 2006, or a more satisfactory edition of the Requiem, or new light on the string quartets, but make no mistake: this Mozart celebration will concern how much and how many at least as much as how good.
The Lincoln Center experience should be cautionary. It turned art into accountancy: Which visiting orchestra can we get to do the B flat Symphony (K. 22)? I'll bet we can pressure some debut pianist who's hiring the hall to do those four little sonatas Mozart wrote when he was 10. Where in the world do we find people to sing the canons, and where do we put the concert? Do we have to fly someone in to play the glass harmonica? What about the stuff for mechanical music boxes? Producers became like warehouse managers, measuring artistic success in knowing how to find things and get them on the trucks.
The effort was touching in its way, but it didn't have much to do with music. What came to mind was the legendary Juggler of Notre Dame, who, unable to offer up solemn Masses or beautiful music, performed his act before the altar. Musical marathons of any sort are like this. They pay their debt to great music with logistical skills and physical endurance on the part of both performer and listener. Music for its own sake becomes lost in the shuffle.
A marathon, or a complete anything defined by a time frame, is like a book without punctuation or paragraphs. No sooner do we begin dealing with the end of "Hamlet" than "King Lear" starts up. We don't need everything, much less a deadline to hear it in. We need a few things and a lot of space between them: the musical equivalent of those quiet cars on Amtrak trains to let us absorb what we have heard.
My fantasy Mozart 250th-anniversary year would pick two operas ("Così Fan Tutte" should be one of them), invest the productions with all the thought, talent, rehearsal time and material assistance the music world possesses, then take them around the world. Three weeks to a month should intervene in any one place. No operatic Mozart to be allowed between the two. And iPods will be fitted with anti-Mozart locks to be activated at appropriate intervals.
Choose two symphonies between Nos. 29 and 35. These are the ones known, loved but not belabored. Present them first with an early-music, period-instrument quick-tempo band and then with a 21st-century orchestra in the slower Wilhelm Furtwängler-Bruno Walter style. People will hear how time has changed Mozart, or at least changed our ears.
Take on tour, in two- to three-concert series, the six string quartets dedicated to Haydn along with the mature quintets. Give them to a group of longstanding excellence known for homogenous sound and coordination, but also give them to musicians who have never played together. There are two kinds of beauty here, both serving Mozart. Do the same sort of thing with the concertos, the instrumental pieces and the liturgical music. Avoid juvenilia for the sake of novelty; a lot of it is very boring.
You will get Mozart from every direction for the next 12 months. Presenters don't even have to pretend they have guts and imagination. They will simply throw more of the same at you and bask in their righteousness. Have courage, and be selective. Spend time at home with cotton in your ears thinking about Mozart. Don't try to listen to all of anything. More Mozart is not the path to the idea of Mozart.