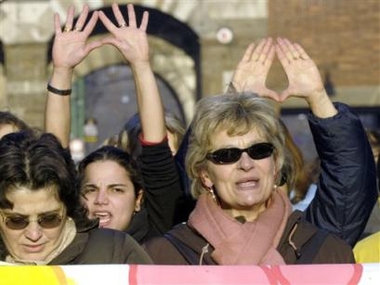 AP - Sat Jan 14, 12:55 PM ET
Some of the tens of thousands of women who marched through downtown Milan, Italy, Saturday, Jan. 14, 2006 to keep Italy's liberal abortion law intact while gays rallied in Rome Saturday to push for legal recognition for homosexual couples as both issues heated up in the campaign for the premiership. (AP Photo/Giuseppe Aresu)
Women March in Milan to Keep Abortion Law
By FRANCES D'EMILIO, Associated Press Writer
Sat Jan 14, 3:04 PM ET
Tens of thousands of women marched through Milan on Saturday to demand Italy keep its liberal abortion law intact while gays rallied in Rome to push for legal recognition for homosexual couples.
Both topics have become issues in Italy's election campaign, and the Roman Catholic Church and ministers in Premier Silvio Berlusconi's conservative government were scathing in denouncing the rallies.
"These demonstrators are really nauseating," Reforms Minister Roberto Calderoli, a member of the right-wing Northern League, was quoted as saying by the Italian news agency ANSA. "Family is a serious thing, based on love between a man and a woman."
Culture Minister Rocco Buttiglione, who is close to the Vatican, told reporters that people's energy should be spent on pro-family efforts like finding jobs and housing.
"These are the political problems you should put the spotlight on, because without children, Italy dies," Buttiglione said.
The Vatican newspaper, L'Osservatore Romano, denounced as "provocations" efforts to give legal recognition to unmarried couples "independent of whether the partners are of different or the same sex." A program on Vatican Radio described the gay rally in Piazza Farnese as "ideological sexuality."
A crowd of gays and their supporters filled the Rome square to lobby for legal recognition for both gay and unmarried heterosexual couples. "Let's free love from religious phobia," read one banner in the crowd, estimated by police to number about 1,000.
Piazza Farnese, where a Renaissance palace is home to the French Embassy, was chosen for the rally because in 2002 two Italian men registered their union at the French consulate under a French law giving broad legal rights to gay couples. One of the two men also had French citizenship.
Paola Pollice, 38, and Marco Sodini, 40, unmarried, brought their three children to the rally. "We are here to offer our support to non-heterosexual couples and their families," Sodini said.
The Milan demonstration, whose slogan was "Let's emerge from silence," was organized by women concerned that Catholic politicians, encouraged by the Vatican, will try to undo a 1978 law that makes abortion legal during the first three months of pregnancy.
Police estimated 50,000 people joined in the march, which ended in the square in front of the Duomo, the city's Gothic cathedral.
The events came two days after Pope Benedict XVI said it was wrong to give legal recognition to gay unions and also reaffirmed the Vatican's condemnation of abortion.
Italian bishops have made abortion a campaign issue for the first time since 1981, when Italians upheld the law in a referendum that had been backed by the Vatican in a bid to overturn the legislation.
Politicians in the center-left opposition challenging Berlusconi in April 9 parliamentary elections have been divided over how far to go in granting rights to homosexuals who live together. It is a delicate question for Romano Prodi, a Catholic who is Berlusconi's opponent for the premiership.
Italian gays and women protest against Vatican
By Rachel Sanderson and Roberto Bonzio
Sat Jan 14, 1:21 PM ET Reuters
Tens of thousands of Italians protested on Saturday demanding legal recognition for gay unions and the right to abortion, two days after Pope Benedict condemned homosexual marriage and the use of the abortion pill.
Clutching banners reading "We will no longer be silenced," the demonstrators, many women and gay couples, crammed into squares in Rome and financial capital Milan.
"We thought the church had withdrawn from interfering in Italian politics ... but instead there is a terrible resurgence. These are ugly signs for freedom of expression," Nobel literature laureate Dario Fo, a social campaigner, told reporters at the Milan protest.
Police said 50,000 people were gathered in the northern city's Piazza del Duomo overlooked by its giant Gothic cathedral. Organizers put the number at 100,000.
At the Rome demonstration, gay couples and a man in a strapless white wedding dress posed with Pope Benedict's picture.
Italy goes to the polls on April 9 and the Church's position on a host of issues could play a significant role in the result.
Gay unions are already legal in several European countries, including traditionally Catholic Spain. In Italy, the Vatican and many politicians are fighting the mere suggestion.
Pope Benedict in an address on Thursday said the defense of traditional marriage was "not a peculiarity of the Catholic moral teaching but part of an elementary truth regarding our common humanity."
He said it would be "a grave mistake" to legally recognize "other forms of unions."
Ministers from Prime Minister Silvio Berlusconi's center-right coalition on Saturday ratcheted up the Vatican's condemnation.
"These protests have absolutely sickened me," Reforms Minister Roberto Calderoli, a member of the populist, right-wing Northern League party said.
"These filthy things have made absurd claims for privileges on the basis of unproductive sex .... These are out of place and revolting."
Culture Minister Rocco Buttiglione said Italy's responsibility was to protect young heterosexual couples to allow them to have children, not to look after gay couples.
"Without children, Italy will die," Buttiglione said.
The election will pit former European Commission President Romano Prodi's center-left group, "The Union," against Berlusconi's ruling center-right.
Italy's Catholic Church has already served notice to the center-left that it will fight any move to recognize civil partnership for unwed heterosexual couples and gay couples.
Prodi has promised some form of recognition for unmarried couples but has stopped short of supporting gay marriage. His refusal to take part in Saturday's protests has caused a rift with some of the smaller left-wing coalition parties.