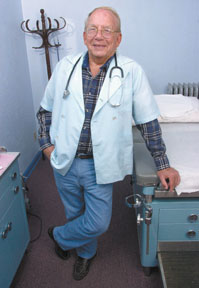 CHIEFTAIN PHOTO/FILE
Dr. Stanley Biber performed approximately 5,000 transgender operations during his 35-year career.

Sex-change surgeon Stanley Biber dies
By MIKE GARRETT
THE PUEBLO CHIEFTAIN
TRINIDAD - Dr. Stanley Biber, a world-renowned surgeon who specialized in sex-change operations, died Monday at St. Mary-Corwin Medical Center in Pueblo.
Biber, 82, had been hospitalized for about two weeks with pneumonia. He had been listed in critical condition in the hospital's intensive care unit.
Biber performed an estimated 5,000 transgender surgeries in Trinidad over a 35-year career, earning the city the unwelcome moniker of Sex Change Capital of the World.
Biber was a former Las Animas County commissioner, longtime Mount San Rafael Hospital board member and community activist and fundraiser.
"He was a great man. I'm not very good at talking, but he was a great man and a great boss," said Marie Pacino, his practice secretary of 28 years.
Despite his advanced age, Biber still maintained a part-time local medical practice and his cattle ranch east of the city. He retired from performing sex change operations in 2003, unable to get medical malpractice insurance due to his age.
Funeral arrangements were pending Tuesday. Comi Funeral Home in Trinidad is handling the arrangements.
Biber's legacy continues with his protege, Dr. Marci Bowers, who underwent a sex-change operation several years ago and performs an average of five transsexual operations a week at Mount San Rafael.
"I visited him twice while he was in intensive care and he looked to be himself with good color. He was just sick and on a ventilator," Bowers said Tuesday. "He was so active and vital, doing his last cattle drive in December. We all thought he would live another 10 years. From my visits with him it was so obvious how much he was loved by everyone.
"He was extra special to me because of his place in my heart," said Bowers. "He was not my surgeon but he was someone I looked up to as a father figure who taught me many of my skills. He and my mother shared a birthday and his parents and my parents had both been in the furniture business."
Another irony, Bowers said, is that she started performing her own "sex reassignment" surgeries at about the same age, 45, that Biber began the procedures in 1969.
"I feel he is still with me, with a little sadness in my heart but a bounce in my step," said Bowers. "He has left a large pair of shoes to fill and I'm not sure I'll ever get there. I don't think anyone can ever replace him.
"He was larger than life, not just so much by what he accomplished and what he did for the city and the transgender movement but it's who he was and the aura he had about him," said Bowers. "For an 80-year-old he walked with kind of a swagger, completely upright. I've never seen an 80-year-old walk so solidly and confidently."
Bowers noted that "legend has it that Biber did nearly 5,000 sex-change operations although the record keeping back then isn't what it is today." At the peak of his career, hospital records show that Biber averaged around 165 gender-change operations a year.
Bowers also didn't think it was just coincidence that "Desperate Housewives" star Felicity Huffman won a best actress Golden Globe Award Monday night playing a transgender character. "In many ways that couldn't have been possible without (Biber).
"I think he put the operation on the world map," said Bowers. "He made it safe, reproducible and functional and he brought happiness to an awful lot of people. And when you wanted a voice of reason, he was always there."
Biber is survived by his wife, Mary Lee, and has a large extended family, but no other information was available Tuesday.