欧州議会「欧州のホモフォビア」決議案を可決~投票状況
公式テキスト
European Parliament resolution on homophobia in Europe
(英語~ページ右上のボタンで各国語に切り替え可能)
Radio Netherlands Current Affairs: Archive by region: Western Europe
also part of: Inside Europe
Related Articles: 5

European Parliament condemns homophobia
by Claire Cavanagh, 21 January 2006
The European Parliament has adopted a resolution condemning homophobia in member states. It calls on the European Commission to take action against countries that fail to treat homosexuals and heterosexuals equally.
Although the resolution doesn't name any countries specifically, it does refer to the banning of gay pride marches, something outlawed in Poland for two years in a row after Polish President Lech Kaczynski (previously mayor of Warsaw) described plans for the parade as "sexually obscene".
MEPs have also asked the European Commission to come up with proposals on the rights of people in same-sex marriages if they decide to live in countries where such marriages are illegal. But the plans have been attacked by a European organisation of bishops. Aldo Giordano from the Council of European Bishops' Conferences described the parliament's decision as "an aversion for certain values of our tradition, notably religious values… such resolutions risk de-legitimising the European Parliament."
Equal rights
Gay rights in countries like the Netherlands, Belgium and even traditionally Catholic Spain have improved in recent years, with the United Kingdom becoming the latest EU state to introduce same-sex civil ceremonies, giving gay couples the same rights as married ones, though without the union being called a 'marriage'.
The EU declaration urges member states to ensure that gay couples enjoy "the same respect, dignity and protection as the rest of society", Dutch MEP Sophie in 't Veld says that recently there have been some worrying developments:
"You know we don't have to be secretive about this, there's been the ban on the gay pride marches in Poland, there've been the constitutional amendments in some of the Baltic states explicitly banning same-sex unions or gay marriage, there have been statements by political and religious leaders in the UK… by a judge in Italy, there have been a number of incidents and we thought this was the best time to have a discussion."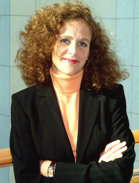 Dutch MEP Sophie in 't Veld
Nazi victims
Apart from the resolution encouraging EU states to pass laws recognising gay couples' legal rights to inheritance, property, pensions and tax breaks, it also calls for the combating of homophobia by, for example, educating people over the fact that homosexuals were also victims of the Nazis. Sophie in 't Veld says member states should already be reinforcing these values:
"All the member states have signed up to the charter of fundamental rights, all the member states have signed the EU treaty which explicitly prohibits discrimination, but some of them don't seem to realise that that means they will actually have to implement it."

"The [European] Commission already has the right and the obligation actually to first warn a member state and if it doesn't react, it can take a member state to court over an infringement of various laws and regulations… and obviously member states are not allowed to discriminate."
EUROPE-HOMOPHOBIA Jan-20-2006 (280 words) xxxi
Homophobia vote is attempt to legalize gay unions, says church leader
By Catholic News Service

VATICAN CITY (CNS)
-- A European Parliament resolution condemning homophobia is a thinly veiled attempt to pressure European countries to grant legal recognition to gay unions, said the secretary of the Council of European Bishops' Conferences.
Msgr. Aldo Giordano told Vatican Radio Jan. 19 the Catholic Church opposed discrimination against any person, but the resolution was an attempt to "equate the homosexual experience with the family."
The resolution passed Jan. 18 by a vote of 468-149, with 41 abstentions.
It called on countries belonging to the European Union and on European institutions to adopt measures to combat discrimination based on sexual orientation.
But it also said "unjustified and unreasonable limitations" of the rights of homosexuals "are often hidden behind justifications based on public order, religious freedom and the right to conscientious objection."
The resolution also said, "Same-sex partners in some member states do not enjoy all of the rights and protections enjoyed by married opposite-sex partners and consequently suffer discrimination and disadvantage."
The motion urged European nations "to enact legislation to end discrimination faced by same-sex partners in the areas of inheritance, property arrangements, tenancies, pensions, tax (and) social security."
Msgr. Giordano said the resolution was presented and voted on quickly, without adequate time for a real discussion or exploration of prevailing attitudes and practices in the European Union.
"Sometimes it seems there is the domination (within the European Parliament) of a certain ideology of pluralism which sees everything that exists as something good," he said. "There really is lacking a reflection on what is truly human, what is human richness, what is good and evil, what is truth."