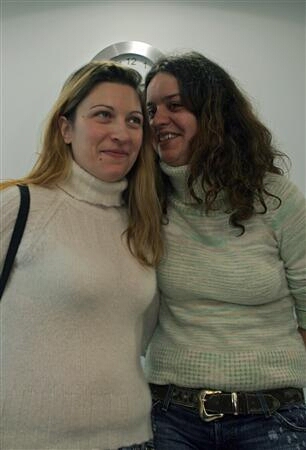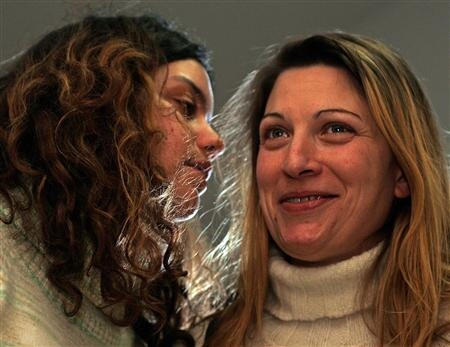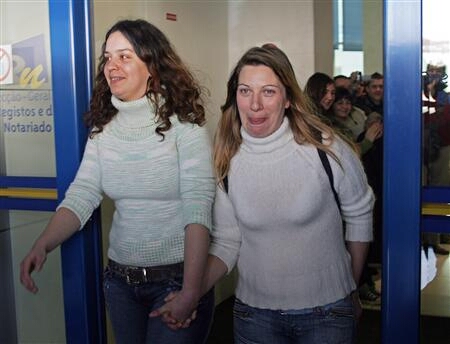 Portuguese gay couple try to marry, change law
Wed Feb 1, 2006 12:41 PM ET
By Axel Bugge

LISBON (Reuters)
- Two Portuguese women tried to get married on Wednesday and take advantage of a discrepancy in the law to highlight homosexual rights in this conservative country.
The two women, holding hands as they became the first homosexuals to try to register their marriage in Portugal, expected to be turned down but said they had already presented an appeal in the courts.
"Our desire to get married is just as strong as heterosexual couples," Teresa Pires, 28, told reporters as she left the public registration office where she and her partner had chosen to register their marriage.
"We want to get married in our country, we are Portuguese," she said. Portugal is overwhelmingly Roman Catholic.
The couple is basing their case on Portugal's 1975 constitution, which bans sexual discrimination, arguing that two women have the same right to marry as a man and a woman. Portugal's civil code, however, bans same-sex marriages.
The couple will receive the formal response to their marriage request on Thursday but the women's lawyer, Luis Grave Rodrigues, said he was sure they would be denied.
Neighboring Spain allowed homosexual marriages last year, joining a number of European countries, such as the Netherlands and Belgium.
"I think Portugal is not ready for this," said Francisco Sarsfield Cabral, a commentator and editor at Radio Renascenca, which is owned by the Catholic Church and is Portugal's largest radio station.
Parliament's left-wing opposition bloc on Wednesday presented a motion to legalize homosexual marriages. The ruling Socialist Party, which has a majority in parliament, has not adopted a position on the issue.
Sarsfield Cabral said Portugal is tolerant of homosexuals. "I think that people here are very tolerant of different ways of living, but changing the law is different," he said.
ポルトガルの女性カップル、婚姻届を提出
2006年02月02日20時37分

 [リスボン 1日 ロイター]
 同性愛のポルトガル人女性2人が、婚姻届を提出した。
 同性愛者同士の婚姻届が提出されたのは同国初。受理されない可能性が高いため、2人は既に裁判所に提訴する手続きを済ませている。
 カップルの1人、テレサ・ピレスさん(28)は記者会見で「私たちが結婚したいという望みは異性同士のカップルと同じくらい強いということ。私たちは自分たちの国で結婚したい」と述べた。
 ポルトガルはカトリック教徒が圧倒的多数を占めている。
 正式な回答は3日に出される予定だが、女性問題が専門の弁護士によると、不受理になる可能性が高いという。
 欧州ではオランダやベルギーに続き、スペインでも昨年、同性愛者同士の婚姻が合法化された。
Portugal Nixes Gay Marriage Bid
by Malcolm Thornberry, 365Gay.com European Bureau Chief
Posted: February 2, 2006 - 3:00 pm ET

(Lisbon)
As expected Portuguese lesbian couple has been turned down for a marriage license.
Helena Paixao, 35, and Teresa Pires, 28, were told Thursday that Portuguese law bars same-couples from marrying.
The women submitted their application for a license Wednesday under the glare of television news cameras.. (story) becoming the first same-sex couple in the country to try to marry.
Paixao and Pires were expecting to be rejected and are already planning legal action.
Their attorney, expects to file suit possibly as soon as Friday.
Lawyer Luis Grave Rodrigues, said yesterday that he already has prepared his arguments for a legal challenge. He said that it will be based on Portugal's 1975 constitution, which bans sexual discrimination.
Portugal's Socialist government has said that it does not intend to change the law. But if the courts agree with Rodrigues the law would be overturned.
Portugal has a law that allows gay couples some legal, tax and property rights.
Same-sex marriage is legal in neighboring Spain, and in Belgium and The Netherlands. In North America, Canada and the state of Massachusetts permit same-sex marriage. A court in South Africa recently told the government it must amend its laws to allow gay marriage.