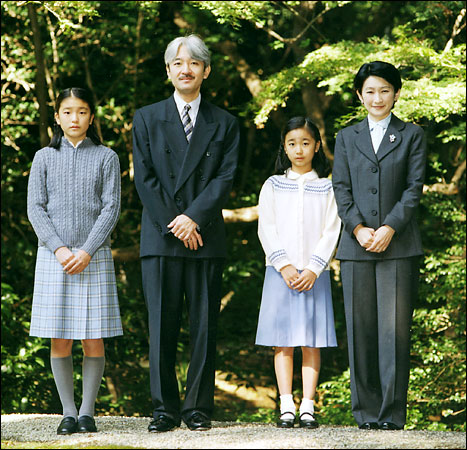 Imperial Household Agency, via Getty Images
Prince Akishino and Princess Kiko at Akasaka Palace in Tokyo last November with their daughters, Mako, 14, left, and Kako, 11.

The New York Times
Japanese Princess Expects, and Many Hope (for a Boy)
By MARTIN FACKLER
Published: February 8, 2006

TOKYO, Feb. 7
— Japanese officials said Tuesday that Princess Kiko, the wife of Emperor Akihito's second son, Prince Akishino, is pregnant, raising hopes for a long-awaited male heir to one of the world's oldest hereditary monarchies and throwing into doubt imperial law revisions that would allow a female line to hold the throne.
The Imperial Household Agency said an ultrasound test had shown Princess Kiko to be about six weeks pregnant, though it was too early to know the child's sex. Kiko, 39, already has two daughters, Kako, 11, and Mako, 14. Crown Princess Masako, 42, the wife of Crown Prince Naruhito, also has a daughter, 4-year-old Princess Aiko.
The pregnancy prompted applause on the floor of Parliament, where a committee briefly halted debate to congratulate Princess Kiko. Emperor Akihito also said he was delighted at the news, according to Japanese news reports.
The situation of Princesses Masako and Kiko having had only girls has set off intense debate in Japan over whether to allow an empress to ascend the Chrysanthemum Throne for the first time in more than two centuries, and whether to allow her children to also become monarch.
While there have been eight empresses in the current Japanese dynasty, which historians say extends back to at least the fifth century, heirs to the throne have always been children of male members of the imperial family.
Faced with the possibility of no male heirs in the emperor's immediate bloodline, a government panel has proposed that the current Imperial Household Law, written in 1947 under American supervision, be revised to allow a female to assume the throne. If the proposal passes, Princess Aiko would be first in line to succeed her father.
The proposed revision has been met with fierce opposition from conservatives, who said it would violate ancient tradition. Some have even warned that a female heir would be less careful about preventing foreign blood from tainting the imperial line, a possibility that has conservatives aghast in this still largely mono-ethnic society.
While the emperor takes a much lower profile in public affairs than emperors did in years past, when they were revered as living deities, the throne remains a potent symbol of Japanese ethnic identity.
"If Aiko becomes the reigning empress, and gets involved with a blue-eyed foreigner while studying abroad and marries him, their child may be emperor," the former trade minister, Takeo Hiranuma, told supporters last week in Tokyo, according to The Associated Press. "We should never let that happen."
Most Japanese, however, do not seem to share such concerns. An opinion poll in December by Kyodo News Agency showed that more than 70 percent of respondents said they support changing the law to allow a female monarch.
The announcement of Kiko's pregnancy prompted many lawmakers to call for halting the debate on revising the succession law, at least until the unborn baby's sex is known.
Hakubun Shimomura, a member of the lower house of Parliament, told reporters, "It is better to shelve discussions over the revision for a while," according to Kyodo News.
Prime Minister Junichiro Koizumi called for continuing consideration of the revision to ensure the stability of the throne. "If we wait, it is uncertain that a boy may or may not be born," he said, according to The A.P.
The Independent
Japan's Princess Kiko may finally provide male heir
By David McNeill in Tokyo
Published: 08 February 2006
Japan's Imperial Family may have been rescued from a looming succession crisis by divine intervention with the surprise announcement that Princess Kiko is pregnant with her third child.
The news that the daughter-in-law of Emperor Hirohito could be carrying the first male heir since 1965 comes amid a bitter debate about whether a woman should be allowed to sit on the Chrysanthemum Throne.
The pregnancy announcement was greeted with relief and applause in the Diet (Japanese parliament) yesterday, although the sex of the child is not yet known. The Diet was gearing up to revise the Imperial Household Law, which allows only male succession. Several prominent members of the ruling party are among 170 politicians who signed a petition opposing a new succession bill - and now are calling for it to be scrapped. "It would be rude to carry on now," said Hakubun Shimomura, one of a group of Diet members against revision. But Prime Minister Junichiro Koizumi said the revision would proceed. "We don't know if it is a boy or girl," he said, adding that for the sake of "stability" the country could "no longer put the issue [of succession] off".
The attempt to change the 1947 law was prompted by the failure of the emperor's son, Prince Naruhito, and his wife Princess Masako, who is suffering from depression, to produce a boy. The revision would allow their four-year-old daughter, Aiko, to eventually become Empress.
But the bill is strongly opposed by a growing number of traditional conservatives, who say it would break the bloodline of the world's oldest continuous monarchy, which claims to have begun 600 years before Christ.
Buoyed by royal pregnancy, Japan ponders gender rights
Wed Feb 8, 2006 2:19 PM IST
By Masayuki Kitano

TOKYO (Reuters)
- Some Japanese call it a matter of tradition, others see it as an issue of gender equality, and still others say they couldn't care less.
But a day after news that Princess Kiko was pregnant took Japan by surprise, few seemed to have changed their minds over the hotly debated issue whether or not women should be allowed to ascend the Chrysanthemum throne.
No royal males have been born into Japan's ancient imperial family since 1965 and it is hoped Kiko's third child might be a boy. The news comes as Prime Minister Junichiro Koizumi had pledged to present a bill to parliament this year giving women equal rights to ascend the throne to avoid a succession crisis.
"My thinking hasn't changed," said Shizuko Furukawa, a 59-year-old housewife, as she strolled just outside the imperial palace with her daughter on a chilly but sunny Wednesday morning.
Furukawa, who favours allowing a woman to inherit the throne, was a bit perplexed by the timing of Princess Kiko's pregnancy.
"Of course, this is something that occurs naturally, but why now, at a time when the issue of the imperial succession law is being raised?" said Furukawa.
Greeted by polite applause, a demurely smiling Princess Kiko, the 39-year-old wife of the emperor's second son, Akishino, spoke briefly at a TB prevention seminar on Wednesday.
Opponents of Koizumi's equal rights bill plans used news of the pregnancy to urge proponents to wait and see if the baby -- due in September or October -- was indeed a boy.
A newspaper poll released on Monday showed that voters were becoming more cautious about allowing women to inherit the imperial throne, but 63 percent still supported the idea.
One 68-year-old pensioner agreed the law should be revised, especially since there was no guarantee Kiko would have a boy.
"Unless preparations are made to allow a woman to ascend the throne, things could become chaotic," he said, as he took a walk just by the imperial palace.
"If you say a woman shouldn't be allowed, that would be sexual discrimination," he said, as small groups of tourists gathered nearby, some of them snapping pictures by a palace gate.
Others want to stick with tradition.
"If I had to choose, I favour keeping things the way they are. This partly has to do with Japanese tradition," said a 39-year-old man who works in finance.
"I think the issue of gender equality is a different issue," said the man, who was waiting near a subway station.
Some, though, don't care much either way.
"I'm not really interested," said a 24-year-old woman in central Tokyo, who said she and her friends usually gave little thought to the royals.
"I saw the news and I thought it was a happy occasion."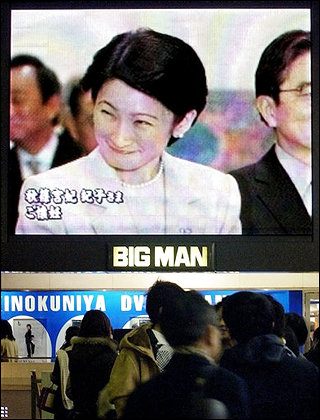 Passersby look at a huge video screen flashing Princess Kiko in a newscast in Osaka.
Photo Credit: AP
Expectant Princess Has Japan Hoping for Fairy Tale Ending
By Anthony Faiola
Washington Post Foreign Service
Wednesday, February 8, 2006; Page A11
TOKYO, Feb. 8 -- What's the only thing better than a princess? For some in Japan, the answer became as clear as a glass slipper on Tuesday -- a possible prince.
After decades of girls, girls, girls, the Imperial Household Agency stunned the nation on Tuesday by confirming rumors that 39-year-old Princess Kiko, wife of Emperor Akihito's second son, Prince Akishino, is pregnant -- reportedly by about six weeks. The news came as the Japanese government was putting the final touches on a historic bill that would allow females to ascend the 2,000-year-old Chrysanthemum Throne.
The mere possibility of a long-awaited male heir is a fairy tale come true for conservatives here who bitterly oppose female succession. In Tokyo political circles, passage of the bill to break open the world's oldest male-dominated monarchy suddenly no longer looked so likely.
If the baby is a boy, he will be the first male born into Japan's royal family since Akishino in 1965. His birth, many here say, could quash a growing movement to let 4-year-old Princess Aiko, the only child of Crown Prince Naruhito and his wife, Princess Masako, ascend the throne after her father as a reigning empress.
The dispute pits a powerful crop of old-boy politicians with renewed hopes for a male heir against Japanese who consider themselves more modern thinkers and who want to update imperial law to open the way for Aiko's reign.
Prime Minister Junichiro Koizumi, who falls in the latter group, was set to submit the succession bill to parliament before its June recess. He told a parliamentary panel after the news broke Tuesday that he would not back down, arguing that it would be difficult to preserve a stable succession in the future if only males were allowed to reign. But on Wednesday, he hinted that he may delay the bill to discuss the issue further.
Japan has had eight reigning empresses among the 125 rulers listed in the imperial family genealogy, but historians generally see them as temporary solutions. Their children were not permitted to follow them on the throne. Instead, heirs were selected from the next-closest male relatives.
Female succession has been prohibited altogether since 1889. Now, critics argue, changing that male-only right to succession could forever taint the imperial bloodline, particularly in the modern era of globalization and feminism.
"If Aiko becomes the reigning empress, and gets involved with a blue-eyed foreigner while studying abroad and marries him, their child may be the emperor," Takeo Hiranuma, a top member of Koizumi's ruling Liberal Democratic Party and head of a bloc of politicians opposed to female monarchs, said last week. "We should never let that happen."
A gleeful Hiranuma added Tuesday that Kiko's pregnancy only proved the prudence of waiting patiently for a male heir to appear. "This is good news," he proclaimed to reporters in Tokyo. "We don't know if the baby will be a boy or not, so we should avoid being hasty by presenting the bill in the current parliamentary session."
Kiko already has two daughters. News that she is pregnant again created a wave of joy across Japan, with newspapers issuing extras and normally staid TV commentators struggling to contain their emotions.
Yet the debate over succession, like the emperor himself, is largely symbolic. Through much of Japanese history, emperors have been figureheads, manipulated by military rulers and courtiers. They were once considered divine, including the late Hirohito, but that status was renounced following Japan's defeat in World War II. Today, the position is a secular post with extremely limited powers -- the constitution defines the emperor as the symbol of the state and the unity of the people.
The institution was injected with a new dose of popularity in the 1990s after Princess Masako, a Harvard-educated diplomat with a penchant for softball and intellectual debate, married Naruhito and became the nation's glamorous crown princess.
Her storybook existence came to an abrupt end, however, soon after giving birth to Aiko in December 2001. The princess faced intense pressure, particularly from powerful bureaucrats at the Imperial Household Agency, to bear a son. This contributed to a battle with clinical depression. Masako has largely withdrawn from public life.
Opinion polls in Japan have shown overwhelming support for allowing Aiko to ascend the throne. If Kiko's next child turns out to be another girl, many people here say, the argument for changing the law could grow stronger.
But, said Hisayuki Miyake, a political commentator, "if the baby is a boy, it could put a brake on the whole debate of imperial law revision."
Special correspondent Sachiko Sakamaki contributed to this report.