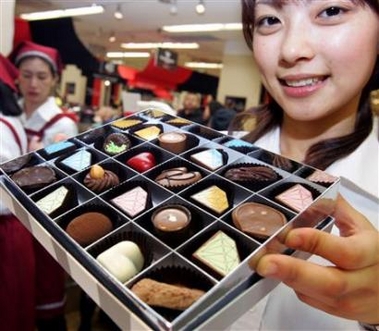 Reuters - Tue Feb 14, 12:08 AM ET
A salesperson displays a box of Chocolatier Antwerpen's chocolates at a department store ahead of Valentine's Day in Tokyo February 8, 2006. Makers of 60 premium chocolate brands have set up special booths at Takashimaya Co., a department store in central Tokyo, where boxes of chocolates costing as much as 10,000-20,000 yen ($84-$168) are selling briskly, helped by Japan's economic recovery. (Yuriko Nakao/Reuters)
Japanese women treat themselves on Valentine's Day
By Miho Yoshikawa
Mon Feb 13, 8:09 AM ET

TOKYO (Reuters)
- It used to be Japanese women gave men a gift of chocolates on Valentine's Day.
These days, they're more likely to buy pricey chocolates costing up to $200 a box as a treat for themselves.
"It's a small luxury that I allow myself," said 39-year-old Reiko Nozawa, who usually buys champagne truffles for herself and a few other chocolates to share with her husband.
Nozawa is not alone.
Makers of 60 premium chocolate brands have set up special booths at Takashimaya Co., a department store in central Tokyo, where boxes of chocolates costing as much as 10,000-20,000 yen ($84-$168) are selling briskly, helped by Japan's economic recovery.
"There's been a trend the past two or three years for women to buy chocolates for themselves, as a sort of pat on the back for having worked hard," said Takashimaya spokeswoman Yoko Yanagisawa.
That can be on top of what they spend on others.
"I think I'll buy some premium chocolates for myself," said Yoshiko Okajima, a fashionably attired working mother, as she checked out chocolates for herself after spending 7,000 yen on her husband and 8-year-old son.
Tokyo is filled with Valentine Day chocolate ads in the days leading up to February 14, and some manufacturers rake in about 20-30 percent of their annual sales in a few short weeks.
Until recently, most Japanese women bought cellophane-wrapped sweets in bulk from drugstores to give to colleagues or school friends as an "obligatory chocolate" on Valentine's Day.
A month later on "White Day" men return the favor by giving women gifts -- usually sweets but sometimes lingerie.
Confectionary maker Morozoff Ltd. is widely credited with having introduced Valentine's Day to Japan in a 1936 advertisement for chocolates.
"If we'd been a florist, no doubt we would have tried to sell flowers," Morozoff spokesman Kazuo Kojima said.
Some two decades later, Mary Chocolate Co. Ltd. used Valentine's Day as a sales promotion for its chocolates, in what is generally believed to be the first such commercial endeavor. The company only sold three chocolate bars during the three-day event in February 1958. Total sales -- 150 yen.
Almost a half-century later, Japan's Valentine Day chocolate sales have blossomed into a 50-billion-yen market.
WORTH IT
Upscale chocolate boutiques have sprouted all over Tokyo to cash in on increasingly sophisticated palates.
At Belgium-based Pierre Marcolini in Tokyo's trendy Ginza district a steady flow of customers peer at ribboned gift boxes in a glass display.
Customers are ushered in by a young woman whose task is to ensure the softly lighted, modest-sized store doesn't get too cramped.
"It is pretty expensive, but I think they are worth the price and I like them," said a 36-year-old junior high school teacher carrying a sweet-filled bag marked with the store's logo.
Such consumers are likely to help Japan's market for chocolate sweets, some 235,487 tons in 2004/05, and cocoa, roughly 56,634 tons, grow at a modest pace, said Kenji Kaminaga, executive director of the Chocolate & Cocoa Association of Japan.
"I think sales of premium chocolates are definitely helping to support the market," Kaminaga said.
Premium chocolates are often imported from countries like Belgium and France, with imports worth 36.8 billion yen in 2004/05, up about 36 percent from a decade ago, according to association estimates.
Chocolate aficionados are also beginning to favor high-quality sweets with a high cocoa content and complex tastes, achieved by blending bulk beans with prized flavor beans from countries like Venezuela and Ecuador.
The Japanese, however, are still modest chocolate consumers by global standards, swallowing about 4.85 pounds per person each year, compared to Switzerland's 24.9 pounds and Germany's 23.1 pounds.