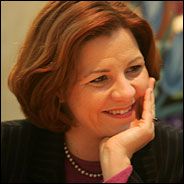 Librado Romero/The New York Times
Council Speaker Christine C. Quinn is welcome in the St. Patrick's parade, but her sexual orientation isn't.
The New York Times
March 15, 2006
About New York
4-Leaf Clovers Are Different, Aren't They?
By DAN BARRY
THE standard greeting among Irish-Americans begins: Where are your people from? The question represents less a challenge to one's Irish credentials and more a quest for that singular moment of commonality, when oceans and decades shrink to reveal an ancient bond so moving it nearly escapes articulation.
Oh, to be able to say: Then your people knew my people.
You know Christine C. Quinn's people. Her maternal grandmother, Helen Shine, a nanny from Cork, survived the Titanic but wouldn't talk about it for decades, until, in her last years, it was all she would talk about. She married a Corkman, John Callaghan, a Fire Department battalion chief who supposedly chauffeured Mayor La Guardia to various conflagrations.
Her paternal grandmother, Helen Lancer, a ladies' maid from Cork, entered into a mixed marriage by taking as her husband a trolley car driver from County Clare, Martin Quinn. Scandalous, it was.
These couples made their quiet mark in Manhattan, in Hell's Kitchen and Yorkville and Inwood. Then Mary, daughter of the Callaghans, married Lawrence, son of the Quinns. The young couple moved to Long Island and raised two daughters, including Christine.
The Quinns never felt compelled to prove their Irishness; they just were. They listened to ballads of war, drink and unrequited love, as sung by the Clancy Brothers and Tommy Makem. They hung a copy of the 1916 proclamation of Irish independence in their kitchen. They often cheered the St. Patrick's Day parade up Fifth Avenue.
Nearly three decades later, Ms. Quinn, 39, is the new City Council speaker, the first woman to hold the post, and the first lesbian. You would think every quarter of the city's Irish communities would be so proud. You would think the parade committee would name her grand marshal so that parents might point to this redheaded woman and say proud things about the Irish, about New York. You would think wrong.
FIFTEEN years ago, Ms. Quinn, fresh out of the closet, joined others in protesting the parade committee's refusal to allow gays and lesbians of Irish descent to march as an identifiable group. Its officials argued that the parade was private, free of interest groups and Catholic at its core, and that homosexual acts are contrary to church doctrine.
Ms. Quinn felt no conflict protesting a parade whose officials she might have sat next to at some Irish concert. Rather, she said yesterday, "I felt an obligation to be true to the entirety of who I am."
Protests and hurtful words have marred nearly every parade since. Ms. Quinn, for one, was arrested half a dozen times for disorderly conduct over the years, while James Barker, the parade's longtime director, often used language as kindling, like his considered opinion that homosexuality was an illness.
It is now 2006, in great and tolerant New York. Mr. Barker died a couple of years ago, and Ms. Quinn is the city's highest-ranking elected official after the mayor. By right she should lead the City Council delegation in the St. Patrick's Day parade on Friday. But she probably will not, because nothing has changed.
Ms. Quinn announced last weekend that she wanted to march in this year's parade with lesbian, gay, bisexual and transgender people "in a way that allows us to openly celebrate our heritage and identity." The careful language indicated an interest in compromise.
Her office initiated discussions — not negotiations, she pointed out — to see whether gays and lesbians could march with the Council in a respectful manner that still makes clear who they are. Instead of raising a banner, perhaps people could wear a sash, or buttons adorned with shamrocks and pink triangles. Perhaps the speaker could invite them as her guests, thereby breaking down a psychic wall without a loss of face for anyone.
Parade officials, who did not return calls yesterday, have said that Ms. Quinn is invited to march — she is, after all, the speaker — but that no gay-and-lesbian bloc will be allowed. Ms. Quinn, though, said that her participation, without the presence of an identifiable group of gays and lesbians, would not make the larger point of coexistence.
She cited her father, Lawrence, retired union shop steward, practicing Catholic, nearly 80. "Was he glad when I told him I was a lesbian?" she said. "No. Not at all. But he has moved beyond. And if he can move beyond, we can all move beyond."
Here, then, is the obvious answer to that familiar Irish question:
Where are your people from? The same place.
QUINN NOT MARCHING
By FRANKIE EDOZIEN and DAVID SEIFMAN - New York Post

March 11, 2006
-- Calling herself "a proud Irish-American lesbian," City Council Speaker Christine Quinn declared yesterday she would not march in next week's St. Patrick's Day Parade - unless gays can join her and "celebrate our heritage."
"I have reached out to leaders within the Irish and LGBT [gay] communities about inclusive participation," she said.
But parade chairman John Dunleavy said organizers weren't about to give gays reason to end their 15-year boycott of the city's oldest parade. "It will not be permissible," he said.
Quinn pitch for St. Pat gays (New York Daily News 2006/03/11)
City Council Speaker Christine Quinn may need the luck of the Irish on this one.
She is out to broker an agreement that would finally let gays march as an identifiable group in the annual St. Patrick's Day parade.
"As a proud Irish-American lesbian, I certainly hope to be able to march in this year's St. Patrick's Day Parade with the Irish LGBT [lesbian, gay, bisexual, transgender] community in a way that allows us to openly celebrate our heritage and identity," Quinn said yesterday.
The Ancient Order of Hibernians, which runs the parade, has steadfastly refused to let gay groups march under their own banner.
The Hibernians won a federal court fight in 1993 against then-Mayor David Dinkins that upheld their free-speech right to exclude gays.
Parade organizers could not be reached for comment yesterday.
Frank Lombardi
Originally published on March 11, 2006
New York City Council