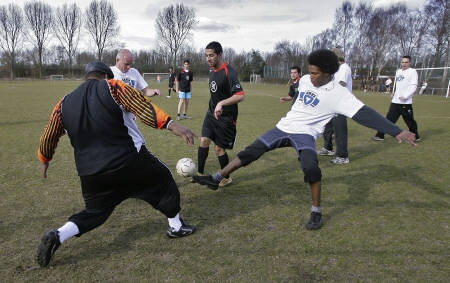 3月21日、オランダで同性愛者とイスラム教徒のサッカーの試合が行われた(2006年 ロイター/Michael Kooren)
オランダで同性愛者とイスラム教徒がサッカー
2006年 03月 22日 水曜日 08:29 JST

 [アムステルダム 21日 ロイター]
オランダのアムステルダムでは21日、同性愛者とイスラム教徒が参加したサッカーのトーナメントが開催された。
 これは、同性愛者であることを公言した移民に対する差別反対を訴える運動の一環として行われたもの。
 オランダに移住したイスラム教徒の社会では、同性愛者であることを公言した者に対する差別や偏見なども根強く、今回のサッカー・トーナメント開催も、これら差別の解消を目的としたものだという。
Match of today: gay v Muslim
Emma Thomasson in Amsterdam
Wednesday March 22, 2006
Guardian
A Muslim team played a gay side at football yesterday in an event held to counter the Netherlands' rising homophobia, which is often blamed on immigrants.
"There is tension between the gay and Muslim communities and a lot of this tension comes from ignorance," Frank van Dalen, head of an umbrella group of gay groups, said. "We want to show we can live with each other."
Dutch social tensions have risen in the Netherlands since the 2002 murder of the openly gay anti-immigration populist Pim Fortuyn. High-profile attacks on gay people in Amsterdam last year stoked a debate about homophobia.
The tournament was part of a conference on fighting discrimination against immigrants who come out as gay, particularly prejudice from Muslim people against gay Muslims. As well as gay men playing Muslims, women played Latin American men, but lost 8-0.
The Muslims beat the gay team 4-0 and then went on to win the final 4-1.
Same-sex marriage numbers settle down in Netherlands
20 March 2006 - Expatica

AMSTERDAM
— The number of same-sex marriages has stabilised since the introduction of gay marriage in the Netherlands five years ago.
Statistics Netherlands (CBS) said on Monday 1,166 gay and lesbian couples got married in 2005, compared with 1,210 the year before. Demographics professor Jan Latten at the CBS expects approximately 1,200 gay or lesbian marriages in 2006 as the marriage rate so far this year is at the same lvel as this time last year.
Some 2,414 gay or lesbian couples married in 2001 when the Netherlands became the first country in the world to introduce same-sex marriage. There was also a rush to the registry office the following year when 1,838 same-sex couples tied the knot.
"There was an element of hype in 2001. Lots of people who had already been together for 30 or 40 years got married," he said. The numbers peaked in 2002.
"After that it decreased. Everyone asked how this was possible because the opening up of marriage seemed to be so popular. It appears this peak was the 'start-up' effect. The figures in 2004 and 2005 were roughly equal," Latten said.
Latten expects the marriage impulse has stabilised in the gay and lesbian communities and the annual marriage rates will be similar from now on.
Gay people get married less than heterosexuals mainly because gay people less often have children than heterosexuals. "Children are still often the reason for getting married," Latten said.
The divorce figures compiled by the CBS do not differ for heterosexual and same-sex couples. The CBS said it is noteworthy, however, that married lesbians who divorce tend to do so earlier than married gay men.
The total number of marriages - heterosexual and same-sex - has fallen noticeably in the last five years. In 2001 82,091 couples married compared with 73,861 last year.
[Copyright Expatica News + ANP 2006]