Posted 3/23/2006 10:46 PM
Wave of lawsuits targets bans on same-sex marriage
By Joan Biskupic, USA TODAY 

WASHINGTON
— Heather McDonnell and Carol Snyder of White Plains, N.Y., have been a couple for 16 years.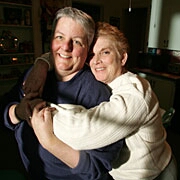 Heather McDonnell, left, and Carol Snyder of White Plains, N.Y., together in their kitchen.
By Todd Plitt for USA TODAY
When Snyder was in the hospital for breast cancer surgery early in their relationship, McDonnell wanted to be at her side, just as a spouse would. And so McDonnell was — but only after she was first challenged by a nurse who did not think of her as family.
The episode, and others like it, prompted McDonnell, 52, an administrator at Sarah Lawrence College, and Snyder, a 61-year-old special education teacher, to join several other gay and lesbian couples in lawsuits challenging policies against same-sex marriages.
MILESTONES IN GAY RIGHTS

1986: U.S. Supreme Court backs Georgia anti-sodomy law.

1993: Hawaii's top court says state constitution's guarantee of equal protection could give same-sex couples marital rights.

1996: President Clinton signs federal Defense of Marriage Act. It defines marriage as a - legal union between one man and one woman - and says states do not have to recognize same-sex marriages from other states.

1996: Supreme Court rejects Colorado ban on laws protecting gays from discrimination.

1998: Hawaii amends state constitution to reserve marriage for opposite-sex couples.

2000: Vermont allows civil unions between same-sex couples, giving them most of the benefits of marriage.

2003: Supreme Court rejects Texas law that banned sex between adults of same sex.

2003: Massachusetts' top court says same-sex couples have a right to marry.

By Joan Biskupic, USA TODAY
"There is nothing more universal in this country as saying you're married," McDonnell says. "When you are at your most vulnerable ... you need something like that."
The lawsuits, sponsored by the American Civil Liberties Union and gay rights groups such as Lambda Legal, utilize carefully selected plaintiffs and locales. They argue that particular state constitutions contain a right to same-sex marriage.
The lawsuits were inspired largely by a 2003 ruling by Massachusetts' highest court that led to that state being the first to legalize such unions. David Buckel of Lambda Legal says the lawsuits are focused on states where public attitudes toward same-sex unions seem particularly friendly and where amending the state constitution to counter any ruling for same-sex marriage would be difficult.
Such lawsuits are awaiting rulings by the top state courts in Washington state and New Jersey. Similar lawsuits are making their way through state courts in California, Connecticut, Iowa, Maryland and New York. The lawsuits generally claim that the states' constitutions allow gay couples to marry on the same terms as heterosexuals.
'67 Supreme Court ruling cited
The state-by-state approach is somewhat similar to the strategy gay rights groups used in recent years in a successful fight against laws that made sex between people of the same sex a crime.
However, before the U.S. Supreme Court invalidated such laws in 2003, many legislatures were lifting their bans on sodomy.
Gay marriage does not have that kind of legislative momentum. Nineteen states amended their constitutions to ban such marriages in recent years, and similar ballot initiatives will be before voters this year in seven other states.
Gay-marriage advocates are trying to link their effort with a 1967 U.S. Supreme Court ruling that rejected state bans on interracial marriages. A few state court judges have accepted that comparison.
"It was only less than 40 years ago that the U.S. Supreme Court held that anti-miscegenation statutes ... violate the Constitution because they infringed on the freedom to marry a person of one's choice," Manhattan Judge Doris Ling-Cohan wrote last year. "Similarly, this court must so hold in the context of same-sex marriages."
Some courts that have rejected same-sex marriage have said the comparison to racial discrimination is inapt. In December, when a state appeals court in New York overruled Ling-Cohan's decision, it said the U.S. Supreme Court's ruling on interracial marriage arose from the "fundamental right to be free from racial discrimination" — and that there was no similar fundamental right to same-sex marriage.
That sentiment is in line with arguments made by groups that oppose such marriages. "The laws that once limited one's marriage partner on the basis of race were designed to build walls and keep blacks and whites apart," says Peter Sprigg of the Family Research Council. "But preserving the traditional definition of marriage brings men and women together."
'Race between lawsuits'
Overall, the gay rights groups' strategy seeks to win state court rulings that could help change public attitudes and help prompt the U.S. Supreme Court to guarantee a right to gay marriage.
It's unclear how the court, under new Chief Justice John Roberts and with new Justice Samuel Alito, will view gay rights cases.
Critics of same-sex marriage, cite elected legislatures' moves against same-sex marriage while casting the current lawsuits as an attempt to make an end run around the will of the people.
"It's a race between these lawsuits and the (state constitutional) amendments" against same-sex marriage, says Matt Daniels, president of the Alliance for Marriage. Daniels' group is backing the state initiatives against same-sex marriage as well as a measure in the U.S. Senate that calls for a constitutional ban on such unions.
William Hohengarten, a Washington, D.C., lawyer who was part of the team that argued successfully against anti-sodomy laws at the Supreme Court in 2003, says winning cases in state courts is key for groups backing same-sex marriage. "It's important to have a number of states where same-sex marriage becomes a way of life ... to help change public attitudes."