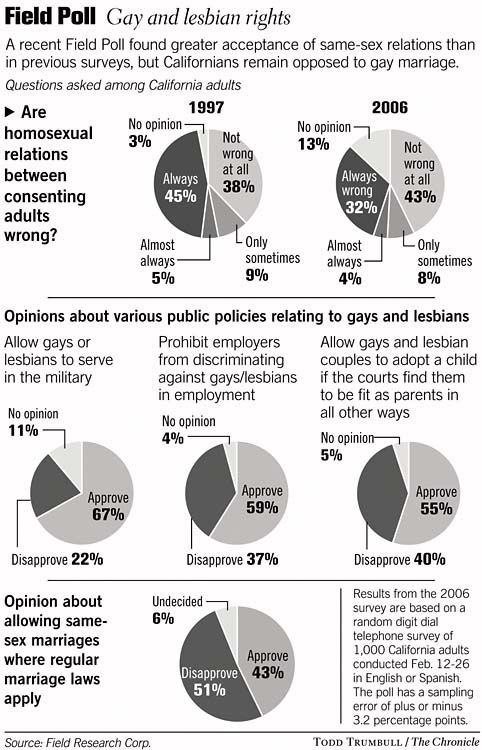 FIELD POLL
Californians more accepting of gays
Attitudes change on marriage, military since '97, survey finds
- Wyatt Buchanan, San Francisco Chronicle Staff Writer
Wednesday, March 22, 2006
Public support for gays is increasing in California, according to the first comprehensive statewide poll in nearly a decade looking at attitudes on rights for gays, lesbians and legal protection for same-sex couples.
The nonpartisan Field Poll, to be released today, found a significant shift in whether Californians believe sexual relationships between people of the same sex are wrong.
Attitudes on same-sex marriage also have changed, with 51 percent of Californians opposing same-sex marriage in the February poll and 43 percent approving of it, in contrast with 56 percent disapproval and 38 percent approval in 1997.
When those polled were given the option of civil unions, they split evenly among the three offered categories, though: 32 percent favor marriage, 32 percent favor civil unions and 32 percent neither.
Throughout the poll, approximately a third of all respondents oppose legal protection of same-sex relationships and 40 percent favor amending the federal constitution to limit marriage to opposite-sex couples.
"As time passes, there is a greater acceptance of gay and lesbian rights and greater support of anti-discrimination policies," said Mark DiCamillo, director of the Field Poll. "That's the key finding."
The clearest-cut issue was whether gays and lesbians should be able to serve openly in the military. Sixty-seven percent of Californians support that proposition, 22 percent oppose it, and 11 percent have no opinion.
Field surveyed 1,000 California adults between Feb. 12 and Feb. 26; the poll has a margin of error of plus or minus 3 percentage points.
The last comprehensive poll on gay and lesbian rights in 1997 found that 45 percent of Californians believed sexual relationships between adults of the same gender were always wrong, and 38 percent said such relationships were not wrong at all. The new poll shows that 32 percent of Californians believe those relationships are always wrong, a 13 percentage-point drop, and 43 percent say they are not wrong at all.A majority of Californians -- 55 percent -- support adoption by same-sex couples; 40 percent oppose it. A majority of Roman Catholics in the state -- 51 percent -- also support adoption by same-sex couples, while 45 percent disapprove. Opposition to same-sex adoption was higher among born-again Christians, at 59 percent, and Protestants in general, at 50 percent.
Throughout the poll, those who most opposed legal protections for same-sex couples also were least likely to personally know any lesbians or gays.
"To me, that's one of the most revealing numbers in the survey because it says familiarity with gays and lesbians in your own life has a powerful influence over whether (you think) these couples should have regular marriage laws apply to them," DiCamillo said.
Forty-eight percent of respondents said they had close friends or family members who are gay or lesbian, and 41 percent of respondents said they are more accepting now of same-sex relationships than they were when they were 18 years old.
Gay rights activists said the poll shows that aggressively pursuing their agenda results in progress, not in the backlash that some conservatives and some Democrats have predicted.
"You see in this poll that when people are given the opportunity to think about and discuss the issues, they move forward," said Geoff Kors, executive director of Equality California, the major gay rights organization in the state. "The real backlash has been against those who spew hatred, who are seeing their support for hatred erode and erode fast as their rhetoric becomes more inflammatory."
But Ben Lopez, legislative analyst and lobbyist for the Traditional Values Coalition in Anaheim, a major conservative group, highlighted the finding that opinions on same-sex marriage have remained stable.
"It shows that Californians have not bought hook, line and sinker the notion that marriage and family should be redefined to include two men and two women," Lopez said.
Polls in Massachusetts, New Jersey and New York show a majority of citizens in each of those states supports same-sex marriage, said Evan Wolfson, executive director of Freedom to Marry in New York. In Vermont, where same-sex civil unions were legalized in 2000, 40 percent support same-sex marriage, he said.
E-mail Wyatt Buchanan at wbuchanan@sfchronicle.com.
FIELD POLL / Gay and lesbian rights

A recent Field Poll found
greater acceptance of same-sex relations than in previous surveys, but
Californians remain opposed to gay marriage.

Are homosexual relations between consenting adults wrong?

1997 2006
Always wrong 45% 32%
Almost always 5% 4%
Only sometimes 9% 8%
Not wrong at all 38% 43%
No opinion 3% 13%

Opinions about various public policies relating to gays and lesbians

-- Allow gays or lesbians to serve in the military
Approve 67%
Disapprove 22%
No opinion 11%

-- Prohibit employers from discriminating against gays/lesbians in employment
Approve 59%
Disapprove 37%
No opinion 4%

-- Allow gays and lesbian couples to adopt a child if the courts find
them to be fit as parents in all other ways
Approve 55%
Disapprove 40%
No opinion 5%

-- Opinion about allowing same-sex marriages where regular marriage laws apply
Approve 51%
Disapprove 43%
Undecided 6%


Results from the 2006 survey are based on a random digit dial
telephone survey of 1,000 California adults conducted Feb. 12-26
in English or Spanish. The poll has a sampling error of plus or minus
3.2 percentage points.


Todd Trumbull / The Chronicle
Page B - 1
URL: http://sfgate.com/cgi-bin/article.cgi?file=/c/a/2006/03/22/BAGP6HS4IB1.DTL
Field Poll: Backing for gay rights increases
Californians' support stops short of same-sex marriage, with 51 percent against it.
By Peter Hecht -- Sacramento Bee Capitol Bureau
Published 2:15 am PST Wednesday, March 22, 2006
Story appeared on Page A3 of The Bee
Californians strongly back civil rights protections for gays and lesbians - but their support stops at the altar of marriage, according to a Field Poll released Tuesday.
Some 67 percent of Californians support the rights of gays and lesbians to serve in the military, 59 percent favor prohibiting employers from discriminating against homosexuals and 55 percent say gay and lesbian couples should be allowed to adopt children, according to the telephone poll conducted Feb. 12-26.
In the survey of 1,000 adults, including 680 registered voters, Californians by a 57 percent to 33 percent margins also said they believe homosexual relations between consenting adults should be legal. The margin is higher among registered voters, 64 percent to 27 percent.
But on the question of marriage, just 43 percent of the state's residents support legalizing same-sex marriages, while 51 percent disapprove. The numbers are similar among registered voters: 44 percent in favor of gay marriage compared with 50 percent against it.
Although they don't want to sanction gay marriage, state residents by a 50 percent to 40 percent margin oppose amending the U.S. Constitution to define marriage as being only between a man and a woman.
While Field Poll Director Mark DiCamillo said, "The consensus has still not moved toward supporting same-sex marriage," he said the poll reveals that gay marriage is significantly more acceptable to younger residents. And he said other poll indicators reveal a growing acceptance of homosexuals in society.
For example, only 29 percent of Californians aged 65 or older back same-sex marriage, compared with 64 percent who believe it should be illegal. But among residents 18 to 29, 54 percent support gay marriage and 42 percent are against it.
DiCamillo also attributed a softening in attitudes on homosexual issues to the simple fact that more Californians know gays and lesbians than in past years.
In a 1977 poll, 49 percent of Californians said they knew someone who was gay or lesbian. This year, 64 percent of the recent poll respondents said they either know or work with somebody who is homosexual.
"If a person knows gays and lesbians, they are much more likely to be accepting and tolerant," DiCamillo said.
Six years ago, 61.4 percent of California voters backed an anti-gay marriage initiative, Proposition 22, which declared: "Only marriage between a man and a woman is valid or recognized in California."
But the issue has continued to simmer in the Legislature. Last year, California became the first state in the nation to pass a bill that would have recognized gay marriage. But Gov. Arnold Schwarzenegger vetoed the measure, Assembly Bill 849.
The governor said the legislation went against the will of voters who passed Proposition 22. He also said he didn't want to interfere with pending legal challenges to the initiative.
Seth Kilbourn, political director of Equality California, a gay and lesbian advocacy group, said he was "encouraged" by the Field Poll, saying the results "reflect a lot of familiarity and understanding by California voters for and about gay and lesbian issues. ... That gives us a solid foundation to have a conversation with Californians about marriage."
But the conversation remains complex for Californians.
When the Field Poll asked state residents to consider three possible public policies for same-sex couples, the answers were evenly split. Thirty-two percent of Californians say they don't support any legal recognition for gay couples. Thirty-two percent said they support gay marriage. And 32 percent backed the idea of allowing civil unions.
"Most people don't even know what domestic partnerships entail in California. They don't know that domestic partners have all the rights of marriage," said Benjamin Lopez, a legislative analyst for the Traditional Values Coalition, an Orange County group advocating a constitutional amendment to ban all same-sex unions.
"The whole dynamics of this debate will change if and when a gay marriage bill is passed by the Legislature, and the governor, whoever he may be, signs it into law," Lopez said. "I think you will see the (poll) numbers change as a backlash to that action, and that will be favorable to our cause."
More than one in three Californians, 37 percent, said they believe the gay rights agenda is moving too fast, according to the Field Poll. Ten percent of respondents said progress on gay rights is moving too slowly and 39 percent said things are proceeding at about the right pace.
Related link:
PDF: Full poll results
About the writer:
The Bee's Peter Hecht can be reached at (916) 326-5539 or phecht@sacbee.com.
March 22, 2006
FIELD POLLS SHOWS STRONG SUPPORT FOR LESBIAN AND GAY EQUALITY
Equality California
Debate on Marriage For Same-Sex Couples Leads to Progress, Not Backlash
San Francisco, CA
- The Field Poll released today shows that California overwhelming supports fairness and equal treatment for its lesbian and gay citizens. The poll asked 1,000 California adults their opinion on a wide range of issues, including how same-sex couples should be treated under the law. By a 3 - 1 margin, Californians support extending comprehensive legal protections to lesbian and gay couples; 44% registered voters would support a bill legalizing marriage for same-sex couples.
"This poll demonstrates that California is committed to ensuring that all of its residents are treated fairly under the law," said Geoff Kors, Executive Director of Equality California. "When people are given the opportunity to think about and discuss issues like marriage for lesbian and gay couples, they move forward. The real backlash has been against those who spew hatred and fear."
Of California registered voters, 44% would support a state law allowing same-sex couples to marry. Among other issues asked in the poll, 67% favor lesbians and gays serving openly in the military and 55% favor gay and lesbian parents adopting children.
"The core values reflected in the poll should also be reflected in our laws, including our laws on marriage and other basic family issues," said Kors. "Clearly, Californians are listening to our message that same-sex couples deserve the rights and protections of marriage. Leadership on this issue leads to more support for our issues, not less."
米世論調査:同性婚への賛成が増え、反対が減る