モーツァルト、実は裕福 ウィーンで新たな仮説
2006年 4月 5日 (水) 11:52
 モーツァルトは裕福だった-。浪費や借金で晩年は生活苦の状態だったとの説が一般的になっている音楽家モーツァルト(1756-91)が、実は豊かな生活を送っていたとの仮説を、モーツァルトの関連文書を調べたオーストリアの学者らが明らかにした。AP通信が5日までに報じた。
モーツァルトの生誕250周年記念イベントに関連して、学者らがウィーンの楽友協会で公開された文書を調べた。文書によると、モーツァルトの年収は約1万フロリンで、現在の貨幣価値に換算すると約490万円になり、18世紀後半のウィーンでは賃金労働者の上位5%に入る高額所得者だった。
公開文書からは浪費があったようにはうかがえず、これまで定着している、稼ぎの多くがギャンブルに消えていくようなモーツァルトの姿はみられなかったという。(共同)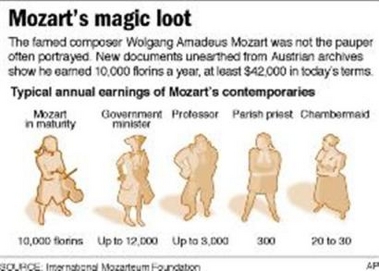 New Documents Suggest Mozart Wasn't Poor
By WILLIAM J. KOLE, Associated Press Writer
Tue Apr 4, 11:33 AM ET
For centuries, historians have portrayed Mozart as poor, but new documents suggest the composer was not nearly as hard-up for cash as many have believed.
Scholars who combed through Austrian archives for an exhibition opening Tuesday on Wolfgang Amadeus Mozart's later years in Vienna found evidence that he was solidly upper-crust and lived the good life.
Letters show that Mozart repeatedly borrowed money from friends to pay for his travels and his social obligations, and that his family was forced to move at least 11 times. The new documents, on display at Vienna's Musikverein, reveal that he earned about 10,000 florins a year — at least $42,000, in today's terms.
That would have placed him in the top 5 percent of wage-earners in late 18th-century Vienna, say experts, who were unable to prove lingering suspicions that gambling debts took a big bite out of Mozart's earnings.
"Mozart made a lot of money," said Otto Biba, director of Vienna's vast musical archives.
To put his earnings in perspective: Successful professionals lived comfortably on 450 florins a year, according to Biba, who said Mozart's main occupation in Vienna was teaching piano to aristocrats — a lucrative job that helped support his extravagant lifestyle.
Yet Mozart earned a reputation for money-grubbing, and evidence abounds that he squandered much of his cash. Among the items on display at the Musikverein are handwritten letters in which Mozart begged his patrons, publishers and acquaintances for huge sums to settle his debts.
One penned in June 1788 requesting a loan from arts patron Michael Puchberg reads: "If you will do me this kindness ... I shall be able to work with an easier mind and a lighter heart."
The exhibition, which runs through June 30, is part of a year of special events in Austria celebrating the 250th anniversary of the composer's birth in Salzburg on Jan. 27, 1756.
Mozart lived in Vienna from 1784-87, at the height of his brief but prolific music career. Among the works he composed in the Austrian capital was "The Marriage of Figaro."
Mozart, who died in 1791 at age 35, was buried in a pauper's grave at Vienna's St. Marx Cemetery, perpetuating the notion that he spent most of his life barely scraping by in dire financial straits.
A simple column and a sad-looking angel mark the spot where scholars believe he was laid to rest.
No one disputes that Mozart's wealth was long gone by the time he lay on his deathbed.
Researchers at Salzburg's International Mozarteum Foundation say records of Mozart's estate indicate that his widow barely had enough cash to bury him, and that he owed thousands, including debts to his tailor, cobbler and pharmacist.
American composer and music historian Allen Krantz is among those who think that Mozart may simply have been a victim of his own generosity, impulsiveness and largesse.
"Mozart grew up to be undisciplined, unworldly and a soft touch. Money went through his hands like water," Krantz wrote in a recent biography. "Even Mozart's mother, a gentle soul, complained: 'When Wolfgang makes new acquaintances, he immediately wants to give his life and property to them.'"
___
On the Net:
Official 250th birthday site in English, http://www.mozart2006.net/eng/index.html
International Mozarteum Foundation, http://www.mozarteum.at
Mozart more of a prince than a pauper
Luke Harding in Berlin
Wednesday April 5, 2006
Guardian
For centuries he has been portrayed as an impoverished genius, who wrote begging letters to his mates and ended up in a pauper's grave. But far from being hard up, Wolfgang Amadeus Mozart lived a solidly upper-crust life and was among the top earners in eighteenth century Vienna, a new exhibition claims.
Letters show that the composer repeatedly scrounged money from friends to pay for his travels, and that his family was forced to move at least 11 times; but documents on display at Vienna's musical society, the Musikverein, reveal that he earned 10,000 florins a year, a huge sum.
"His income put him in the top 5% of the population," Otto Biba, the exhibition's curator, told the Guardian yesterday. "During this period you could lead a very comfortable upper-class life on 500 florins a year. A labourer earned just 25 florins a year."
"The 21st century needs to rescue Mozart from the lingering 19th century romantic image of him as a struggling artist. The truth is that Mozart was a genius, but a genius who earned lots of money towards the end of his life.
"Sometimes he had heavy debts too. It must have been through gaming; there isn't proof, but there is no other explanation."
Mozart earned income by giving piano lessons and concerts and working as a private imperial musician. He had a billiard table and regularly visited his hairdresser. He also had a generous parking space for his carriage and lived for most of his time in Vienna in a seven-room apartment next to the cathedral, the exhibition shows.
The documents on display include an invoice for 800 florins received by Mozart from his royal patron Joseph II. In another letter, Mozart's father Leopold boasts that his son had just earned 1,000 florins for a single concert. "It's incredible," Mozart senior wrote.
The composer lived in Vienna between 1781 and 1791, the year of his death at 35. Although legend has it that he was buried in a pauper's grave, the reality was that he was interred in a regular communal grave in accordance with contemporary practice, Mr Biba said.
The exhibition, Mozart: A Composer in Vienna, opened yesterday and runs until June 30 at the Musikverein. It displays bills and receipts from the last decade of his life, and is part of a year of events in Austria celebrating the 250th anniversary of the composer's birth in Salzburg on January 27 1756.