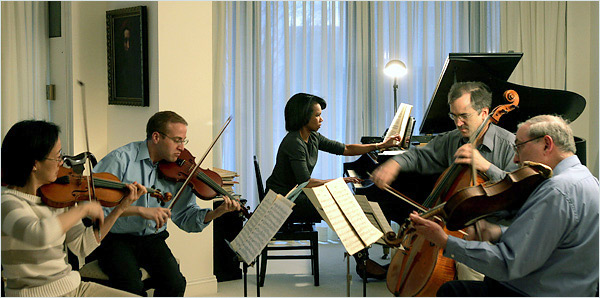 Stephen Crowley/The New York Times
Secretary of State Condoleezza Rice, center, with her chamber group; from left, Soye Kim, Joshua Klein, Robert Battey and Lawrence Wallace. The group plays as often as every other week.
The New York Times
Condoleezza Rice on Piano
By ANTHONY TOMMASINI
Published: April 9, 2006
WASHINGTON — Two weeks ago on Sunday, Condoleezza Rice got up at 4 a.m. so she could fit in her daily exercise regimen — weights and the treadmill — and still have time to prepare for interviews on three morning news programs. Just a few hours later, on "Meet the Press," Tim Russert confronted her with recent reports that shortly after the invasion of Iraq, the Russians had given intelligence on American troop movements to the Iraqis. Even on the normally sympathetic "Fox News Sunday," Chris Wallace asked her why Americans should not be outraged that United States troops continue to fight and die while Iraqi politicians haggle over jobs.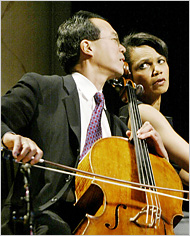 Larry Downing/Reuters
When Yo-Yo Ma received a National Medal of the Arts in 2002, he requested that Condoleezza Rice accompany him.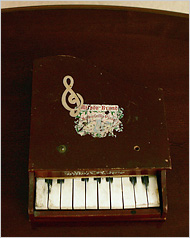 Stephen Crowley/The New York Times
Ms. Rice's parents gave her this toy piano when she was an infant.


Toward the end of the program, questions about her future plans predictably arose. Just as predictably, she stated that despite urgings from highly placed Republicans, thank you, no, she would not pursue the presidency.
For most people, let alone a secretary of state grappling with an increasingly unpopular war, this would have been enough exertion for the traditional day of rest.
But late that afternoon, Ms. Rice was back home in her comfortable apartment in the Watergate complex for one of her frequent sessions of chamber music with four friends, lawyers by profession and dedicated amateur string players.
Ms. Rice is an accomplished pianist. At 15 she performed Mozart's Piano Concerto in D minor with the Denver Symphony Orchestra, her prize for winning a student competition. Until college she intended to pursue music professionally. Now 51, she plays as often as every other week with this group, which convened three years ago. Until now it was a realm of her very public life that she kept private.
People often ask her, Ms. Rice said that day, whether playing chamber music is relaxing. "It's not exactly relaxing if you are struggling to play Brahms," she explained. "But it is transporting. When you're playing there is only room for Brahms or Shostakovich. It's the time I'm most away from myself, and I treasure it."
She is not the only secretary of state to pursue amateur music-making. Thomas Jefferson, the first to hold the office, was an excellent violinist who played chamber music, especially Baroque trio sonatas, throughout his political career. But back then, playing music at home was commonplace.
Not so today, in the era of recording technology, when you can hear almost any piece from the entire history of music by switching on an iPod. The trade-off is that so few people know the personal joy of making music. Whatever else she is to political supporters and opponents, Ms. Rice may be the most prominent amateur musician in the world right now, which is big news for classical music.
THE amateurs in Ms. Rice's ensemble do have some professional credentials. Two of the players had successful musical careers before switching to law. Soye Kim, the first violinist, who has two degrees from the Juilliard School, spent busy years studying in Europe and freelancing in New York before she entered law school at 39. Robert Battey was a professor of cello at the University of Missouri for 12 years, and still sometimes coaches.
Though Lawrence Wallace, the violist, now retired, is a former law school professor who served as a deputy solicitor general under eight presidents, he used to moonlight as a musician. Joshua Klein, the second violinist and the youngest member of the ensemble, who clerked for Justice Sandra Day O'Connor last term, studied violin seriously during college and law school.
"I don't make money playing the piano," Ms. Rice said, with the pride of a honorable amateur.
"No," Mr. Battey replied, "though you have gotten some pretty nice dinners out of it."
He was referring to a concert the group played two years ago at the British Embassy for an audience of 100. After the performance, which lasted just over an hour, the British ambassador presented an elegant dinner.
In 2003, the group also gave a private concert at Ms. Rice's apartment, which attracted an overflow bipartisan audience, including Justices Stephen G. Breyer and Ruth Bader Ginsburg of the Supreme Court, Alan Greenspan and Harriet Miers, classical music lovers all. Ms. Rice's ample living room has a nook in a corner, which accommodates her midsize grand piano, a Chickering, a cherished gift from her parents when she was a teenager.
On this Sunday, once the musicians had settled down and tuned up, they began by playing through the ebullient first movement of Schumann's Piano Quintet in E flat. The piano part has fancy runs and elaborate flourishes, especially in a tempestuous contrasting development section, alive with intricate counterpoint.
"We generally like to start off with a nice finger-buster for the secretary," Mr. Battey said. That way, he explained, she's warmed up when they really get to work.
Ms. Rice's long, thin fingers are nimble indeed, especially for someone who doesn't have much time to practice. Her touch has lightness and subtlety, yet she plays with crisp clarity and, when called for, robust sound.
They played right through the first movement. When things got a little tangled in the difficult development section, they had the collective wit to forge ahead and let things untangle.
It was wonderful to hear chamber music as it was meant to be: played by friends for their own enjoyment, in the confines of a living room, which makes the sound seem enveloping. Playing chamber music is a bonding experience. During an earlier interview at the State Department, Ms. Rice said the members of her group had become "like my best friends."
"We are like family," she added.
Traditionally, playing chamber music has also been a great equalizer. But do these string players really feel free to critique their pianist? Mr. Wallace answered, "I just assumed from the beginning that it wouldn't be any fun for her if we were deferential."
Though the Schumann went well, Ms. Rice felt that things had become shaky in the exuberant push to the coda. "Can we try the ending again," she asked, "just for our pride?" So they did, and they played it with more solidity and just as much spirit.
But the real give-and-take began when they turned to the first movement of Shostakovich's Piano Quintet in G minor, a piece they are still learning. The music is episodic, moody and — as so often in Shostakovich — elusive. Are the evocations of Bach-like counterpoint to be taken at face value? Are the grim outbursts ironic?
The players began the somberly oracular opening section and soon fell out of sync. "My tempo is not your tempo," Ms. Rice told her colleagues, when they stopped to regroup. As a musician she is a palpably attentive listener. As they tried again, the opening section emerged in a more cohesive arc, and they segued smoothly into a faster episode with curious triplet figures in the piano, which Ms. Rice infused with a stealthy character.
When they failed to coalesce in an up-tempo section of the movement, Ms. Rice blamed herself. "I don't know this passage coming up," she said. "So I hesitated to turn the page." She stared at her printed score and said, almost to herself, "I'll get that fixed." There was no doubting it.
Ms. Kim commented on the articulate way Ms. Rice played a series of thick chords. "You're playing them really short, Condi," she said. "I hadn't thought of that," she added, warming to the idea.
"I like them separated," Ms. Rice replied. "Not too short, maybe kind of sticky." Everyone knew what she meant.
After the Shostakovich, they turned to Brahms's Piano Quintet in F minor: "Condi's piece," as Mr. Battey called it. This intense, intricate and extremely difficult work is one of Ms. Rice's favorites. She reveres Brahms, she said, because the music is "passionate but not sentimental." In the scherzo, the players set a breakneck pace. Sometimes notes splattered and coordination teetered on the brink. It hardly mattered. The music-making was risky and vital.
MS. RICE, an only child, is a fourth-generation pianist on her mother's side. Her mother, Angelena Rice, who died of cancer in 1985, taught music and science at an industrial high school in a black suburb of Birmingham, Ala. "My mother was a church musician, and she read music beautifully, but she didn't play classically that much," Ms. Rice said during the earlier interview. "But she had a marvelously improvisational ear, which I don't have."
Her father, John Rice, who succeeded his father, a son of slaves, as minister at a Presbyterian church in Birmingham, also loved music, especially big-band jazz. (John Rice died on Christmas Eve in 2000, days after learning that Ms. Rice had been appointed national security adviser.) When she was an infant, Ms. Rice's parents gave her a tiny toy piano. "They had a plan," she said. Today that gift is prominently displayed on the coffee table in her apartment.
But it was her maternal grandmother, Mattie Ray, who proved the decisive musical influence in her life. Because both Ms. Rice's parents worked, she was dropped off each day at the house of her grandmother, who taught piano privately and sensed her eagerness and talent. Lessons started when she was 3. "I don't remember learning to read music — you know, the lines and spaces and all that," Ms. Rice said. "From my point of view I could always read music."
Classical music became her passion from the day her mother bought her a recording of Verdi's "Aida," and she listened, "my little eyes like saucers," she said, to the brassy and stirring "Triumphal March."
Ms. Rice, not quite 9, was sitting in her father's church on the Sunday morning in 1963 when, two miles away, bombs went off at a Baptist church and four black girls were killed, one of them a childhood playmate of hers. During this period of protests, fire hoses and bombs in Birmingham, she found comfort taking music classes at a local conservatory that had boldly opened its doors to black children. In 1969, the family moved to Denver, and Ms. Rice, having skipped the first and seventh grades, entered the University of Denver at 15 as a music major.
At 17, she attended the prestigious summer school at the Aspen Music Festival in Colorado and came to believe that though she was a very good pianist, she was "not great," she said. "That was the really the revelation," she added. "And it wasn't just that experience. You start noticing prodigies, and you realize that I'm never going to play that way." There is "just some intangible" in music, she said. Whatever it was, she said she felt she didn't have it. She decided to major in international relations instead, focusing on the Soviet Union.
As her career in higher education and government prospered, she began to let her music slip. Feeling the loss in 1993, when she became the youngest provost in the history of Stanford University, she applied herself again on the piano and took regular lessons with a faculty member, George Barth. It was he who encouraged her to immerse herself in chamber music.
A couple of times in recent years she has ventured onto a concert stage for special occasions. In 2002, when the cellist Yo-Yo Ma received a National Medal of the Arts, he requested that Ms. Rice accompany him in a piece during the ceremony at Constitution Hall. They played the slow movement of Brahms's Violin Sonata in D minor in an arrangement for cello and piano. A photo showing her playing with Mr. Ma that night has pride of place in her living room.
Ms. Rice has only just begun to see the potential of music as a diplomatic tool, notably last February, when she delivered a speech in Paris about American rapprochement with Europe in the face of vehement disagreements over the invasion of Iraq. During the trip, she visited the Hector Berlioz Conservatory in Paris, where she attended a children's music class and watched young ensembles perform. As cameras caught her listening, she seemed deeply affected by the fledgling musicians.
At the time, there were "whole questions about U.S.-French relations and so forth," she said, "and I think it was just nice to connect with the French kids." Asked to play something, she declined, but promised to come back sometime with her chamber group.
Her fellow players would surely be eager to go. At the Sunday session, after their hellbent rendition of the Brahms scherzo, they segued without a break from the fortissimo final chords of that movement to the mysterious introductory section of the finale, a minor-mode Allegro with a touch of a Gypsy dance. Connecting these two movements is a bold interpretive stroke.
"The scherzo has such an odd and abrupt ending," Ms. Rice said. So plunging right into the slow introduction that follows "seemed like a good idea," she said. Wanting credit, Mr. Battey said, "It was my idea." His colleagues laughed and said, "Yeah, yeah."
As the session ended, the string players packed up their instruments and took places around the coffee table for their traditional postrehearsal reward: white wine and cheese. As they chatted, Ms. Rice's friends spoke of how touched they had been to be invited to her swearing-in as secretary of state and to her 50th-birthday celebration, attended by President and Mrs. Bush.
Ms. Rice, who lives a short walk from the Kennedy Center, said she was looking forward to attending the Washington National Opera's new production of Wagner's "Rheingold" when she returned from an overseas trip. In February she took in the Kirov's production of Puccini's "Turandot," when the company visited the capital. She spoke of how impressed she had been by the innovative staging. By the music, too.
"That's about the only Puccini opera I can take," she said. A couple of us, led by this Puccini lover, stuck up for him. But Ms. Rice is not alone in her opinion.
Her favorite opera is Mussorgsky's epic "Khovanshchina," not surprising, given her expertise in Russian culture, language and history. It may have special resonance today: it tells of bloody factional strife at the time of the ascension of Peter the Great, made worse by the intransigence of the Old Believers, a fundamentalist Orthodox group opposed to reform.
These days, Ms. Rice finds chamber music so fulfilling that she has almost no desire to play solo works, she said. But she does have her eyes on a particular prize of the piano repertory.
"Before I leave this earth, I'm somehow going to learn the Brahms Second Piano Concerto," she said, "which is the most beautiful piece of music." It is also dauntingly hard.
Whether Condoleezza Rice some day becomes commissioner of the National Football League, president of Stanford or president of whatever is anyone's guess. But don't bet against her learning Brahms's Second Concerto.