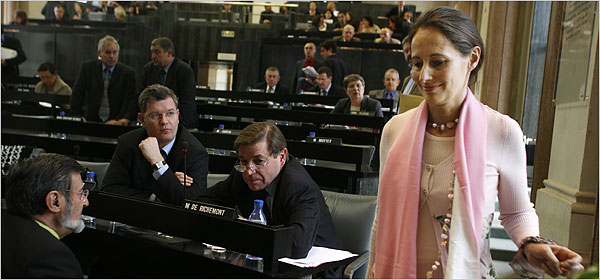 Ségolène Royal's home base is Poitiers, where she leads the Poitou-Charentes regional council, above.
The New York Times
Is France Ready to Elect a Woman?
By ELAINE SCIOLINO
Published: April 7, 2006
PARIS, April 6 — Can this woman save France?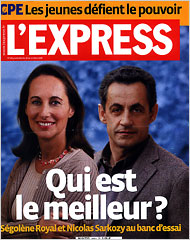 Ed Alcock for The New York Times
Ségolène Royal, legislator and regional president, is seen in France as an alternative to the graying men who run the country.
Can Ségolène Royal, the politician with the elegant profile and stratospheric poll ratings, lead the Socialists to victory in next year's presidential election?
In the confusion that has gripped France in recent months, with immigrant youth riots followed by huge protests turned violent, Ms. Royal, 52, is the only politician who looks good.
On Thursday, she graced the cover of four French magazines. "The Mystery Royal," announced Le Point, while Le Nouvel Observateur explored "What Is in Her Head?" VSD, which covers entertainment and news, asked, "President Ségolène: Is She Ready?"
"For the first time, the French say they are ready to vote for a woman; this is a historic event," she told Paris Match in its cover story that proclaimed, "The Irresistible Ascension."
The media's interest is not accidental. Voters are disillusioned with President Jacques Chirac, who has held office since 1995, and less than enthusiastic about the gray-haired white men who have long run the opposition Socialist Party.
With the government in disarray over protests against a youth jobs law and the Socialists doing little more than scoring points, Ms. Royal — a member of Parliament, regional president and former minister — has moved quickly to fill the vacuum.
She is the most popular potential Socialist presidential candidate by far in poll after poll. She even edged past Interior Minister Nicolas Sarkozy, the front-runner on the right, in a hypothetical runoff for the presidency in two recent polls.
She calls the jobs law, intended to encourage employers to hire young workers by making it easier to fire them, "a scandal" and "a form of violence." Asked in an interview late last month what she would do differently if she were in Mr. Chirac's shoes, she exclaimed: "I would be intelligent! Between the revolt in the suburbs last fall and the youth in the streets today, what a beautiful image of France we are giving to the world!"
Projecting a beautiful image is something that Ms. Royal does well. In addition to the magazine covers, she was the featured guest on TF1's television news program on Thursday. The first chapter of "Desires for the Future," her new online book intended to open a dialogue with the French people, appeared Thursday on her new Web site.
Ms. Royal also has helped cement her political standing at home by making a name for herself abroad. "I am globalizing myself," she said, laughing, about her interviews with foreign journalists in recent months. She annoyed the Socialist Party's old guard when she skipped the memorial for the 10th anniversary of the death of President François Mitterrand in January, jetting off to Chile instead, where she seized headlines by campaigning with the Socialist presidential candidate, Michelle Bachelet, who won.
A longtime admirer of Senator Hillary Rodham Clinton, Democrat of New York, Ms. Royal said she tentatively planned to appear with Mrs. Clinton at a conference in Washington in June.
Ms. Royal's domestic political strategy has been to carve out home-and-hearth issues that she promotes from her home base of Poitiers, where she presides over the Poitou-Charentes region of western France: saving the environment, improving schools, promoting opportunities for women, helping the disabled.
In late March, one of the items on the council's agenda was how to combat bad publicity about the bird flu virus in France. She announced a regionwide picnic featuring chicken, "to eradicate fear." And not only chicken. "Guinea fowl! Duck! Pigeon! Quail!" she said.
A fierce party infighter with a sharp tongue, she is not universally loved back home, especially by the men. "She is a pretty woman who tries to project a modern and open image," said Dominique Clément, the center-right mayor of the town of Saint Benoit. "But it's all an act. The packaging is beautiful. The marketing is slick. But the bottle is empty."
Ms. Royal seems to have little patience with open-ended debate in her council. When Henri de Richemont, a center-right council member and a lawyer, interrupted one time too many during the recent session, she lost her smile, crossed her arms and cut him off. "Very well, thank you for your intervention," she said curtly. "Anyone else?"
"She is the queen — who listens to no one and decides by herself," Mr. de Richemont said afterward.
But criticism can backfire. As soon as she said last September that she might run in the May 2007 presidential election, she rose sharply in the polls, even though some of her party brothers dismissed her declaration as outlandish.
"Who will look after the children?" Laurent Fabius, the former prime minister, joked. Another prominent Socialist, Jack Lang, declared, "The presidential race is not a beauty contest."
Since then, Ms. Royal has asserted her right to run. "I was attacked violently — by men," she said. "They said, 'She's a passing fad.' 'She's the cherry on the cake.' 'This shows that politics is zero.' 'She has nothing to say.' 'She's not tough enough.' All this criticism feeds my popularity. Besides, the politicians who attacked me were unpopular themselves."
Asked whether she considered herself arrogant, she replied: "Oh, no, surely not. Authoritarian. There is a demand for authority. I do not cultivate authority for pleasure."
Even the first lady, Bernadette Chirac, has rallied around her. "She can be a serious candidate and can even win," Mrs. Chirac said in February. "She has a look."
The strategy of leaders on the right has been to welcome Ms. Royal onto the battlefield, perhaps because they do not believe she poses a threat. Mr. Sarkozy has said she would be a "respectable opponent." Prime Minister Dominique de Villepin has said he and Ms. Royal have gotten along "very well" since their days as classmates at the elite École Nationale d'Administration.
Despite her enshrinement by the news media, French voters are not used to new faces: Mr. Chirac and his predecessor, Mr. Mitterrand, reached the presidency after several tries.
It is by no means even sure that she will win the party's nomination when it chooses a candidate in November. Others seek the nomination, including, awkwardly, Francois Hollande, Ms. Royal's partner of 25 years who also happens to be the leader of the Socialist Party and with whom she has four children.
"If I am the best-placed to win, I will be ready," she said.
That they never married has not hurt either of them politically, and she has said that she and Mr. Hollande will decide together which one of them will try to run. Still, she struggles to maintain her independence, saying in the interview, "We are not a couple."
Her detractors fault her for a lack of experience in economic and national security matters. (She has led three second-tier ministries: Environment, School Education and Family and Childhood.) With the spotlight now on her, her views are being closely examined, and like other Socialists she has yet to say what she would do about unemployment, the burden of France's generous social welfare system or the country's fear of globalization. But when asked whether her lack of experience and her narrow base of issues were liabilities, she said, "Men who pretend to be experts in everything, aren't telling the truth."
The Financial Times
French jobs law spat aids rising star of Socialists
By Martin Arnold in Paris
Published: April 7 2006 03:00 | Last updated: April 7 2006 03:00
Ségolène Royal, the rising star of France's Socialist party, was yesterday beaming out from newsstands across the country as pundits backed her to be one of the biggest beneficiaries of the government's bungled labour reforms.
Four magazines put Ms Royal on their front cover and last night she appeared on television channel TF1's primetime news show, giving her reaction to prime minister Dominique de Villepin's defence of his contentious youth jobs law.
With an impeccable sense of timing Ms Royal chose one of Mr de Villepin's most difficult weeks in politics to publish the first chapter of a book about reforming France on her website.
This has fuelled the media frenzy around the regional president of Poitou-Charente as the early favourite to win the Socialist party's nomination in next year's presidential elections.
Ms Royal has a 41 per cent approval rating, against 21 per cent for Lionel Jospin, former prime minister, 17 per cent for Dominique Strauss-Kahn, former finance minister, and 15 per cent for Jack Lang, former culture minister, according to a CSA poll published in yesterday's Le Parisien. They are all seen as contenders for the presidency.
Yesterday's Paris Match, the weekly glossy magazine, purred: "She marvellously incarnates the great French contradictions: she has a delicious perfume of the conservative right wrapped in a progressive project."
Many expect next year's presidential campaign to be dominated by questions of unemployment and social protection triggered by protests over labour reform, which could work in Ms Royal's favour.
As a former minister for the family and the environment under the late president François Mitterrand, she has a built up a strong image on social issues.
Her relative inexperience of top ministerial jobs, once seen as a weakness, is now looking more like an advantage, allowing her to appear like a fresh face among the mostly ageing male members of a widely discredited political system.
"For the first time French people say they are ready to vote for a woman. Thatis the historical event.It is the thirst for change and the acknowledgement of failures," she told Paris Match.
While she has given few insights on her policy ideas, analysts are starting to say she is the left's best chance to beat Nicolas Sarkozy, interior minister and early presidential favourite on the right.
She has been a fierce critic of the youth employment law, designed to make it easier for companies to fire young staff during a two-year trial. She has defied the government by promising to withhold regional subsidies from companies in Poitou-Charente that used the law.
"Flexibility causes social damage and is an economic nonsense," she said, adding that companies should focus on motivating staff and breaking with France's "archaic" management traditions.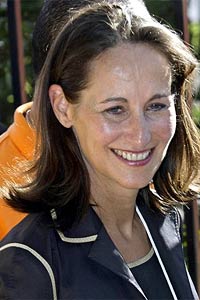 Ségolène Royal is the focus of fevered media speculation Picture: Getty Images

The Scotsman
Support could sweep mother of four French presidency
SUSAN BELL
IN PARIS
AMID widespread disillusionment with the president, Jacques Chirac, and his embattled prime minister, Dominique de Villepin, over their failed attempt to impose a controversial youth employment law, the French media yesterday turned the spotlight on the politician many now consider their country's brightest hope for a better future - Ségolène Royal.
Four out of France's five influential weekly news magazines put the photogenic Socialist MP, former minister and mother of four on their covers yesterday, as the latest opinion poll showed she is the voters' most popular choice as her party's candidate for next year's presidential elections.
"Ségo-mania", as it has become known, continued last night, when Ms Royal was the main guest on France's most-watched news programme. This week also saw the publication of a book about her and her longstanding partner, François Hollande, the Socialist party leader.
But is France ready for a Madame la présidente? Well, it appears so. More than 90 per cent of French people say they would be happy to have a woman president, despite the country's notoriously macho political tradition.
"She is the perfect embodiment of the great French contradictions: there is about her a delicious perfume of right-wing conservatism within a progressive project," Paris Match gushed yesterday.
"The Royal Mystery" declared Le Point, promising to reveal the secrets of her 25-year relationship with Mr Hollande. Le Nouvel Observateur devoted ten pages to "her ideas, her strategy, her trump cards, her handicaps", while the popular VSD put a photomontage of her, rigged out in full presidential regalia, on its cover.
With Mr de Villepin seriously weakened by the crisis over his highly contested youth employment law, it looks increasingly likely that the 2007 pres-idential elections will be a battle between Ségo and Sarko - as Nicolas Sarkozy, the interior minister, is popularly known.
Ms Royal, a former Socialist minister for the family, environment and education and the current president of the Poitou-Charentes region, has become a media sensation in a matter of months.
Yesterday's poll, commissioned by the daily Le Parisien shows that 53 per cent of left-wing sympathisers want her to stand for the presidency, while, even on the Right, 45 per cent of Mr Chirac's conservative UMP party would like her to represent the opposition.
She continues to far outstrip her ambitious partner, Mr Hollande, who is languishing behind all the other potential Socialist candidates, with only 9 per cent of those surveyed saying they want him to stand as the party candidate next year.
The couple claim there is no domestic discord over the nomination - if both decide to run they will let party members decide on the best candidate.
"I don't reproach her for being popular; that would be absurd," Mr Hollande said recently. Party insiders say he has told her he will support her if he believes she is best placed to win.
His feelings for her will not affect his decision, he reportedly said.
They may not be important - Ms Royal's other party rivals are also trailing far behind, with her closest challenger, the former prime minister Lionel Jospin, getting 21 per cent of favourable votes.
Despite enormous public popularity, observers say Ms Royal enjoys little support within the Socialist party itself - an angle examined by the weekly L'Express, which yesterday devoted a long piece entitled "Anything but Ségolène" about the various strategies employed by her male rivals to stop her mercurial ascension.
"At the moment, Ségolène Royal is like a speeding locomotive - lovely to look at but with no train behind it," the political commentator Alain Duhamel wrote in the left-wing daily Libération.
Born in Senegal, one of eight children of a strict army colonel, Ms Royal graduated from the École National d'Administration, the training ground for France's political and business elite, where she met Mr Hollande.
She first came to public notice as a protégé of the former president François Mitterrand, who made her environment minister in 1992. Ten years later, she became France's first female president of a region after storming the then prime minister Jean-Pierre Raffarin's fiefdom of Poitou-Charentes in western France.
This article: http://thescotsman.scotsman.com/international.cfm?id=532842006
Last updated: 07-Apr-06 10:28 BST
The Independent
News > Europe
Royal launches presidential campaign on the internet
By John Lichfield in Paris
Published: 08 April 2006
Ségolène Royal, the Socialist politician who is early favourite to be the next President of France, launched the world's first internet-led electoral campaign yesterday.
Mme Royal, 52, placed on her website the first of 10 chapters of a political manifesto that will be published in instalments on the internet in the next four months.
The former education and social affairs minister is inviting supporters - and anyone else - to "complete" the book with their own comments and ideas. A final text, drawing on the suggestions of web visitors but written by Mme Royal, will be published in September - two months before the Parti Socialiste chooses its candidate for next spring's presidential election.
Although a similar approach has been used by small parties elsewhere, this is believed to be the first time that a strong candidate for a leading party in a large country has offered an "interactive", internet-led political campaign.
Officially, Mme Royal, long-time partner of the Parti Socialiste's first secretary, François Hollande, is not yet a candidate for the presidential elections. She says she wishes to be "ready", if it becomes clear that she has the best chance of leading the centre-left to a triumph in the two-round elections next April and May. In recent opinion polls, she has not only outdistanced any other likely rivals on the left but overhauled the most likely centre-right candidate, the Interior Minister, Nicolas Sarkozy.
The virtual campaign on her site (www.desirsdavenir.org) is intended to position Mme Royal as a grassroots, rather than top-down candidate. In comments to French magazines she says she plans to express the hunger of ordinary people in France for a more direct role in politics and a less aloof ruling class.
As a marketing idea, Mme Royal's approach could not be bettered. The Prime Minister, Dominique de Villepin, has collapsed in opinion polls, precisely because he refused to consult before pushing through an easy hire-easy fire jobs contract for the young.
Désirs d'avenir