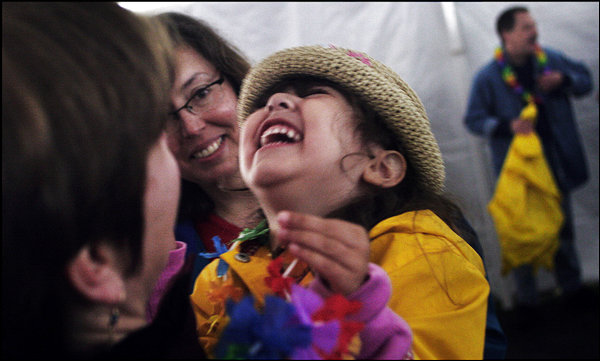 Jemma Gonzales, 4, of Long Beach, Calif., laughs with mother Maureen as her other mother, Lisa Gonzales, watches at the White House Easter Egg Roll. (Photos By Jahi Chikwendiu -- The Washington Post)
ホワイトハウスで復活祭「卵転がし」…同性愛者も参加
【ワシントン=貞広貴志】米ホワイトハウスで17日、復活祭恒例の「卵転がし」行事が行われた。
 今回は数百人の同性愛カップルが養子縁組した子供を連れて参加、社会認知を求めた。
 子供連れの一般市民を先着順でホワイトハウスに招き入れ、子供たちに敷地内の芝生で色つき卵をスプーンでゴールまで転がす遊びに興じさせる行事。この日早朝から何時間も並んで参加した同性愛団体関係者は、「ゲイやレズビアンの家族が米国中にいることを伝えるのが狙い」と説明したが、デモなどは行わなかった。一部の保守系団体は参加に反対したが、ホワイトハウス側は参加制限措置をとらなかった。
(2006年4月18日12時33分 読売新聞)
On Soggy Day, a Cluster of Rainbows
200 Gay and Lesbian Parents Join Thousands at White House Egg Roll
By Petula Dvorak
Washington Post Staff Writer
Tuesday, April 18, 2006; Page B01
They waited in line overnight Friday, then slogged their eight highly polished shoes through muddy grass yesterday, all to roll some Easter eggs on the White House lawn.
But for the Gri-Mott family of Oakton, every mucky, cranky minute was worth it. In addition to their four perfectly pressed pairs of pants, four starched collars, four ties and those shoes, the quartet of two fathers and two sons wore rainbow-colored leis. And Daniel Gri and James Mott believe that by doing that, they helped change America a little bit.
Gri and Mott were two of about 200 gay and lesbian parents who came with about 100 children to the traditional Easter Egg Roll, along with about 16,000 other families. Gri, Mott and their boys wore the colorful garlands to show that "we are everywhere," Mott said.
The couple said that they ran into co-workers who hadn't known they were gay and that they were approached by White House staff members who quietly shook their hands and thanked them for coming.
Their sons, Caleb, 8, and Alfred, 6, said they had a great time.
A half-dozen protesters stood outside the South Lawn gates with large signs and a bullhorn. They yelled at all the families, telling the heterosexual parents that their children would be punished with colds for coming to an event that included gay men and lesbians. They also compared gay families to the Easter Bunny and Santa Claus, saying that all three are make-believe.
Some of the gay and lesbian parents and their children were disappointed that they didn't get to see the president and first lady, who were there when the bell was rung to signal the beginning of the egg roll. Even though the group had gotten in line for the first-come, first-served tickets the night before they were distributed, they were too late to get tickets for an early time slot -- the line had started forming 12 hours earlier.
But once inside the White House gates, the families said they had a joyous time, despite the dreary drizzle.
"I think people really got to see the variety of what an American family can look like," said Mary Hunt of Silver Spring, who came to the event with her partner, Diann Neu, and their 5-year-old daughter, Min. "In the end, everybody watched their kids have a good time, everybody got wet. If anything, it was an educational event, not a political one."
The en masse attendance, organized by gay rights groups, had been planned for months. In that time, the parents debated how they would call attention to themselves. They said they settled on leis rather than T-shirts or slogans because they didn't want to shift the focus from the children and the festivities.
"I thought this was a very subtle, nonviolent, lovely, pleasant way to identify ourselves," Hunt said.
The protesters camped out for nearly six hours near the South Lawn, where hundreds of parents leaving the event passed by.
One of the demonstrators, Ruben Israel, 43, said he had flown from Los Angeles for the event. He wore a tool belt holding a well-worn Bible and two small extension cords. He took out the cords and poked the two pronged ends together.
"See, it doesn't work. Two men don't make a baby," he said to the sopping wet passersby who would listen.
Most of the gay and lesbian parents put their heads down and kept walking. But some of the other families yelled back at the protesters, telling them to go home.
"That's great, let's blow it for the kids," Jennifer Batten, 30, of Annapolis said as the protesters accused her of shielding her children from "the Biblical truth." She rushed her 9-year-old daughter past the men and wheeled her 2-year-old in his stroller. Then she stopped, turned around and said, "It's my choice how and when I want to teach my children about this. It's not your place."
Grandmothers tugged at children who tried to read the large, explicitly worded signs. Wives yelled at husbands who lost their temper and cursed at the protesters.
One soldier who strode by gave the demonstrators a quiet thumbs-up. And a man with his son on his shoulders told them, "You're doing the right thing."
April 18, 2006
The children of gay and lesbian couples roll eggs at the White House
AP
Thousands of children, including some brought by gay and lesbian parents, braved chilly rain at the South Lawn of the White House Monday to roll colored eggs across soggy grass as part of an event dating to the 19th century. About 16,000 tickets were distributed for the daylong event, and about a hundred gay and lesbian parents lined up for the passes handed out on a first-come, first-served basis.
The gay and lesbian couples, who wore rainbow-colored leis, said they wanted to give their children an opportunity to have fun while making a statement that they should be welcome. "We just wanted to come out to be visible and present and to let people see we are families too," said Alisa Surkis, 42, of Brooklyn, N.Y., as 3-year-old-daughter Ella clamored for Surkis's partner, Colleen Gillespie, to take her over to see the Easter Bunny.
The Family Pride Coalition and other organizers said they wanted to use this year's event to raise the profile of gay and lesbian couples, a move that drew the protest of conservative groups who said they were trying to "crash" an event. Several gay couples said Monday they had encountered no problems once they had obtained tickets.
"For me, I would never have thought of coming on our own," said Kevin Patton-hock, 46, of Boston, who attended with his partner, Arthur, and their two kids, 6-year-old Mao and 5-year-old Chet. "Like any parent, you want to protect your kids from the icky places," Patton-hock said. "I know there are some parents who will have some issues with us."
Bundled in raincoats, President Bush and first lady Laura Bush kicked off this year's egg roll before a cheering crowd. The president blew the whistle to start the race, a scramble in which children use big spoons to push the eggs. "Welcome to this happiest of traditions at the White House," Laura Bush told the crowd. "In Washington we know that spring has arrived when the White House lawn is filled with children for the Easter Egg Hunt."
The Bushes posed for pictures with families at the event, which was closed off to the public in the early morning hours. Attending at the event's start were White House staff, youth volunteer groups, kids from the Gulf Coast region, and other invited guests. Thousands of eggs were dyed in pastel colors for the egg roll races as well as for an egg hunt. Other eggs were available for children to color, as people dressed up as characters including the Easter Bunny strolled around the South Lawn.
The White House egg roll has been a tradition since the mid-19th century. The celebration took place on the Capitol grounds until 1878, when it was moved to the White House by Lucy Hayes, wife of President Rutherford Hayes. (AP)
Gay and Lesbians Join White House Tradition
By James Gerstenzang, Los Angeles Times Staff Writer
WASHINGTON -- In a steady rainfall on a chilled day after Easter, some 100 lesbian and gay families participated in the traditional egg roll on the White House lawn, their presence intended to demonstrate that their values are those of traditional American families.
"It really is about showing the country that gay and lesbian families are part of the American fabric and that we participate in American traditions," said Jennifer Chrisler, executive director of Family Pride Coalition, an organization dedicated to seeking equality for lesbian, gay, bisexual and transgender parents and their families.
They joined thousands of other families on the sodden trek from tented assembly points on the greensward just outside the grounds of the executive mansion, through security check points and onto the South Lawn. Egg-rolling races, a moon-bounce contraption and a costumed Easter bunny awaited them.
"The Easter egg roll is a very happy tradition at the White House that dates back to 1878," White House press secretary Scott McClellan said. "It is a time for families. And we welcome all families and their children who want to come and participate." Parents and others waited overnight in line to pick up time-specific tickets Saturday morning.
Although skies began to clear in the afternoon, the weather couldn't have been much worse just before noon when the group made its way to the White House grounds. The temperature was in the upper 40s; a drenching rain was falling. Many in the group wore leis made of yellow, purple, red, green, blue and orange silk and plastic flowers, adding a touch of color -- meant to symbolize diversity -- to an otherwise gray day.
Colleen Gillespie's and Alisa Surkis' daughter, Ella, 3, set out with a straw bonnet, decorated with a pink and yellow flower, on her head --beneath the hood of her red rain slicker.
Gillespie, a research professor at New York University's Wagner School of Public Administration, was one of the originators of the group visit. She said that the egg roll conveyed "a positive image of families," and that she saw it as an opportunity "to participate in a family event."
Chrisler said her four-year-old twins, Tim and Tom, had a narrower motivation. They were most interested in meeting the Easter bunny, she said, because they figured: "He can put in a good word with Santa Claus."
About 50 yards away, six men who objected to the participation by the gay and lesbian parents displayed several protest signs, including one that read: "Homo-sex is a threat to national security."
About three hours earlier, Laura Bush welcomed the first groups of visitors and thanked them for "bringing so much joy to the White House grounds." President Bush blew a whistle to start an egg-rolling race.
The Easter Monday tradition on the lawn of the executive mansion, which began when Rutherford B. Hayes was president, has grown to a major White House event, with games and musical entertainment, face-painting, visits by celebrities and story-telling.
The first lady's office said that 16,000 tickets were distributed for the program. It said that the American Egg Board provided approximately 7,200 eggs to be rolled, 2,800 dyed eggs for an egg hunt and 4,000 boiled eggs for children to dye.
That brought a protest from Friends of Animals, which drew attention to the treatment of chickens raised to produce eggs and advocated the use of artificial eggs.
Gay parents' children find Easter eggs, but not Bush
By Joseph Curl
THE WASHINGTON TIMES
Published April 18, 2006
More than 100 homosexual parents who were among the first in line to get tickets to the annual White House Easter Egg Roll yesterday missed seeing President Bush and first lady Laura Bush open the festivities.
Although many spent Friday night on a sidewalk in advance of the ticket release Saturday, most received tickets for noon -- three hours after the president milled through the crowd on the South Lawn.
"I'm disappointed by it," said Jennifer Chrisler, executive director of Family Pride Coalition. "It certainly has been our understanding that in years past, timed tickets had been given out on a first-come, first-served basis," she said.
Asked whether she thought it unusual to receive tickets for such a late time after being near the front of the line, she said: "I don't know if there was a change in procedure. That's a good question for the White House."
The White House said the earliest timed tickets this year were invitations doled out by the president and first lady. They went to children who volunteer from organizations such as Big Brothers Big Sisters and the YMCA.
"The number of public tickets is the same as in years past and has not changed as a result of this group's participation," White House spokeswoman Dana Perino said. "Although the public tickets begin with times later in the morning, the event will have the same activities throughout the day for everyone to enjoy."
Leah McElrath, 41, of Houston, attended the event with her partner, Cathy Renna, and their 6-month-old daughter, Rosemary.
"We look forward to the day when it's not such a controversy," said Miss McElrath, wearing a multicolored lei like other homosexual parents attending the event. "When my daughter's an adult, I hope she'll wonder what all the fuss was about."
The morning festivities were held despite a chilly and steady drizzle. During the egg roll race, children used spoons to roll dyed eggs along the ground. Magicians and animal acts were on hand, and the first lady and senior administration officials read stories.
Thousands of children wandered the soggy South Lawn, where they spotted giant storybook characters such as Peter Cottontail, Curious George, Snoopy and the Easter Bunny.
The first couple donned raincoats to greet the families shortly after 9 a.m. from the South Portico's terrace.
"Welcome to this happiest of traditions at the White House," Mrs. Bush told the crowd. "In Washington, we know that spring has arrived when the White House lawn is filled with children for the Easter egg hunt."
The president approached the egg roll course and blew the whistle to start the race. He mingled with the crowd, held and kissed a few babies, and posed for pictures with families in the first wave of guests.