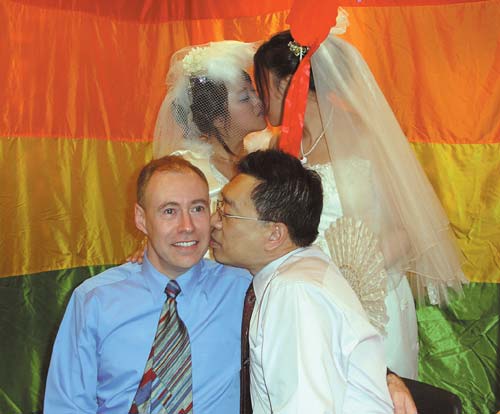 Taiwanese novelist Hsu You-sheng, right, kisses his American spouse Garry Harriman in Taipei yesterday to celebrate their 10th wedding anniversary and declared their plan to organize a group wedding in September this year. They encouraged homosexual couples to join the coming event./CENTRAL NEWS AGENCY
Society Saturday, April 22, 2006
'Married' gay couple celebrates anniversary, seeks legal rights
2006-04-22 / taiwan news, STAFF REPORTER / Jenny W. Hsu
Instead of a fancy restaurant or a favorite romantic spot, a couple decided to celebrate their tenth wedding anniversary at a press conference yesterday. Although two witnesses were present at the wedding as the laws required, the union of the two lovebirds has never been legally recognized in Taiwan.
Hsu You-sheng, a popular gay Taiwanese novelist met Gary Harriman in New York City eleven years ago. The two quickly fell in love and decided to tie the knot the year after they laid eyes on each other.
"However, although we followed the standard procedure according to the law, we are not considered a married according to the Taiwanese government," said Hsu.
He says it is a violation of basic human rights to prohibit same-sex marriage.
"To encourage all gay couples to bravely admit to their sexuality," said Hsu, "Gary and I want to take this opportunity to invite all the same-sex couples to join us in a group wedding in our upcoming gay pride parade," he continued.
Gender/Sexuality Rights Association Secretary General Wang Ping (王蘋) said marriage between any two people is a form of commitment, regardless of sexual orientation.
"It is a shame that our government still refuses to recognize same-sex marriage while many other countries such as Belgium, Canada, and the United Kingdom have already done so," said the gay activist.
She went on to say that the gay community in Taiwan is very "unsatisfied" with the indifferent attitude of the government on this matter.
J.J. Lai, an openly gay bookstore owner said that although society has only a negative image of gays, this fear and the stereotype are a manifestation of society's ignorance about "his kind."
"For example," Lai said, "people tend to think that gay men are promiscuous, but this is only a small portion of the gay population. The media amplifies this small group of people and perpetuates the myth that all gay men and lesbians sleep around," he said.
Although he does not want to get married or have children, Lai said it is the government's responsibility to protect the rights of citizen to marry and have children.
"People have the right to form the family they wish to have," he said.
Ashley Wu, the director of a gay right group Tongzhi Hotline Association said that in order to raise people's awareness concerning the gay community's desire have legal marriage, the theme for this year's gay pride parade will be "family."
"Many gay people are alienated and ostracized from their families and friends. All they want is to have the same rights as everyone else - the right to form their own families," Wu said.
The route and the date of the parade is yet to be decided, said Wang, but said that couples who choose to get married during this year's parade will also have a chance to try to register their marriage at city hall that day.
"It is not just for fun or just to make a statement. We are serious about making same-sex marriage legal in this country," said Wu, "and we will remain optimistic about the prospect."