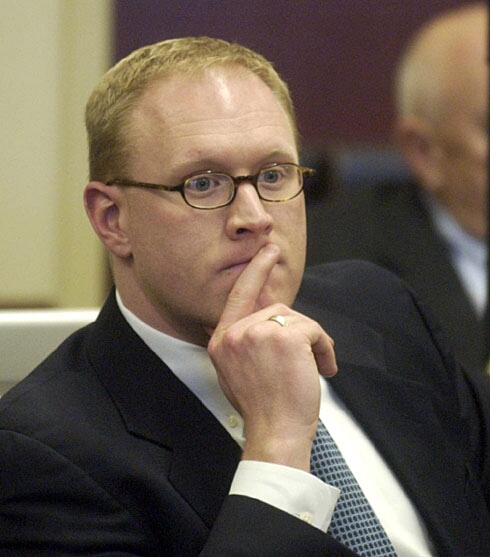 By Ryan Galbraith, AP
Utah state senator Scott McCoy helped block a bill to bar partner benefits.
Gay candidates look to further rights at state level
Updated 5/9/2006 8:28 AM ET
By Andrea Stone, USA TODAY
Stung by their failure in 2004 to stop ballot measures banning same-sex marriage, gay rights activists are moving to elect more of their own to legislatures where social policies often incubate.
The push isn't confined to places such as Massachusetts, where the state Supreme Court legalized gay marriage in 2003. Gays and lesbians are running for legislatures in Alabama, Arkansas and Oklahoma and for re-election in Idaho, Iowa, Oklahoma, North Carolina and Utah — all states whose residents voted predominantly for President Bush in 2004.
"There's a more concerted and integrated effort" in states, says Chuck Wolfe of
the Gay & Lesbian Victory Fund and Leadership Institute
, which trains and funds candidates. The group plans to give $4.3 million to openly gay candidates this year.
Opponents of same-sex marriage say gay activists fear that if Congress passes a constitutional amendment banning gay marriage, they will have to fight ratification in the states. The Senate is scheduled to vote on the issue next month.
In 2004, 11 states passed ballot initiatives banning same-sex marriage. Gay activists "have been shocked at how badly they've done at the state level and are now trying to make up for that," says Matt Daniels of the Alliance for Marriage, which opposes gay marriage.
There are 353 openly gay elected officials — including 61 state legislators and three members of Congress — up from 49 in 1991, Wolfe says.
All the gay legislative candidates are Democrats in urban districts that often encompass universities and gay neighborhoods.
Although a minority, gay legislators have had influence:
•Three gay members of the Maryland House of Delegates in March helped kill an effort to join seven other states in putting constitutional amendments banning same-sex marriage on the ballot.
•Utah Rep. Jackie Biskupski and Sen. Scott McCoy worked with gay activists to bottle up a bill to bar domestic-partner benefits.
•Idaho Rep. Nicole LeFavour helped stop a bill that would have required a parent's signature to allow students to join gay and lesbian clubs in high schools.