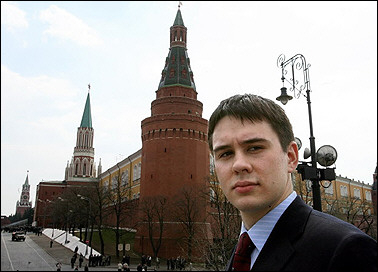 AFP - Thu May 11, 12:12 PM ET
Alexander, a Russian management consultant at an audit company seen here posing on Red Square, is planning to take to the streets of Moscow on May 27 along other Russian gays and lesbians in defiance of a local authority ban.(AFP/Yuri Kadobnov)
AFP
Russian gays to protest against a life in the shadows
by Delphine Thouvenot
Thu May 11, 12:12 PM ET
Alexander, a management consultant at an audit company, hardly looks like a radical. But this month he'll be joining something Russia has never seen -- a gay rights march through central Moscow.
Being gay in Russia means living in the shadows and only now are homosexuals daring to fight for their rights.
"There are still no rights for homosexuals here. It'll be at least 10 years before there's a law against discrimination, or gay marriage is allowed or we can adopt children," Alexander, 21, said.
In Russia's first-ever march against anti-gay intolerance, Russian gays and lesbians are planning to take to the streets of Moscow on May 27 in defiance of a local authority ban.
Moscow's powerful mayor, Yury Luzhkov, says he won't allow the march because city residents are "opposed to such public expressions of sexual orientation." The dominant Orthodox Church and local Islamic authorities have also lashed out at public displays of homosexuality.
After the rigid moral conservatism of the Soviet era, homosexuality was decriminalised in Russia in 1993.
But it was only declassified as a form of mental illness in 1999. Intolerance against gays is still widespread and many homosexuals, particularly outside the country's major cities, are forced to hide their sexual orientation.
Activists say violent homophobia may be on the rise in a country where the deputy speaker of parliament, Vladimir Zhirinovsky, has called for the death penalty against homosexuals.
Last week, dozens of ultra-nationalists and Russian Orthodox activists picketed two gay parties at Moscow nightclubs, attacking party-goers and chanting homophobic abuse.
Eating a salad in a central Moscow cafe, Alexander says he would like this month's march to be a first step in a gay rights movement like that in Western countries during the 1970s.
But, even though he doesn't frequent the gay clubs or gyms that have been opening up in Moscow in recent years, he knows the reality of being gay in Russia all too well.
He prefers that his surname and the name of the international auditing firm where he works not be published and says he would never be seen holding hands with his boyfriend in the street.
Most of Alexander's family have still not come to terms with his sexual orientation and he faced taunts at the school in the eastern Siberian village where he grew up. "I think that taught me good lessons for life," he says.
In 1999, Alexander's mother read a diary he was keeping and discovered he was gay. She immediately took him to see a psychiatrist.
"Instead of reassuring my mother, the psychiatrist told her that it was a disease but that perhaps it could be cured if I was willing to make an effort," he says.
Only his grandparents, who still live in the village of 1,200 people in the remote northeast Yakutiya region where he comes from, call him often and ask after his boyfriend.
For Alexander, homophobia in Russia is also linked to a lack of debate about gays.
"Disturbing topics such as homosexuality are not discussed on television. Added to the conservatism of the Soviet era, this lack of information is the main reason there's so much resistance in society."
Lately, Alexander has been thinking of leaving the country for good and joining his boyfriend in Israel.