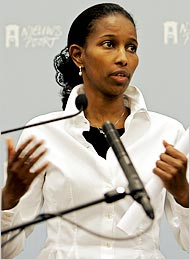 Koen van Weel/Reuters
Ayaan Hirsi Ali, a Somali-born Dutch legislator, said Tuesday that she would leave Parliament.
Somali-born Dutch lawmaker welcome in US: Zoellick
Thu May 18, 2006 11:15 AM ET
By Nicola Leske

THE HAGUE (Reuters)
- A Somali-born lawmaker who may lose her Dutch citizenship because she lied on her asylum application is welcome to move to the United States, U.S. Deputy Secretary of State Robert Zoellick said on Thursday.
Ayaan Hirsi Ali, an outspoken critic of Islam, said earlier this week she was resigning and leaving the Netherlands after Immigration Minister Rita Verdonk, a member of her own VVD liberal party, told her she might lose her Dutch passport.
Hirsi Ali has been offered a job by the American Enterprise Institute, a conservative Washington-based think tank, and according to media reports had been in negotiations with two other U.S. institutes.
Zoellick, on a visit to the Netherlands, told journalists Hirsi Ali would be admitted to his country.
"The government of the Netherlands is still discussing her ultimate status and that is ... for the Netherlands to determine along the way, but she is obviously welcome to the United States," Zoellick said.
He added that if she did move to the United States her status would depend on decisions taken by the Dutch government and that her special security needs would be attended to.
"I am not going to comment on specific security matters but obviously she needs to be taken care of," Zoellick said.
Hirsi Ali has drawn death threats for her fight for the rights of Muslim women.
She went into hiding in 2004 when an Islamic militant killed Dutch filmmaker Theo van Gogh after he directed a film Hirsi Ali wrote accusing Islam of suppressing women.
Hirsi Ali returned to parliament a few months later but has continued to live under heavy guard.
Her party colleague Verdonk has come under attack for her move to strip Hirsi Ali of her citizenship and on Wednesday Verdonk reluctantly accepted a demand by parliament to reconsider her decision within six weeks and also look at any new request for citizenship immediately.
"I will explore all options and have invited her to use all options given," Verdonk said on Thursday after speaking with Prime Minister Jan Peter Balkenende and two deputies.
In a letter Verdonk asked Hirsi Ali to provide her with all information relevant to return her passport, Dutch news agency ANP reported.
On Friday, the Dutch council of ministers will discuss the issue of Hirsi Ali's citizenship.
Hirsi Ali admitted using a false name and date of birth when she arrived in 1992 to stop her family finding her after she fled an arranged marriage with a cousin in Canada.
However, she said that had been public knowledge when the VVD chose her as a candidate in 2002 and that she would appeal.
The New York Times
Europe
Muslim's Loss of Dutch Citizenship Stirs Storm
By MARLISE SIMONS
Published: May 18, 2006
PARIS, May 17 — The Dutch immigration minister's decision to cancel the citizenship of a Somali-born Dutch legislator has set off a political storm in the Netherlands, with Parliament demanding that the move be revoked.
At the center of the storm is Ayaan Hirsi Ali, 36, who gained fame — and received death threats — while campaigning against militant Islam and opposing the abuse she said Muslim women suffered even in Europe.
The immigration minister, Rita Verdonk, said she acted Monday after a television program last week that focused on lies Ms. Hirsi Ali told when she sought political asylum in the Netherlands in 1992 and citizenship in 1997. Ms. Verdonk said she had to be evenhanded after several highly publicized cases recently involving immigrants who had also violated rules.
Her action prompted an extraordinary session of Parliament beginning Tuesday that lasted almost 10 hours, until 3 a.m. Wednesday. Members from across the political spectrum fired a barrage of questions and attacks. Some accused Ms. Verdonk of politicking to enhance her own status in the polls for the next elections, when she hopes to become the leader of the conservative VVD Party. She has been called "Iron Rita" because of her tough stance on immigration.
Ms. Verdonk agreed early Wednesday to reconsider her decision after it had become clear that she had been virtually isolated.
Prime Minister Jan Peter Balkenende said that Ms. Verdonk's decision had been hasty and that Ms. Hirsi Ali, in any case, would continue to receive police protection, as she has since the death threats against her began in 2002.
People who know the immigration minister and Ms. Hirsi Ali say the confrontation between them is puzzling because they have been close political allies and hold similar views, with each saying that Muslims should integrate into life in the Netherlands or leave.
The attacks on the immigration minister reflect the intensity of the debate about large-scale Muslim immigration as one of the most important themes in Dutch politics, and the high profile of Ms. Hirsi Ali in the Netherlands.
Her repeated warnings that militant Islam might be spreading in Europe and her criticisms about the plight of Muslim women in Europe have earned her many admirers. But she also has many detractors, who have described her comments as "Islam bashing" and who say she has made the already difficult integration debate more polarized.
Ms. Hirsi Ali, who has remained outspoken despite the death threats, worked with the Dutch filmmaker Theo van Gogh on a short film depicting the abuse of Muslim women, for which Mr. van Gogh was killed by a Muslim militant in 2004.
Clearly taken aback by Ms. Verdonk's actions, Ms. Hirsi Ali noted that she had long since admitted that she changed her birth date and her last name when she arrived in the Netherlands because she was fleeing an arranged marriage. She said Dutch social workers had recommended that to gain refugee status she claim to be fleeing Somalia, her homeland, where a civil war raged, rather than say that she had been living with relatives, who were refugees in Kenya.
In an interview on Monday she insisted that she had discussed all this with the leaders of her party — to which the immigration minister also belongs — when she was invited to run for a seat in Parliament.
Although Ms. Hirsi Ali is one of the country's most famous politicians, she had already decided not to seek a new term in 2007 and to take an appointment at the American Enterprise Institute in Washington.
On Tuesday, after being informed that her Dutch passport was being withdrawn, she announced her resignation from Parliament and said she would leave for the United States sooner than she had planned. What had earlier prompted her to decide to go to the United States, she said, was that in April, an appeals court ordered her to leave her apartment. Her neighbors had sued her, saying her presence made the apartment building unsafe.
Complicating Ms. Hirsi Ali's situation is the fact that there have been a number of recent high-profile cases in the Netherlands involving immigrants who have not met official criteria. The Supreme Court last year confirmed that an Iraqi family should be expelled for lying about personal information, and in recent weeks, the case of a teenager from Kosovo made headlines when she was forced to leave the country just before completing her high school exams.
Ms. Verdonk told Parliament she had no choice but to follow the rules. But her critics contend that the rules allow her to use discretion, if needed.
In one opinion poll on Tuesday, respondents were almost evenly divided on the issue of whether Ms. Hirsi Ali should be treated like other immigrants and be stripped of her citizenship because she had lied. But prominent writers published a letter denouncing the action as shameful.
Newspapers on Tuesday were almost unanimously against Ms. Verdonk's move, calling it variously a witch hunt, a fiasco or an embarrassment.
Dutch forced to rethink decision on Somali-born MP
Toby Sterling in Amsterdam
Thursday May 18, 2006
Guardian
The Dutch immigration minister has agreed to reconsider her threat to revoke the citizenship of a Somali-born member of parliament, Ayaan Hirsi Ali, known for her opposition to fundamentalist Islam.
Rita Verdonk said the threat was based on a television programme broadcast last week in which Ms Hirsi Ali admitted lying about her name and age on her asylum application when she fled to the Netherlands in 1992 to escape an arranged marriage.
With her new name, Ms Hirsi Ali became one of the best-known figures in the country. She has lived under police protection since a film she wrote criticising the treatment of women under Islam led to the murder of its director, Theo van Gogh, by an Islamic radical.
On Monday Ms Verdonk said that under Dutch law, Ms Hirsi Ali's naturalisation was automatically void since she had lied.
The MP resigned on Tuesday, saying it would be impossible for her to function while fighting a legal battle over her immigration status.
Ms Verdonk said Ms Hirsi Ali would retain an immigrant visa, and would be eligible to reapply for citizenship. The developments caused amazement among the public and politicians, including the prime minister, Jan Peter Balkenende, who questioned the speed with which Ms Verdonk made her decisions.
Yesterday Ms Verdonk agreed to reconsider her first decision, and to reprocess Ms Hirsi Ali's naturalisation as quickly as possible if necessary.
Ms Verdonk, from the libertarian VVD Party, is in a tight race for her party's leadership in elections on May 31. She has built her reputation on taking a hard line in immigration cases, and is popular with Dutch people who say they are fed up with the perceived failure of Muslim immigrants to integrate.
Financial Times
Dutch minister to reconsider Hirsi Ali ruling
By Sarah Laitner in Brussels
Published: May 18 2006 03:00 | Last updated: May 18 2006 03:00
The Netherlands' immigration minister yesterday came under pressure from parliament to justify her decision to strip a high-profile critic of Islam of her Dutch citizenship.
Rita Verdonk bowed to MPs' demands to reconsider her action on Ayaan Hirsi Ali, who plans to move to the US after admitting that she lied in her Dutch asylum application.
Ms Verdonk, known as "Iron Rita" for her tough stance on immigration, said she would consider a new citizenship request by Ms Hirsi Ali, a Somali-born Dutch politician who received death threats for her criticism of Islam.
Ms Hirsi Ali quit her seat in the Dutch parliament on Tuesday and said that she would leave the Netherlands.
She has been offered a post at the American Enterprise Institute, a Washington-based neoconservative think-tank with close ties to the Bush administration.
The affair has triggered widespread debate in the Netherlands. The mood varies between support for Ms Verdonk's hardline immigration policy and criticism of her for the decision on Ms Ali, who some people see as a champion of free speech.
A poll on Tuesday showed the Dutch were divided on whether Ms Verdonk was right to strip Ms Hirsi Ali of citizenship, with 49 per cent in favour and 43 per cent against, Reuters reported.
Ms Hirsi Ali, who was raised as a Muslim, lives under police guard after receiving threats from radical Islamists, including the murderer of film director Theo van Gogh.
She gained worldwide notoriety after working with Van Gogh on the film Submission, which criticised Islam's treatment of women
Ms Hirsi Ali admitted that she had lied about her age and name when she cameto Netherlands in 1992 but said she did so to stopher family finding her after she fled an arranged marriage in Canada.
Washington Post
Editorial
Intolerant Netherlands
Is it possible to condemn Muslim extremism and still live among the Dutch? Maybe not.
Thursday, May 18, 2006; A22
AYAAN HIRSI ALI is a Somali-born Muslim woman who sought asylum in the Netherlands and then became one of its foremost critics of Muslim intolerance. Elected to parliament, she assailed Dutch Muslims for their repression of women and Dutch liberals for their willingness to accept it. On occasion, she also criticized the growing anti-immigrant prejudice in the Netherlands. For her pains, she has now been driven out of a country that likes to think of itself as a liberal democracy.
Ms. Hirsi Ali's story shows why the challenge of Muslim extremism is as serious in parts of Europe as it is in the Middle East. In the Netherlands now, public figures cannot criticize the oppression of women within the country's own Muslim community without risking assassination: Ms. Hirsi Ali has been in hiding since 2004, when a filmmaker she assisted in making a documentary about women and Islam was murdered. But such outspokenness also offends many native-born Dutch, either because they refuse to address the extremism in their midst or they hope to avoid a radical Muslim backlash.
That's why Ms. Hirsi Ali was evicted from her apartment by a Dutch court last month: Her neighbors brought a lawsuit against her on the grounds that her outspokenness was violating their "human rights" by exposing them to a terrorist attack. Ms. Hirsi Ali compared her adversaries to the Dutch citizens who refused to protect their Jewish neighbors from the Nazis. But that was probably unfair: After all, the Dutch under German occupation were in far more danger than those who refuse to live in the same building as Ms. Hirsi Ali.
In the end, it was not appeasement of extremism that triggered Ms. Hirsi Ali's announcement but appeasement of prejudice. The Dutch immigration minister, Rita Verdonk, hopes to become her party's candidate for prime minister; she has been appealing to anti-immigrant sentiment by posing as a tough enforcer of asylum laws. On Monday she told Ms. Hirsi Ali, a member of her own party, that her passport was being revoked because she gave false information about herself when she sought refuge in the Netherlands in 1992. Ms. Hirsi Ali publicly acknowledged the misinformation years ago; she said she gave it to prevent her family and tribe from tracking her down and forcing her into an arranged marriage.
Ms. Hirsi Ali will now come to Washington, where she has been offered a fellowship by the American Enterprise Institute and where, we hope, she will feel free to speak her mind. She leaves behind a country where a large Muslim minority lives isolated from mainstream society, in part because of social prejudice. In that isolation, extremist Islamic ideology is flourishing but goes largely unaddressed because those who seek to combat it are threatened or shunned. As long as such conditions persist in Europe, the war on terrorism cannot be won.
Washington Post
Letter to the Editor
The Netherlands: Open and Tolerant
Friday, May 19, 2006; Page A20
I was surprised to read the May 18 editorial that described my country as "Intolerant Netherlands." Like the United States, the Netherlands is a free, democratic society. We discuss fundamental issues in open, public debates involving all points of view.
Ayaan Hirsi Ali has availed herself of this freedom, taking courageous stances on causes in which she believes. She has sparked debates on immigration, women's rights and Islam, for which she has been both applauded and criticized. Whether one agrees or disagrees with her, Ms. Hirsi Ali has the right to pursue her causes in the Netherlands, and the Dutch government will continue to protect her.
Ms. Hirsi Ali's citizenship recently was called into question. The Dutch parliament asked the minister for immigration and integration to investigate and, if necessary, to expedite the procedures to grant Ms. Hirsi Ali citizenship. The prime minister has stated that the parliamentary request will prevail.
Ms. Hirsi Ali is not being extradited, nor is she being forced to leave the Netherlands because of her beliefs. She continues to choose her own destiny and has decided to pursue her causes in the United States.
The Netherlands remains an open and tolerant society with a culture of democratic debate and rule of law. It is the same society that provided an opportunity to a young female refugee to become a well-respected member of parliament, in just 10 years.
BOUDEWIJN J.
VAN EENENNAAM
Ambassador
Embassy of the Netherlands
Washington
NedLog オランダ速報
2006年5月17日 (水)
Ayaan Hirsi Ali 議員辞職
ニコラの阿蘭陀主婦生活: 波紋のその後 2006/05/17
Todo el dia, todos los dias: アヤーン・ヒルシ・アリ 2006/05/17