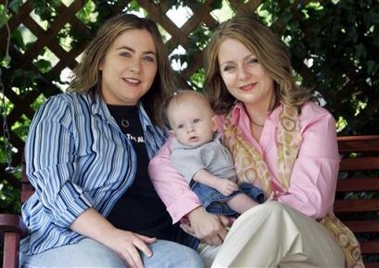 Cari Searcy, left, and Kim McKeand pose for a portrait with their son, Khaya, Thursday May 4, 2006 at their home in Mobile, Ala. The lesbian couple feels comfortable living in the southern city and says their straight neighbors are friendly. (AP Photo/Rob Carr)

Even Deep in Dixie, Gays Sense Acceptance
By DAVID CRARY, AP National Writer
Sunday, May 21, 2006
It's a Bible Belt state, almost certain to toughen its prohibition of gay marriage next month. A major candidate for governor has called homosexuality evil, and a national gay magazine branded Alabama the worst state for gays and lesbians. So why does Howard Bayless want to stay? Well, his roots are here, he says. So are his friends. He's partial to the congenial neighborhood in Birmingham that he and other gays helped rescue from decline.
"This is where I've carved out a niche for myself," says Bayless, who has spent most of his 40 years in Alabama. "We've created our community here, and I don't want to leave. I'd rather do the extra work of making my neighbors realize who and what I am."
Leader of Equality Alabama, a statewide gay-rights group, Bayless is one of many with the same conviction. In Mobile, Tuscaloosa and elsewhere, Alabama's gays and lesbians — like their counterparts throughout the U.S. heartland — are slowly, steadily gaining more confidence and finding more acceptance.
That doesn't mean relations between gays and other Americans are settled. Gay rights causes still endure their share of setbacks — amendments defining marriage as between one man and one woman have passed in 19 states and Alabama is poised to become No. 20 by an overwhelming vote on June 6.
But in the long view, there has been slow, powerful momentum building in the other direction: the quashing of anti-sodomy laws; the extension of anti-bias codes to cover gays; the adoption of domestic-partner policies by countless companies. Recent polls suggest opposition to gay marriage has peaked, and a proposed amendment to the U.S. Constitution banning it is expected to fall far short of the required two-thirds support when the Senate votes on it in early June.
"What Americans see increasingly is there's no negative impact on their own lives to have gays and lesbians living out in the open," said Joe Solmonese, president of the Human Rights Campaign. "They go from an abstract idea to a real person with a real name and a real story. That makes all the difference."
Kim McKeand and Cari Searcy experience that phenomenon daily in Mobile, where they live openly as a lesbian couple raising a son, Khaya, whom McKeand gave birth to in September.
"We're out to everybody," said Searcy, 30. "We know all the neighbors. Everyone else on our street is straight. They say 'Hey.' They all wanted to come over and see the baby."
The couple met at college in Texas and moved to Mobile five years ago with $1,000 between them and no jobs, but their careers have blossomed. Searcy works for a video production company, McKeand for a broadcaster that provides domestic partner health benefits covering them both.
"I know we have a long way to go, but we've come a long way already," Searcy said.
The couple loves Mobile — but might consider leaving if Searcy's application to become Khaya's adoptive parent is rejected in the courts.
"How can they say that we're not a family?" Searcy asked as she cradled Khaya in her arms.
The courts weren't accommodating to social worker Jill Bates, who lives in Birmingham with her lesbian partner. She lost custody of her daughter, now 16, to her ex-husband after a legal battle in which her sexual orientation was held against her.
Yet Bates remains undaunted.
"One thing that gives me hope is seeing all my daughter's friends, even some who go to a fundamentalist church," Bates said. "To them, it's just so not a big deal."
There are other signs of acceptance. An openly lesbian candidate, Patricia Todd, has a strong chance of winning a seat in Alabama's legislature this year — that would be a first. Mobile's recent Pride Parade drew upbeat local news coverage and only a handful of protesters. Gay-straight alliances are active at most universities; in the cities, if not the suburbs and small towns, gay-friendly churches are proliferating.
Those trends hearten gays and their allies, but concern Alabamians who support the same-sex marriage ban and believe homosexuality is sinful.
They are dismayed that same-sex partnerships are recognized in three New England states, they've resented the empathic portrayals of gays on "Will & Grace" and in "Brokeback Mountain" — and they wonder if states like Alabama can resist what Rev. Tom Benz calls "the erosion of traditional values."
"We're here in the Bible Belt, but all these things that happen around us affect us," said Benz, who combines mission work in Ukraine with presidency of the conservative Alabama Clergy Council. "There's a feeling here of, 'I want my country back.'"
Benz lives in Millbrook, a suburb of Montgomery, the capital. One of his political allies, from the nearby town of Eclectic, is Donna Goodwin, a school board employee who disputes the theory that familiarity with gays leads to support of gay rights.
"I have a lesbian cousin — I can continue to love her without approving of the way she leads her life," Goodwin said. "We see each other three or four times a year. We hug. We find out how each other is doing — but I don't ask her about her girlfriend."
Gay activists can readily list recent cases of anti-gay violence and harassment — incidents which contributed to Alabama's ranking as the least gay-friendly state in Out magazine. But Goodwin says most Alabamians, however conservative, strive for civility.
"We believe in hospitality — being kind to people whether you approve of their lifestyle or not," she said. "But the homosexual community is trying to force us into accepting something that's immoral. If they try to do that, we're going to consolidate and do something about it at the ballot box. We can say, 'This far and no farther.'"
One development that worries her is the increased visibility of gay rights causes at Alabama's colleges, including the University of Alabama, which her son attended.
"The university breaks down the moral values of children," she said. "It's like an open door to whatever is popular at the time — a hang-loose, do-your-own-thing attitude. It's asking for trouble."
At the campus in Tuscaloosa, political science department chairman David Lanoue doesn't see the kind of sweeping, pro-gay culture some may fear. But he does see young Alabamians — even those from conservative rural areas — getting messages they might not get at their local high schools and churches.
For example, he said, numerous faculty members display rainbow symbols at their offices, signaling they would provide an empathetic ear to any troubled gay or lesbian student.
"Young people have a more liberal attitude toward sexual preference than their elders," Lanoue said. "Through the national media, they've been brought up on the message that gays and lesbians are part of our society."
Ashley Gilbert, a sophomore at Birmingham-Southern College, knew by age 15 that she was a lesbian, but waited until reaching college to let her family in Montgomery know.
"My brother's still in the high school I went to — he's on the football team, but there's been no hassle from his teammates," she said. "He's very supportive. He wants to know when I'll get married and have kids so he can be an uncle."
At college, Gilbert is president of the gay-straight alliance and proud that more than half its members are straight.
"Everything that sticks out since I came out has been really positive," she said.
Not all young Alabamians find coming out so comfortable.
Patty Rudolph, wife of a doctor in the affluent Birmingham suburb of Mountain Brook, said her son knew by age 12 that he was gay, told his family when he was 14, and by 16 choose to go to school in the Northeast because he felt — despite his family's support — that Alabama was too inhospitable.
The son is now 18 and returns home periodically, reconnecting with friends and family.
"He loves to see us, but after a couple of days he says, 'I need to get out of here,'" Rudolph said. "There's no overt ugliness. But he has a sense it isn't as open and welcoming a place as he wants it to be."
Since her son left, Rudolph has plunged into a new world of activism, doing what she can to make Alabama a state he would one day want to stay in. She speaks at forums and heads the Birmingham chapter of a national support group, Parents, Families and Friends of Lesbians and Gays.
"By telling my family's story, it has a ripple effect. It humanizes the issue," she said.
Rudolph describes herself as impatient but hopeful — buoyed by support from even the most conservative of her close friends, and by encounters such as one with a young bank officer who casually asked Rudolph about her advocacy group, scanned a pamphlet, then told her, "This is wonderful, what you're doing."
It's moments like that which make Rudolph believe that the push for gay rights can't be held back. "I think the train has left the station," she said. "It's not moving fast enough for me — but it's happening. I'm seeing it change."
Suzanne Cleveland, office manager for a Mobile law firm, has followed a similar path since her son came out a decade ago.
"It was hard for me at first — I wanted to get over the knot in my stomach — but now I make a point of telling people my son is gay," she said. "I have not lived the life I thought I would, but I wouldn't trade it for anything. It's been wonderful."
Among Cleveland's many gay friends is Charles Smoke, community development director for the Mobile Arts Council and a resident of the port city since 1970.
"I've never made a secret of my orientation and I've never encountered in all this time any kind of hostility," he said. "We're not that far behind. It makes me feel it's not so bleak, that we're not living in a monstrous place."
Activists say the sternest anti-gay rhetoric comes mainly from evangelical pastors and politicians. Among them is Republican gubernatorial candidate Roy Moore, who was ousted as state chief justice after refusing to remove a Ten Commandments monument he had placed in the judicial building.
Moore has many fans and many critics, including Birmingham city councilor Valerie Abbott. After the judge wrote in a court ruling that homosexual conduct is "abhorrent, immoral, detestable," Abbott persuaded the council to condemn those assertions.
"I expected to get hate mail from the crazies — it didn't happen," she said.
Her district includes Howard Bayless' neighborhood, the formerly rundown Crestwood area. "Gay people came in and took to that area and made it a wonderful place," Abbott said.
Like Bayless, she firmly believes gay rights will come to Alabama, albeit slowly and with minimal help from the statehouse.
"Our legislature is like no other place on earth — it's stuck back in the dark ages," she said. "But Alabama is changing, like the rest of the country is changing. Like every new idea, it takes a while to absorb."
Rev. Jim Evans, a Baptist minister in Auburn, received numerous thank-you notes from gay-rights supporters after he wrote a newspaper column criticizing the ban-gay-marriage ballot item as an unnecessary and cynical attempt to frighten voters.
Evans hasn't endorsed gay marriage, and he knows opposition to it is deep-seated. But he also sees change coming as Alabamians such as Bayless, Cari Searcy and Patty Randolph expand the conversation about gays' place in the state.
"In the South, where we don't talk about unpleasant things, that trend has forced us to talk about it more," Evans said. "Once you begin to talk about a prejudice, it begins to die."