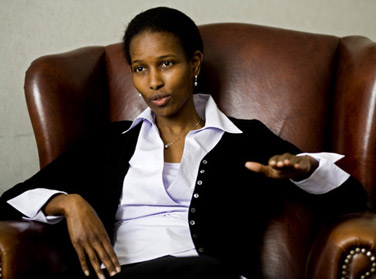 AP PHOTO / FRED ERNST
Ayaan Hirsi Ali during an interview in The Hague
TIME Europe
Sunday May 21, 2006
Web Exclusive | Europe
A Critic of Islam in Trouble
Ayaan Hirsi Ali, a Somali-born refugee who has spoken out for Islamic women, could lose her Dutch citizenship
By JOOST VAN EGMOND / Amsterdam
Netherlands: The Limits of Tolerance
Hirsi Ali: Written on Their Skin
2005 TIME 100: Paying a Price for Her Views
Ayaan Hirsi Ali has never been a stranger to controversy. The Somali-born refugee and member of the Dutch parliament made a name for herself with her vocal criticism of conservative Islam, calling the Prophet Mohammed "a tyrant and pervert by our Western standards." She also wrote the script for the short movie Submission, an attack on the treatment of women in the Islamic world, for which director Theo van Gogh was slain by an Islamist militant in Amsterdam two years ago. In 2005 TIME chose her as one of the world's 100 most influential people.
But the chaotic scene after she announced she was giving up her parliamentary seat and moving to the U.S. to join the American Enterprise Institute, a conservative think tank, left even Hirsi Ali herself stunned. Right after the announcement she got a phone call from Rita Verdonk, the Minister for Immigration and a fellow member of the liberal VVD party, who informed her that her Dutch citizenship would be revoked because she lied to the authorities upon entering the country in 1992 — allegations made in a Dutch TV documentary that aired over the weekend.
Hirsi Ali has long acknowledged that she changed her surname, date of birth and former country of residence for her asylum application. "I was frightened that if I simply said I was fleeing a forced marriage, I would be sent back to my family," she said during an emotional press conference in the Hague today. "And I was frightened that if I gave my real name, my clan would hunt me down and find me." She did not, however, address some of the other allegations in the documentary, including the claim that she already had refugee status in Kenya before fleeing to Europe. In any event, Verdonk moved fast to conclude that her Dutch citizenship is to be regarded as "not granted." Hirsi Ali called this sanction out of proportion, and announced that she will appeal it. Revocation of her Dutch citizenship may have consequences for her planned residence in the U.S.
The affair has more than a whiff of political fratricide about it. Verdonk is currently standing for election as party leader of the liberal VVD party, and her tough line on immigration is the central plank of her campaign. Many believe her parting shot at Hirsi Ali — the only liberal politician more controversial than Verdonk herself — was a bid to show just how tough she's willing to be on the issue.
Hirsi Ali's decision to leave the Netherlands was expected. Security measures to protect her from the numerous death threats she has received over the years were becoming an unbearable strain, she said. Last month, a judge ordered her out of her house in The Hague by the end of August because neighbors regarded her presence as too much of a risk to themselves. Faced with the prospect of moving to an undisclosed location again, she chose the U.S. as a refuge. As she told the Volkskrant newspaper, in the U.S. only two bodyguards should suffice; the Dutch government has accorded her six.
From the Magazine
A Wanted Woman
The Somali-born refugee and Dutch MP faces expulsion from the Netherlands, over allegations that she lied in order to gain entry to the country. America is her next stop
By JAMES GRAFF
Sunday, May. 21, 2006
Is the U.S. ready for Ayaan Hirsi Ali? If this slight and elegant woman's arrival in Washington sets off even half the clamor her departure from Dutch politics did, the capital better start girding itself. Last week, the Somali-born Member of the Dutch Parliament, an outspoken critic of the Muslim religion she was born into, announced her resignation to take up a fellowship at the conservative American Enterprise Institute (aei).
But what a send-off: Dutch Immigration Minister Rita Verdonk, a member of same liberal vvd party as Hirsi Ali, announced that because Hirsi Ali had given a false name and age when she applied for Dutch asylum in 1992, her citizenship was officially rendered "not granted." Threats from intolerant Muslims are at the root of Hirsi Ali's departure — she's been under police protection for more than three years and last month a court ruled that because her presence endangered her neighbors, she'd have to move house by the end of August.
But the spectacle of Verdonk also hounding Hirsi Ali provoked outrage. "This is ludicrous," says Ahmed Aboutaleb, an Amsterdam alderman who has often been at odds with Hirsi Ali over integration issues. "This woman risked her life for her opinions. You can't abandon her like this." U.S. Deputy Secretary of State Robert Zoellick called her "a very courageous and impressive woman" and said she'd be welcome in the U.S. The outcry has probably improved Hirsi Ali's chances of retaining her Dutch citizenship after a six-week appeal period — but she's leaving anyway.
The row has boosted Hirsi Ali's visibility — not that the aei is complaining. "Controversy isn't something we avoid; we're not a timorous institution," says its president, Christopher DeMuth. Hirsi Ali's studies into the confrontation of Islam with "the post-Enlightenment world" are a good fit with the aei, DeMuth says. But one of Hirsi Ali's most prominent Dutch collaborators, University of Amsterdam sociologist Paul Scheffer, says some of her new fans in the U.S. might be in for a surprise. "They'll discover that she's an atheist who is very critical about the role of Christianity in politics, too."