USフロントライン
更新2006年05月25日 20:01米国東部時間
シュワに勝てる候補はどっちだ~加州知事選、一本化で揺れる民主
 カリフォルニア州知事選に向けた予備選を6月6日に控え、民主党支持者はまだ誰を支持するか決めかねている。
 クリスチャン・サイエンス・モニターによると、選択肢は大きく分けて2つある。第1は、高所得者層の税金を引き上げ、同性婚を法的に認め、不法移民に運転免許証を交付しようと訴える州財務長官のフィル・アンジェリデス氏。徹底したリベラル派で、自ら「反シュワルツネッガー」を名乗る。
 第2は、政府支出およびサービス提供方法の見直し、福祉見直しを主張する州会計監査官のスティーブ・ウェスリー氏。「一味違う民主党」をスローガンに掲げる財政保守派だ。
 今回の予備選の勝利者が、11月に共和党候補(おそらく現職)と戦うことになる。アナリストや一部民主党は、穏健派のウェスリー氏の方が対シュワルツネッガー氏で勝算があると見ている。4月に実施された世論調査では、現職とウェスリー氏の支持率は43%で並んだ。
 ウェスリー氏はスタンフォード大学で教べんを取った経験があり、イーベイの管理職として巨額の財産を築いた。2002年の会計監査官選挙では、選挙運動に私財3250万ドルを投じたと報告している。
 アンジェリデス氏も億万長者だが、ウェスリー氏には及ばない。1998年に州財務長官に就任し、州民主党の委員長も務めた。州民主党のほか、ロサンゼルス・タイムズを含む一部地元メディアの支持を受けている。
 どちらの候補も優秀だがカリスマ性に欠け、民主党支持者の信頼を充分に勝ち得ていない。最近のLAタイムズの調査によると、どちらの候補も3分の1ずつ支持を集め、接戦となっている。残り3分の1はまだだれに投票するか決めていない。
 一方、シュワルツネッガー氏については、共和党内にほかの有力候補がおらず、支持率も最近は回復傾向にある。4月の調査では、45%が「再選を望まない」と答えたが、その数字は現在縮小しているという。
USA > Domestic Politics
from the May 24, 2006 edition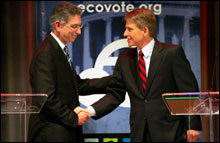 MEET THE CANDIDATES: State Treasurer Phil Angelides (l.) and State Controller Steve Westly debated in Los Angeles recently. The two are the major Democratic contenders for governor in the June 6 Democratic primary.
RICHARD HARTOG/AP

A contest over who will vie with Arnold
Two weeks before California's gubernatorial primary, one-third of Democrats are undecided.
By
Daniel B. Wood
|
Staff writer of The Christian Science Monitor
LOS ANGELES –
Californians voting in the Demo- cratic primary for governor June 6 have two major choices for their nominee:
Choice "A", State Treasurer Phil Angelides, wants to raise taxes on the wealthy, legalize gay marriage, and give driver's licenses to undocumented immigrants. He's a staunch liberal who calls himself the "anti-Arnold."
Choice "B", State Controller Steve Westly, wants to reinvent how government spends money, delivers services, and provides benefits. He's a fiscal conservative who describes himself as "a different kind of Democrat."
Whichever Democratic contender wins the primary will take on Republican Gov. Arnold Schwarzenegger in November. Recently, political observers considered the timing ripe for a Democrat to unseat Mr. Schwarzenegger, whose approval ratings have been in the cellar for months. Mr. Westly, because of his moderate views that are more in line with the state's general election voters, has been thought have a better chance to defeat the governor, say analysts and some Democrats. In a head-to-head match up, Schwarzenegger and Westly were tied at 43 percent in an April California Field Poll.
Bios of the Democratic candidates
Westly, who taught public management at Stanford University, made millions as an executive at eBay. He used his personal fortune to campaign for state controller in 2002, and has reportedly spent $32.5 million of his own money on the race.
Mr. Angelides is a millionaire, but does not have pockets as deep. He was elected state treasurer in 1998, and is a former chairman of the state Democratic Party. He's been endorsed by the state Democratic Party and some of the state's biggest newspapers, including the Los Angeles Times.
Although both candidates are considered competent, neither one is charismatic, and neither has inspired Democratic voters or many politicians in the Democratic party faithful.
"Californians don't really care about the June primary, and it may set a record for low turnout," says Robert Stern, director of the Center for Government Studies. "We have had too many elections ... [and] the governor has had great press lately," says Mr. Stern.
"The Democrats biggest problem is that neither candidate excites the people or the press. They just don't have the stature of the governor," he adds.
Current polling shows Westly and Angelides running neck and neck, with each receiving a third of voter support, according to the Los Angeles Times. Another third of voters are undecided. In April, Westly led in all the public polls, the Times reported.
That both Democrats have been attacking each other is not helping their candidacies, political analysts say, and is undermining a golden opportunity for the party. In several debates, the two have lashed out at each other with such invective, and handing Republican strategists ammunition for the general election campaign. Negative TV ads costing millions of dollars have also broadcast the Democrats' weaknesses.
Meanwhile, Schwarzenegger has no serious Republican opponent, and his standing with voters is improving lately. An April California Field Poll showed that 45 percent of likely voters say they are "not inclined to reelect him," but that number is shrinking.
With a lackluster primary expected, the fall election will likely come down to a referendum on Schwarzenegger, political observers say. He's recently won public plaudits for putting an historically massive state-improvement bond of $37.3 billion on the November ballot. State fiscal fortunes have also turned around as a result of an influx of tax revenue.
Schwarzenegger's message and support
To woo voters, Schwarzenegger has begun talking about a different issue each week, including education, prisons, environmental reform, and shoring up state levees.
He has taken a more conciliatory attitude with state lawmakers of late - an about-face from his previous habit of bypassing the legislature by taking issues directly to voters.
Schwarzenegger also brought in a Democrat as his chief of staff, and teamed up with other high-profile state Democrats - Los Angeles Mayor Antonio Villaraigosa, Assembly Speaker Fabian Núñez, and Senate President Pro Tem Don Perata - on education and state infrastructure improvements. Schwarzenegger's actions between now and November will help determine how Californians vote, Stern and others say.
"These guys have been basking in each other's sunshine," says Tony Quinn, a political analyst in Sacramento. "Some of the state's top Demo- crats don't find [Schwarzenegger] so horrible that they want him out. They don't mind having him there while they control the legislature. They realize they are big shots with things the way they are, and are littler shots if the state has a Democratic governor."
Indecision marks electors' mood in California
Reuters
Thursday, May 25, 2006; 6:58 PM

SAN FRANCISCO (Reuters)
- Republican Gov. Arnold Schwarzenegger faces a close race in November regardless of which Democratic candidate for governor wins California's June primary election, according to survey results released on Thursday.
Schwarzenegger is up for reelection in November and the Public Policy Institute of California described that race, either against Democratic candidates State Treasurer Phil Angelides or State Controller Steve Westly, as a "toss-up" based on its survey results of hypothetical match-ups.
Angelides and Westly face a "volatile" next few weeks as they are in a "statistical dead heat" among likely Democratic voters in the June primary and a third of those voters are undecided.
"California voters seem very indecisive at the moment," said institute survey director Marc Baldassare. "They are simply uncertain about the type of leadership they want."
"It's very uncertain and unsettled," he said. "The level of indecision is much higher than we saw in 1998 and 2002."
The indecision is being stoked by a number of factors, including angst about the economy, inflation, gasoline prices, the battered stock market and immigration, which voters ranked as the top issue they want candidates for governor to address.
According to the institute, 52 percent of Californians expect bad financial times in the coming year, compared with 43 percent in March, and a majority of Californians, or 57 percent, think the state is headed in the wrong direction.
Additionally, 58 percent believe the state's finances remain a big problem, with 32 percent saying they have grown worse in the last two years.
By contrast, Moody's Investors Service and Standard & Poor's recently raised their credit ratings on California's general obligation debt based on improved revenue and budget trends.
For the June election, 51 percent of likely voters said they would approve a $600 million state bond measure to finance building and renovating public libraries, and 50 percent of likely voters would back a measure to tax high-income households to fund preschool education for four-year-olds, while 43 percent oppose the tax measure.
Californians are "generally enthusiastic" about the public works bond measures on the November ballot. They are components of the legislature's public works investment plan, embraced by Schwarzenegger, to be funded by $37.3 billion in general obligation debt.
November's $10 billion bond measure for school projects, $20 billion bond measure for road work and $4 billion bond measure for flood control improvements are each supported by more than 60 percent of voters. The $3 billion bond measure for affordable housing on the November ballot is supported by 49 percent of voters and opposed by 47 percent of voters.
The sampling error for the total sample of the survey is plus or minus 2 percent, the institute said, adding it conducted the survey between May 14 and May 21 in English and Spanish with 2,000 adult California residents.
Phil Angelides for Governor
Endorsements (by LGBT Leaders)
Steve Westly 2006
Endorsements
Schwarzenegger.com
米カリフォルニア州:シュワルツェネガー「ガヴァネーター」に対抗できるスーパーヒーローを欠く民主党