同性愛活動家、ロシアでゲイ・パレード敢行へ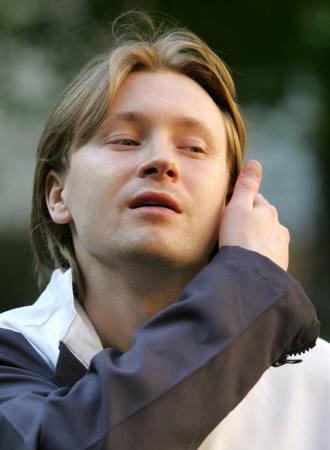 5月25日、同性愛活動家がモスクワで27日にゲイ・パレードを敢行すると表明。写真は同パレードの主催者。23日撮影(2006年 ロイター/Shamil Zhumatov)  
 [モスクワ 25日 ロイター] ロシアのモスクワ市内で、同性愛活動家らが今月27日にゲイ・パレードを行う。モスクワ市当局から禁止命令を受けた上、同性愛者に批判的な同国ではかえって偏見を煽る結果になると懸念する一部ゲイ・コミュニティからの声を押し切っての敢行となる。
 パレードを含む今回のゲイ・イベントを主催するニコライ・アレクセイエフ(28)さんは、イベントの目的について、ゲイ・コミュニティが社会の脅威ではないことを示すため、と説明する。
 ただ、教会指導者が同性愛を殺人や暴力と同罪とみなし、一部極右勢力がゲイ・クラブの襲撃を試みるロシアでは、目立つようなことはしたくないと考える同性愛者も多い。
 モスクワ市当局はパレードを「社会への反逆行為」だとしてこれを禁止したほか、右翼過激派はパレードを襲うと表明している。
 アレクセイエフさんはそれでも決行すると述べ、「パレードの本当の目的は、同性愛者への嫌悪と偏見に対する戦い。同性愛者への差別を禁止するよう、政府に求めていく」と決意を示した。
Court Bans Moscow Gay Pride
Created: 26.05.2006 13:00 MSK (GMT +3), Updated: 13:03 MSK
MosNews
The Tverskoy Court has ruled against holding a gay pride parade in Moscow, Interfax reported Friday.
The court upheld the decision of the Moscow authorities to ban the holding of the parade and rejected the appeal of the organizers, an Interfax correspondent reports.
The Mayor of Moscow, Yuri Luzhkov, has banned the gay parade and is threatening to also outlaw the parallel gay rights conference and festival.
The Mayor's diktat follows inflammatory statements by the leader of Russia's Muslims, who threatened violence if the planned Moscow Gay Pride parade went ahead.
Condemnations of gay people and the gay parade have also come from Russia's Chief Rabbi and the leaders of the Russian Orthodox Church.
Announcing the parade ban, the Mayor's office said last week: "This march could provoke a wave of protests which could lead to mass breaches of public order and disturbances, therefore the application for the march has not been successful."
The organizers have previously stated that they would hold a march regardless of the ban. Many well-known gay rights campaigners from around the world plan to attend Moscow Gay Pride. Prominent attendees include the Deputy Mayor of Paris and several members of the European Parliament.
Over 250 representatives from more than 30 countries will participate in the simultaneous Moscow International Gay Festival from 25 to 27 May, featuring a series of lectures by Merlin Holland, the grandson of Oscar Wilde. One such lecture was already disrupted on Thursday by nationalist protesters.
Moscow Pride was scheduled for a week after the start of the Russian Presidency in the Council of Europe and just before the summit of G8 leaders in St Petersburg. President Putin has not commented on the banning of Moscow Pride or on the threats of violence from religious leaders.
BBC
Last Updated: Thursday, 25 May 2006, 12:59 GMT 13:59 UK
Gay marchers to defy Moscow ban
Gay pride events have been staged in many cities worldwide
Russian gay rights campaigners say they will hold a gay pride rally on Saturday despite a ban by Moscow's mayor.
The organiser of Russia's first gay and lesbian festival, Nikolai Alexeyev, told the BBC that the gay activists would find an alternative route.
Moscow mayor Yuri Luzhkov banned the march, calling it an "outrage" and nationalists plan to disrupt the event.
But Mr Alexeyev said campaigners had already achieved their goal of raising awareness of homophobia in Russia.
"This event was just the opportunity for us to say no to homophobia and to attract the media attention to this problem and to attract the attention of the authorities," he told the BBC's World Today programme.
"In the last 10 months I would say the Russian media has talked about this problem more than in the whole of Russian history."
Mr Alexeyev said homophobia was a big problem in Russia and there were frequent attacks on gay people.
Earlier this month, 39 people were arrested in Moscow after protesting outside a gay nightclub. Riot police were brought in to control a mixture of right-wing and religious activists, who picketed the club and shouted insults at people leaving it.
Mayor Luzhkov said he banned the march because he believed homosexuality was not natural and because the event would cause outrage in society - a position supported by many Christian and Muslim groups.
Alternative
Mr Alexeyev said the ban means the march may not go ahead as originally planned, but there would be some form of public action on 27 May.
"Of course, we will not proceed on the same route that we applied for in the application, because there will not be enough security and there will be nationalistic groups who will gather in the same place and try to disrupt events," he said.
"We will have to find other options to go and realise our constitutional rights, it will be some kind of different gathering somewhere in the city."
Mr Alexeyev said opinion polls in April 2005 and April 2006 showed public attitudes were changing.
"If a year ago the majority was asking for the criminal prosecution of gays, this April the majority are against," he said.
"There are more people tolerant now than a year ago."
Gay Pride Parade Polarizes Moscow
By Kim Murphy, Los Angeles Times Staff Writer
May 26, 2006
MOSCOW — A small idea of what it means to be homosexual in Russia might be gleaned from the life and death of composer Peter Illich Tchaikovsky, who died in 1893 after contracting cholera from a glass of water.
A large part of the population here doesn't buy the official cause of death. The story persists — probably a myth, historians say, but who cares? — that the gay genius was confronted by former classmates, who accused him of assaulting the honor of their school with his male dalliances. A five-hour "trial" was held, the story goes, and Tchaikovsky took his own life in an agony of shame and regret.
This week, Russian gay activists are trying to stage the nation's first gay pride festival in a country that now officially tolerates a variety of lifestyles, but which in many ways has changed little since the days more than a century ago when homosexuals could legally be beaten with birch rods.
"There is still a huge problem in this country," said Nikolai Alexeev, organizer of the Pride '06 festival. "When you get outside of Moscow, people have nowhere to go. They are completely closeted, they cannot have any kind of open, happy life. They are basically scared to say they're gay."
The Pride '06 festival opened Thursday with a lecture by Merlin Holland, grandson of Oscar Wilde, the homosexual writer who spent several years in a British prison. About 20 protesters entered the hall, shouted anti-gay slogans and released an unidentified but apparently harmless gas before being arrested.
Moscow is home to a number of gay clubs, restaurants and bars. The federal law making homosexual activity a crime has been off the books since 1993. Indigo, a chic gay products store that features risque bikini underwear, lesbian calendars and works by noted gay authors, stands on one of the capital city's most elegant shopping streets, almost directly across from City Council headquarters.
Yet the proposal to stage a Gay Pride parade Saturday in connection with the festival has polarized the city, with even some gay activists issuing a statement that such a spectacle is "untimely, dangerous and provocative" in a city in which large segments of the population still view homosexuality as a perversion and an affront to the Russian Orthodox Church.
Political and church leaders have voiced strong opposition, and Russia's chief Muslim religious leader, Talgat Tadzhuddin, condemned the idea in even stronger terms.
"Under no circumstances should something like this be permitted. And if they come out into the streets anyway, they should only be beaten up. Any normal person would do that — Muslims and Orthodox Christians alike," he said.
Moscow Mayor Yuri M. Luzhkov denied festival organizers' application to permit 2,000 to march Saturday through central Moscow to Lubyanka Square, headquarters of the Federal Security Service. Deputy Mayor Lyudmila Shevtsova, in her recommendation for the denial, cited more than 200 letters of protest.
"In our country, homosexuality and lesbianism have always been considered sexual perversions, and were even prosecuted in the past. Currently, the stated actions are not prohibited by law," she said, "but their agitation, including gay festivals and a parade of sexual minorities, is in fact propaganda of immorality, which may be prohibited by law."
The potential for violence was apparent last month, when about 300 protesters organized by the nationalist Russian All-National Union swarmed outside a club at which a gay and lesbian party was planned, waving Orthodox icons and shouting anti-gay slogans.
Owner Grigory Plotkin said the crowd began throwing rocks and bottles as staff members from his club, which is not normally a gay gathering place, tried to exit. Demonstration organizer Igor Artyomov, a member of Moscow's regional council, said they were throwing only eggs and tomatoes.
"We have repeatedly stated our opposition to the public propaganda of such phenomena as homosexuality and lesbianism, because we believe they run counter to the norms of the main religions that are practiced in Russia," Artyomov said.
He said 43 of his activists were arrested and spent nearly 20 hours in jail after police cracked down on the protest. The next day, 22 more anti-gay protesters were arrested near a major Moscow public center.
Organizers of the Pride '06 festival say they will proceed with an unsanctioned picket action Saturday, to be held in an unannounced location in the city to try to avert violent protests.
"The mayor said it was because he had received so many letters of protest against a gay march, and because of that, he could not provide security," said Alexeev, a former graduate student at Moscow State University who left the institution after being told he would not be allowed to complete a dissertation on the rights of sexual minorities.
"The European Court [of Human Rights] has said many times that saying you cannot provide security means that you are surrendering to the people who would be against the minority. And they will always win. This is not democracy, if you organize your society in this way."
Fesitval organizers insist that they are trying not to stir up trouble but to move the debate in Russia an inch at a time up the road. It's too soon to talk about gay marriage in Russia, Alexeev said, but he would like to see legislation prohibiting discrimination against homosexuals.
Only this week, Alexeev said, a professor at Moscow State University who had been planning to speak at the festival was told he would not have a job in September if he appeared. "And this was said at a university that considers itself one of the leading universities in the world," he said.
But Yelena Kidanova, head of the civil rights group Tolerance and a manager at the Indigo store, said she elected to sign the statement opposing the "untimely" parade.
"The problem is acute, but an event like a street march can hardly help solve it. I personally wouldn't gain anything from marching up and down the street waving flags," Kidanova said.
"It would be much more helpful to get legislation passed. I think real political power lies in the hands of… those who quietly, diligently work every day."
Russia gays hear call: Go back to the closet