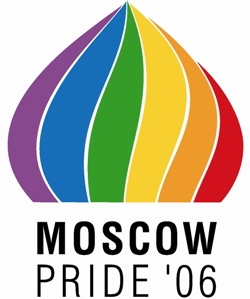 Police and protesters break up Moscow gay parade
Sat May 27, 2006 10:03 AM ET
By Oliver Bullough

MOSCOW (Reuters)
- Russian police, militant Orthodox Christians and neo-fascists broke up a first ever gay rights march in Moscow on Saturday, but the homosexuals claimed their short-lived protest as a "great victory".
Activists led by 28-year-old Nikolai Alexeyev had planned to lay flowers at the Tomb of the Unknown Soldier -- a symbol of the World War Two struggle against fascism, and one of Russia's most sacred places.
But police closed the gates to the park where the eternal flame burns under the Kremlin walls, and a heavy scrum of women singing hymns and shaven-headed nationalists tried to charge into the gay activists as the march arrived.
"This is a great victory, an absolute victory -- look at what's happening," Alexeyev said as he was dragged, bent almost double, away from the gates by two policemen.
City authorities had banned the march, which they called an "outrage to society", while religious leaders from all major faiths condemned it. Interfax news agency reported police had detained around 100 people after the clashes.
Even some rival gay activists said the march risked inflaming Russia's widespread intolerance of homosexuality, and wished Alexeyev had chosen a less direct way to protest against discrimination and homophobia.
Homosexuality was only decriminalized in Russia in 1993 and, although some gay clubs exist in big cities, same-sex couples almost never make a public display of their affections.
"MOSCOW IS NOT SODOM"
The marchers, who seemed to number about 40 although an exact count was impossible in the mob, were outnumbered at least twofold by men and women carrying Russian Orthodox icons and chanting "Moscow is not Sodom".
"We must stop them at this first stage, or they'll come and corrupt our children," said Kirill Bolgarin, 24, who had come to protest despite the pouring rain.
His friend Andrei, 25, interrupted, and gestured at the eternal flame.
"We are Russians. We are Orthodox. These soldiers died so we could live like Russians, not so these people could come here and tell us what to do," he said.
Alexeyev had invited gay activists from all across Europe to the march, the culmination of three days of events that were a first Russian attempt to hold a Gay Pride festival like those in Western cities.
"We came here to lay flowers at this anti-fascist memorial, but the mayor is so terrified of us that he took the step of ordering the gates closed," said Peter Tatchell from the British gay rights group OutRage.
"As soon as we arrived we were set upon by fascist gangs and police. Today is a great shame for Russia because a peaceful protest has been suppressed."
Later, when police had formed a line between the two sides, a group of skinheads -- young Russian nationalists who have grown in number in recent years and have been behind a series of attacks on foreign students -- rushed toward the gay activists.
Their faces masked, they threw flares as they ran, but OMON riot police stopped them and dragged them to waiting buses.
Passers-by on the pavement outside parliament, which is on one of the capital's main streets, looked on in disbelief.
"I think it is a sexual abnormality, but if these gays want to do it, they should," said Robert Antonov, 35. "Why shouldn't they do what they like? They are people too."
120 detained over gay-pride parade in Moscow (updated)

Moscow, May 27, Interfax -
Up to 120 young people claiming to be members of the gay community have been detained for trying to stage an unauthorized march in downtown Moscow, a city police spokesman told Interfax.
"There were a total of 200 people," the spokesman said. They hurled smoke bombs at passers-by and police and set off fireworks, he said.
Other people tried to stop the demonstrators, the spokesman said. "The administration of the central interior affairs department authorized the detention of the most aggressive young people in order to avoid clashes," he said.
The action's organizers and other members of the gay rights movement were put into buses and taken to police stations, he said. Most of them have already been released, the spokesman said.
Several journalists and foreigners were among those detained during the unauthorized march, a law enforcement source told Interfax.
There has been no word on injuries.
Defiant Gay Activists Held in Moscow as Police Move to End Pride Parade
Created: 27.05.2006 16:47 MSK (GMT +3), Updated: 16:48 MSK
MosNews
Moscow police moved quickly Saturday to end an unsanctioned gay pride march and prevent a counter demonstration from organizing in the Russian capital. Local news agencies Interfax and RIA said that as many as 50 people were detained by police, including Nikolai Alekseyev, one of the organizers of the pride march.
More than 1,000 police officers were put on full alert Saturday when Alekseyev and other organizers said they would ignore a court ruling upholding Mayor Yuri Luzhkov's decision not to issue a parade permit. Alekseyev was arrested as he was preparing to lead a group to the Tomb of the Unknown Soldier outside the Kremlin, the Interfax news agency reported.
Earlier in the day Alexeyev told Interfax that "the laying of flowers at the Tomb should serve as a response "to the fascist politics provoked by some injudicious remarks by public officials."
While police were blocking the march from taking place other officers were rounding up skinheads, members of a far right political group and supporters of the Russian Orthodox Church who were gathering not far away to form a counter protest. As police moved in the counter protesters began chanting "Sodom Won't Pass Here!"
The gay pride march was to have been part of an international LGBT conference being held in Moscow. Gay rights leaders from throughout Europe were attending the conference. It is not known if any foreign nationals were arrested.
Moscow is the only major world capital not to have a pride parade. In denying the parade permit Luzhkov said he was concerned about potential violence. But on Russian Radio on Friday he cited moral reasons for the ban. "I believe that such a parade is inadmissible in our country above all for moral considerations. People should not make public their deviations," he said.
AP quoted Moscow Mayor Yury Luzhkov as saying during a radio interview yesterday that gay-pride parades "may be acceptable for some kind of progressive, in some sense, countries in the West. But it is absolutely unacceptable for Moscow, for Russia." "As long as I am mayor, we will not permit these parades to be conducted," Luzhkov said.
Conservatives and Russian Orthodox and Moslem leaders have led a pressure campaign against the march. Russian Patriarch Alexy II has denounced the planned festival and parade, and the leader of Russia's Muslims has called for a "violent mass protest" if gay leaders go ahead with pride celebrations.
Earlier this week, organizers of the march said they were still planning protest actions in Moscow, notwithstanding the ban.
Last month, ultranationalists and Russian Orthodox activists attacked two Moscow gay nightclubs, throwing bottles, rocks, and eggs at party-goers and chanting homophobic insults.
SEE ALSO
26.05.2006 13:00 MSK, MOSNEWS.COM
Court Bans Moscow Gay Pride
Moscow police detain gay parade organizers (updated)

Moscow, May 27, Interfax -
Nikolay Alexeyev, the organizer of a gay parade in Moscow, which was banned by the city government and a court, and Yevgenia Debryanskaya, a prominent lesbian movement activist, were detained by police on Saturday.
About ten more people with non-traditional sexual orientation were also brought to the police precinct.
Alexeyev was detained near Alexander's Garden during an attempt to lay a wreath at the Tomb of the Unknown Soldier, an Interfax correspondent reported from the scene.
Debryanskaya and about a dozen more people were detained later near the Moscow city hall building in front of the monument to Yury Dolgoruky, where would-be gay parade participants moved later, a law enforcement source told Interfax.
OMON anti-riot task force servicemen have now cordoned-off the square in front of the monument to Yury Dolgoruky and are shoving those protesting the gay parade from the square.
It was reported earlier that, after the parade organizers approached Alexander's Garden, which is located outside the Kremlin wall, opponents to the action started chanting, "Sodom Won't Pass Here!"
Among the gay parade's opponents were up to 150 people, including members of the Union of Orthodox Gonfalon-Carriers, the Russian All-National Union, and the Movement Against Illegal Immigration.
OMON servicemen formed a line and shoved the crowd back toward the History Museum.
A law enforcement source also told Interfax that police detained some 25 alleged skinheads on Chistoprudny Boulevard at about 1:00 p.m., presuming that they were also going to protest the unauthorized gay parade.
The Moscow city government earlier banned a gay procession from Myasnitskaya Street to Lubyanka Square. Moscow's Tverskoi Court on Friday upheld the ban.
Over 50 participants of banned gay parade detained in Moscow
14:33 | 27/ 05/ 2006

MOSCOW, May 27 (RIA Novosti) -
Over 50 participants of an unsanctioned gay pride parade were detained in downtown Moscow, a source in the city's law enforcement agencies said Saturday.
The source said police had been instructed to stop all attempts to hold the banned demonstration.
Earlier, a police spokesman said security would be tight in central Moscow when the unsanctioned gay parade could take place.
Opposition to the planned event has been strong in Russia, especially from the Russian Orthodox Church and other religious leaders, and Moscow authorities feared that parade participants could be attacked by aggressively minded youth groups.
"About 1,000 policemen will be on duty in the city's center during the anticipated gay parade," Yevgeny Gildeyev said Friday. "All the central streets will be under control, as the exact location where the organizers plan to hold the event is unknown."
A Moscow district court Friday upheld a ban imposed by the city government on the parade slated for Saturday. The court rejected an appeal by the event's organizers against a Moscow city government decision to prohibit the event to mark the 13th anniversary of homosexuality being decriminalized in Russia.
Foreign pressure groups have joined the chorus asking for the Moscow mayor's office to allow the event, but opposition has been strong within the country, especially from the church. An Orthodox priest was seen blessing a group - many holding religious banners - that attacked a gay nightclub in Moscow in late April.
Gays plan two actions in Moscow Saturday

Moscow, May 27, Interfax
- Gay activists will conduct two public actions in Moscow on Saturday, despite a ban imposed by the city government, Nikolay Alexeyev, the organizer of the event, told journalists at a press conference on Saturday.
The first part of the event will take place at Alexander's Garden outside the Kremlin at 2:30 p.m., where members of the Moscow gay community and guests from 20 countries, including the U.S., the Netherlands, and France, will lay flowers at the Tomb of the Unknown Soldier.
The second part of the event should take place near the monument to Yury Dolgoruky in front of the Moscow government building at 3:00 p.m., he said.
The laying of flowers at the Tomb should serve as a response "to the fascist politics provoked by some injudicious remarks by public officials," Alexeyev said.
"Our action is an act of civil will. We are calling on everyone who wants to come and lay flowers at the Tomb of the Unknown Soldier to join us. We are not forcing anyone, but everyone can come and lay flowers together with us. This is a goodwill act," he said.
Moscow's Tverskoi Court on Thursday refused to permit the organization of a gay parade in Moscow, thus upholding a ban that the Moscow city government had imposed on these plans earlier.
Over 1,000 police on alert for gay parade in Moscow

Moscow, May 27, Interfax -
Over one thousand policemen will be on alert in Moscow on Saturday to prevent disorder that could be caused by a planned Gay Pride parade, Moscow city police spokesman Yevgeny Gildeyev told Interfax.
"The Moscow police are working in line with an instruction from the Moscow government banning public actions by gays," Gildeyev said.
He, however, pointed out that the police would focus primarily on preventing clashes between marchers and their opponents, who might act aggressively.
"Any disorder will be curbed toughly," Gildeyev said.
In addition to the thousand policemen, reserve units will also be composed of some 700 servicemen from the OMON special anti-riot police, he said.
Gildeyev once again called on the organizers of the unsanctioned parade to refrain from their plans. He also promised severe repercussions. for anyone who "makes use of the situation for provocation and mass fights."
The gay parade organizers are keeping the time and venue of their action secret, but law enforcement agencies have information about where they are planning to finish the event, and the principal police forces will be concentrated there, Gildeyev said.