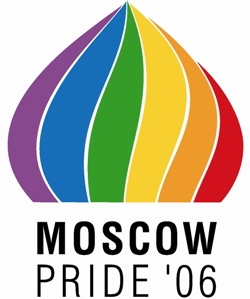 Toronto Star
First Pride parade over before it began
Despite attacks on marchers, activists declare victory in defying official ban
May 28, 2006. 01:00 AM
MICHAEL MAINVILLE
SPECIAL TO THE STAR

MOSCOW—
Defying an official ban and threats of violence, gay and lesbian activists attempted to hold Russia's first-ever gay Pride march in Moscow yesterday but were thwarted by police and neo-fascist protestors shouting "Moscow is not Sodom!"
Police arrested about 120 people and several gay activists were injured in attacks by religious and nationalist protestors.
The key organizer of the event, 28-year-old Nikolai Alexeyev, was pulled away by police only moments after the short-lived march began.
"This is a great victory, an absolute victory," Alexeyev shouted as two officers dragged him into a waiting bus.
City authorities had banned the march, which they called an "outrage to society" while religious leaders from all of Russia's major faiths condemned it.
Many in the gay community also opposed the event, saying the march risked inflaming already widespread homophobia in Russia.
But supporters insisted it was necessary.
"We can't keep living in the shadows," Alexeyev said in an interview before the rally. "We deserve the same rights to freedom of speech and freedom of assembly as anyone else."
Organizers had urged gay-rights supporters to lay flowers at the Tomb of the Unknown Soldier, just outside the Kremlin wall, before marching to a square opposite Mayor Yuri Luzhkov's office.
But when marchers arrived, they found the entrance to the park where the tomb is located sealed and hundreds of riot police blocking their path.
More than 100 anti-gay protestors had also gathered, including skinheads, Russian nationalists and Orthodox militants.
Women wearing headscarves chanted hymns and held up religious icons, while men in traditional Cossack tunics and sheepskin hats shouted at participants.
As police pushed the crowd away from the Kremlin, gangs of extremist youths attacked a number of gay activists, kicking and beating them.
"We're here to defend the dignity of Russia, to protect our country from perverts and pederasts," said Nikolai Grigoriev, a 26-year-old skinhead.
Shortly before the main rally was to begin on the square, dozens of nationalist youths raced toward the site, throwing flares into Moscow's main street, Tverskaya, and setting off smoke bombs.
Police made little attempt to clear the square and the crowd grew. The few gay-rights supporters who attempted to enter the square were set upon by gangs or arrested by police.
Earlier, gay-rights activists from Canada, the United States and across Europe joined their Russian counterparts in an unprecedented conference on the rights of sexual minorities.
Among them were a number of European parliamentarians who said they planned to raise the issue of discrimination against homosexuals with the Council of Europe, the continent's chief human rights body, which Russia is currently chairing.
While giving an interview to television cameras yesterday, a Green Party member of Germany's Bundestag, Volker Beck, was severely beaten by a gang of about 20 youths before being escorted from the scene by riot police.
Prominent British gay activist Peter Tatchell, who also took part in yesterday's event, said he hoped Western leaders would condemn Russia for what happened.
"This isn't just about protecting the rights of the gay and lesbian community, it's about the rights of all Russians to democratic freedoms," he said. "The world can't shut its eyes to what's happening here."
Supporters of the march said the government's refusal to sanction the event had sent a clear signal to police and extremists.
"It was shocking and disturbing," said Canadian gay-rights activist John Fisher, a former executive director of EGALE Canada and currently co-director of the Geneva-based ARC International gay lobby group.
"What I saw was a complete failure of police protection that was directly linked to the mayor's banning of the march."
By banning the march, authorities gave "free rein to those who would perpetrate acts of violence," Fisher said. "We can only hope that what we saw was representative of only a small segment of society."
Despite what happened, Fisher praised the organizers of the event for having the courage to raise the issue of gay rights.
"If there is one thing we've learned in Canada and the West, it's that the enemy is silence; the enemy is invisibility," he said.
Organizers had timed the event to coincide with the 13th anniversary of the decriminalization of homosexuality in Russia.
Despite growing tolerance for homosexuals since the collapse of the Soviet Union in 1991, Russia remains a deeply homophobic society. In one poll last year, 73 per cent of Russians opposed same-sex marriages and 43 per cent said gay men should be incarcerated.
The weeks leading up to the parade were marked by growing tensions, protests outside Moscow gay clubs and homophobic attacks. The Russian Orthodox church denounced the event as "the propaganda of sin."
The leader of Russia's Muslim community, cleric Talgat Tadzhuddin, said: "If they come out into the streets, they should be bashed."
120 arrests at Moscow gay protest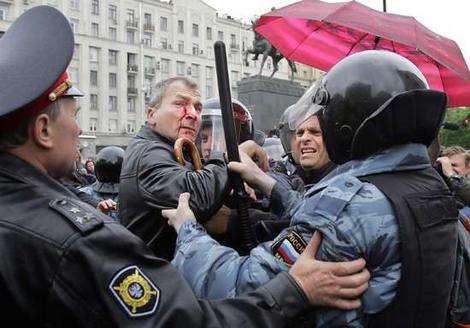 Russian police forces arrest Volker Beck (centre), a German MP and lawyer, after he was beaten by opponents of a planned gay-pride parade during an unapproved homosexual groups' rally in front of the Moscow City Hall.
Photo: AFP
May 28, 2006 - 12:41PM
Moscow police have arrested about 120 people during an unsanctioned gay rights demonstration at which a German MP was injured in a scuffle with right-wing activists.
Municipal authorities had banned a planned gay and lesbian parade through the capital despite a court appeal by organisers who pledged to hold a rally regardless.
About two dozen gay activists mounted an initial protest in front of the city hall, where violence ensued as other groups of citizens, reportedly including right-wing radicals, tried to break up the gathering.
Police units then moved on the crowd and made numerous arrests. Up to 200 other protesters also moved along the city's Tverskaya main street.
Volker Beck, a member of the German Bundestag who took part in the event, was punched in the face in a clash with alleged extremists.
Police stood back during the violence, he said.
"There was no aggression from our side, we were simply there," Beck told Deutsche Presse-Agentur dpa. "It is unacceptable that the police offer no protection to gays on the streets."
The politician was detained in the fracas and kicked into a police bus. He was released with an apology when officers saw his parliamentary credentials.
City authorities were unrelenting at the hard line taken by police. Gay protesters had acted provocatively, said Sergei Tsoi, spokesman for Moscow mayor Yury Luzhkov, who had banned the event.
Smoke canisters were tossed and signal flares fired, prompting police retaliation, Tsoi said.
Gay activists were also detained approaching the Alexander Garden by the Kremlin wall, where police prevented them from laying wreaths at the Tomb of the Unknown Soldier.
Most of those detained were later released, law enforcement officials said.
Riot police also clashed with groups of presumed right-wing extremists and made about 50 arrests as they approached the gathering.
About 120 drivers also took part in a gay car rally in a western Moscow suburb.
A spokesperson for the Duma lower house of parliament called the gay protest a "provocation" and praised the actions of the police.
Mayor Luzhkov claimed earlier that 99 per cent of Muscovites supported the ban on the event. While European countries were more accepting of the gay community, a parade was impermissible in Russia for "moral and ethical considerations", the mayor said.
"One should not demonstrate publicly his deviations from the norm in the organisation of life and sex," he said.
A senior leader of Russia's Muslims had also opposed the event, saying participants should be "given a thrashing".
Homosexuality was considered a crime in the Soviet Union and was legalised in independent Russia only in 1993.
According to activists, the country still suffers from state sanctioned gay rights abuses, while gays and lesbians face broad public intolerance.
DPA
German MP attacked by thugs, detained by police in Moscow.
27.05.2006, 22.17

BERLIN, May 27 (Itar-Tass)
-- German MP Volker Beck was attacked by nationalists and detained by police in Moscow during an unsanctioned sexual minority march on Saturday.
"At first I was hit by a rock and then a young neo-Nazi hit me in the face," he told DPA.
Beck, who is the executive secretary of the Union-90/Greens faction in the Bundestag and a known homosexual, and other participants in the event were then detained by police. After identification apologies were offered and he was let go.
The doctor at the German embassy in Moscow examined Beck's injuries.
Beck accused Moscow police of having failed to ensure the security of the gays. "It is inadmissible that police wouldn't protect peaceful gays and lesbians from hooligans," he said.
Co-chairmen of the Greens faction in the parliament, Renate Kunast and Fritz Kuhn, urged Russia to respect human rights, which also include peaceful demonstrations and the protection of their participants.
They said discrimination based on sexual orientation is inadmissible.
Earlier in the day, police detained about 120 people for public order violations in the centre of Moscow. Those included sex minority activists, who had made an abortive attempt to organise a rally, and their opponents.
At about 2.30 p.m. Moscow time (1030 GMT), representatives of gay organisations tried to stage an unsanctioned march in the central part of the city. About 200 young men, who claimed they supported the gay movement, had joined them.
"While marching along Okhotny Ryad they started hurling smoke candles at the passersby and police. In order to prevent casualties, it was decided to detain the most aggressive young men," a city police department officer told Itar-Tass.
"When a small part of the participants reached the monument to Yuri Dolgoruky, they faced protesting Orthodox believers and other opponents of the gay movement. … In order to prevent possible law offences it was decided to isolate some of the participants in the event by putting them in police buses," the officer said.
He said, "120 detainees were taken to different police stations. … After they have been lectured they will be let go."
"Administrative protocols will most likely be drawn up against the organisers of the unsanctioned event," the officer added.
He did not confirm reports claiming that there were several European Parliament deputies among the detainees. However he said the deputy mayor of one of the German cities had been detained along with the participants in the sex minority rally.
Police also detained about 16 nationalists who wanted to prevent the gays' march. "They have been taken to the nearest police station where they will be lectured, then registered and let go," the official said.
About 100 representatives of gays' organisations, who intended to go to the Alexandrovsky Garden by the Kremlin, were detained near one of the central metro stations.
At the same time, policemen in Bolshaya Dmitrovka Street, near the Bolshoi Theatre, blocked a group of 150 people who headed for the mayor's office to express protest against the planned gay action. Police asked them to leave.
The police officer denied media reports about a fight between gays and radical groups in the Alexandrovsky Garden. OMON anti-riot policemen prevented homosexuals from laying wreaths at the Tomb of the Unknown Soldier. The participants in the unsanctioned action were detained and taken to a police station.
On Friday, Moscow's Tverskoi Court upheld the Moscow Mayor Office's ban on gay parades in the city as lawful.
Representatives of sexual minorities had applied to the Moscow administration with a request to hold a parade. But the city government rejected the application, explaining its decision by "problems with blocking motor traffic," as well as by "apprehensions concerning the procession participants' security."
Moscow Mayor Yuri Luzhkov told Russian News Service Radio that "such events may be appropriate only for European countries that are more 'advanced' in this regard than Russia."
"I believe that such a parade is inadmissible in our country above all for moral considerations," Luzhkov said, stressing that "people should not make public their deviations in the sphere of organisation of life and sex."
The Moscow mayor recalled that his decision to ban the gay parade "caused a storm of publications in the Western press, severely criticising the actions of the city Mayor's Office."
"However, I said at once that we would not even consider a possibility of holding such a parade," he said.
Luzhkov said 99 percent of Muscovites had supported the ban.
モスクワ・プライド:同性愛者ら120人拘束 モスクワ中心でデモ強行