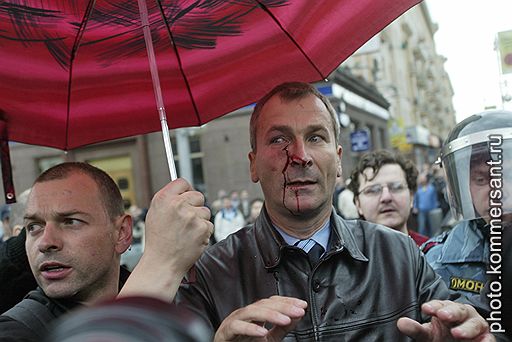 Photo: Dmitry Kostyukov
The deputy of German Bundestag Volker Beck (center) was injured during the unauthorized Gay Parade in Moscow.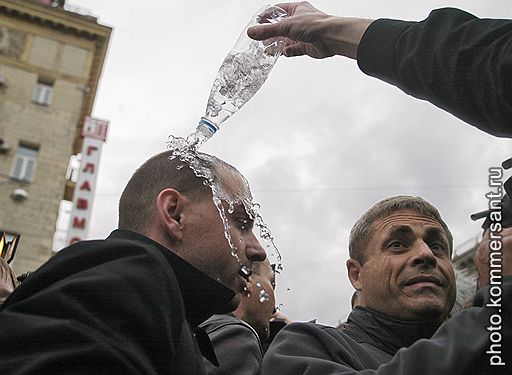 Photo: Dmitry Kostyukov
Policeman and participants of unauthorized Gay parade in front of Moscow City Hall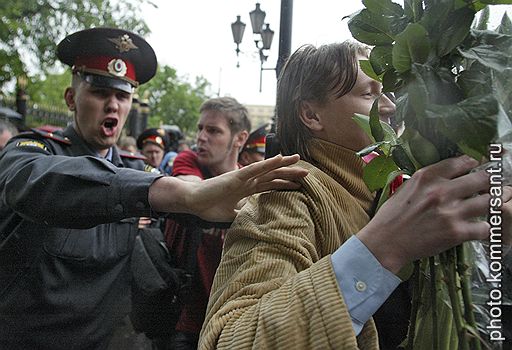 Photo: Dmitry Kostyukov
Head of Gay-Russia.ru project Nikolay Alekseev (right) by the Tomb of the Unknown Soldier in Alexander Garden.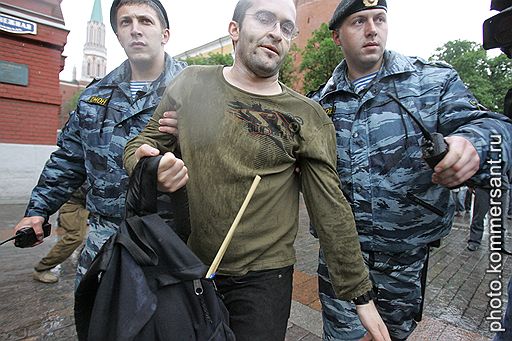 Photo: Alexander Miridonov
Policemen detain a participant of the rally protesting against the gay parade in Moscow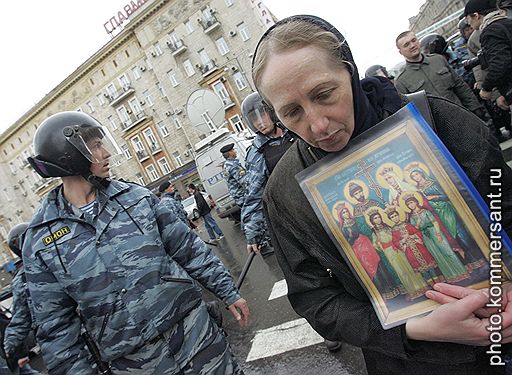 Photo: Alexander Miridonov
The rally against Moscow's Gay parade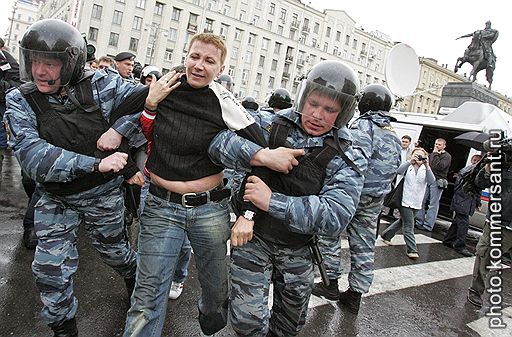 Photo: Alexander Miridonov
Evgenya Debryanskaya, leader of the Russian Lesbian Movement is arrested during the unauthorized Gay Parade in Moscow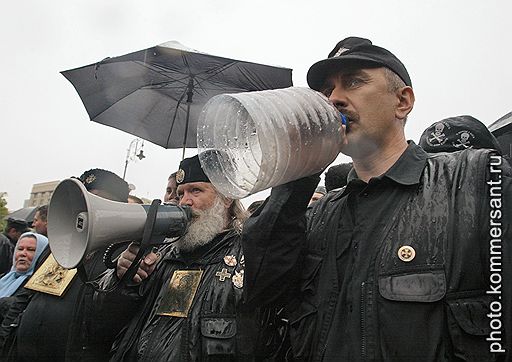 Photo: Dmitry Lebedev
Head of the Union of the Orthodox Gonfaloniers Leonid Simonovich-Nikshich (left) takes part in the rally protesting against Moscow's Gay parade.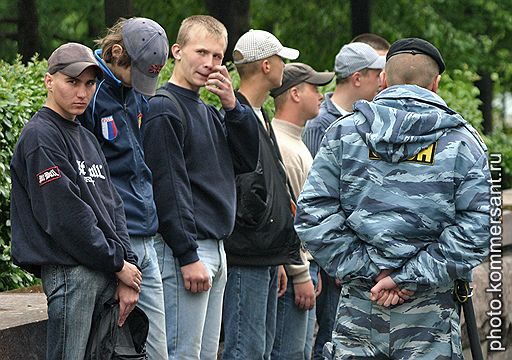 Photo: Dmitry Saltykovsky
Policeman and participants of the unauthorized rally protesting against Moscow's Gay parade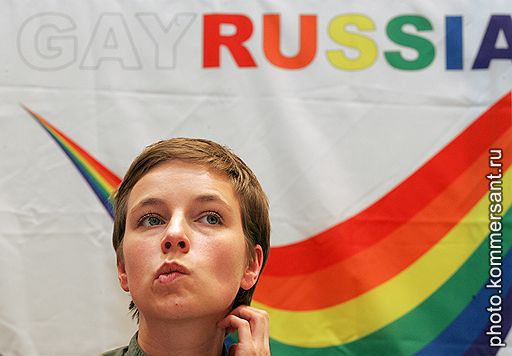 Photo: Alexander Miridonov
Paris Vice Mayor Clementine Autain attends a news conference dedicated to Moscow's Gay parade.
Police and Orthodox Christians Overwhelm Gay Parade
Kommersant.com 2006/05/29
The Moscow police overwhelmed the first-ever Gay Parade in Moscow Saturday. Militant Orthodox Christians and ultranationalists violently protested against the march. European politicians lashed out at the Russian officials for flagrantly violating human rights.
Gays and lesbians from 20 countries came to Moscow last weekend for Moscow Pride 2006, the first gay march to be staged in Moscow. The place of the parade was kept in secret up to the last moment since Moscow city authorities banned the event, the Tverskoy court endorsed the decision while groups of radical Orthodox Christians promised to "punish sodomites."
Nikolay Alexeev, one of the organizers of Pride 2006, reported that the participants of the festival would lay flowers to the Tomb of the Unknown Soldier in the Alexander Garden and then move to rally towards the monument of Yury Dolgoruky. The police, militant Orthodox Christians and young ultranationalists followed the march. The Union of Orthodox Gonfaloniers and other orthodox groups chanted "Moscow is not a Sodom!" while skin heads screamed "Death to fags!" and "Fags out of Russia!" OMON riot police did not seem to protect the marchers. Quite on the contrary, they rounded up a few activists, among them Nikolay Alexeev, Volkner Beck, a German Bundestag deputy and others.
Ultranationalists and militant Orthodox Christians followed the unauthorized march up to the monument of Yury Dolgoruky, crying out insults and throwing eggs and water at the participants. In the end, the orthodox people and radical nationalists prevailed.
Politicians all other Europe were outraged at the actions of the Russian authorities and their unwillingness to protect the marchers saying that Moscow encroached upon basic democratic principles and human rights.
Moscow Gay Activists Assaulted by Homophobes
Created: 29.05.2006 11:13 MSK (GMT +3), Updated: 11:23 MSK
Lisa Vronskaya
MosNews
Moscow Mayor Yuri Luzhkov could not have been more open and honest when he explained why he had banned a gay pride parade in the Russian capital. Such events "may be acceptable for some, in some sense, progressive countries in the West, but not for Russia".
Russia has a long way to go indeed before it qualifies for membership in the club of civilized nations, being a place where skinheads do not need any official permit from the government to hit the streets on their violent rampage, whereas harmless gay activists arouse righteous indignation from the public.
What was to go down in history as Moscow's first ever Pride March, timed to fall on the 13th anniversary of the decriminalization of homosexuality in Russia, was broken up by police after skinheads and militant Orthodox Christians attacked gay and lesbian marchers, The Associated Press reported.
Witnesses, some of them foreigners, reported that police made no effort whatsoever to prevent the ultra-nationalist thugs from attacking a handful of gay rights activists who had arrived at the Alexander Garden just outside the Kremlin wall to place a wreath at the Tomb of the Unknown Soldier.
The Mayor ordered the gates to the garden locked, and women singing hymns and holding Orthodox iconography along with skinhead nationalists surged against the marchers. 28-year-old Nikolai Alexeyev, leader of the gay and lesbian activists, was dragged from the gates of the monument, and detained by police.
"We are conducting a peaceful protest. We want to show that we have the same rights as other citizens," Alexeyev had told a news conference a few hours before the rally started.
But the mayor said Friday the pride march would never take place, at least not as long as he held office, and a local court upheld the ban.
Gay German Green MP, Volker Beck, who was there to support local activists, was hit in the face with what looked like a brick, with the cameras rolling, leaving passers-by in shock. "I was attacked," Beck told German television. "It shows we are not safe in this country. The security forces did not protect us but instead prevented us from retreating. We were left without any protection."
Police closed the entrance to the garden where the tomb is located, and the first half-dozen activists who arrived carrying flowers were set upon by about 100 religious and nationalist extremists who kicked and punched them. "Moscow is not Sodom!" they shouted. Women wearing orthodox headscarves held up religious icons while men in Cossack white sheepskin hats and black-and-red tunics stood by, AP correspondent reported.
"We were expecting this. It is the authorities who are allowing this to happen," said a woman holding a limp red carnation, who identified herself only as Anna, a lesbian.
Gay and lesbian rights activists had defied the city's ban against the Pride March, with supporters from across Europe joining them as they attempted to place a wreath at the Tomb of the Unknown Soldier — a Russian symbol of anti-fascism.
British activist Peter Tatchell, of the London-based gay rights group OutRage was incensed. "As soon as we were arrived here we were set upon by fascist gangs and police. Today is a great shame for Russia because a peaceful protest has been suppressed."
Interfax reported that riot police detained around 100 people.
Tourists and locals stared in disbelief as events unfolded — just a stone's throw from the Kremlin and the heart of historical Moscow. Some gay activists had urged that the march be cancelled so as not to inflame tensions, the Reuters news agency reported.
Homosexuality has been legal in Russia since 1993, but widespread homophobia, fuelled by ultra-nationalism and spurred on by the Russian Orthodox Church has seen violence against gays and lesbians increase, especially in Moscow.
Gay activists who arrived at the Kremlin wall on Saturday meant no harm. All they sought was to attract public attention to their problems in a country where the powers that be do not conceal their homophobic attitude.
To many in Russia, homosexuality is still worse than violent fascism. They turn a blind eye to racists attacking people who do not look quite Russian to them. These are people who attack in broad daylight wielding steel rods and knives, who kill and get away with it in most cases and if they do not are accused merely of hooliganism as law enforcers seek to assure the public there is no such thing as racial hatred in the country.
Last year, on the occasion of People's Unity Day, marked on November 4 since 2005, hundreds of neo-imperialists took part in the "Right March" chanting slogans such as "The Russians Are Coming", "Glory to Russia, Glory to Empire" and "Russia for the Russians."
The primary backers of the demonstration were the Eurasian Youth Union (ESM), a branch of the Eurasian Movement headed by Aleksandr Dugin; the Movement Against Illegal Immigration; the National Statist Party; Pamyat (Memory); and other similar organizations.
Neither Moscow local authorities, nor the federal government took any steps to ban or disperse the xenophobic crowd.
By the time of the start of the gay pride rally last Saturday, over 100 youths were standing in the square opposite the mayor's office, chanting the slogan: "Glory to Russia!" Several trampled a rainbow-colored ribbon — the symbol of gay rights — into the ground.
"This is a perverts' parade," said one protester holding an icon of the Madonna. "This is filth, forbidden by God. We have to cleanse the world of this filth," said the woman who gave only her first name, Irina.
How far will these people go in their righteous intent to "cleanse the world"? "We must stop them at this first stage, or they'll corrupt our children," protester Kirill Bolgarin told the Reuters news agency.
Most societies have long recognized same-sex relationships and no longer treat those who practice them as perverts. But Russia is different. Russia, indeed, is "not as progressive".
Earlier this month, Luzhkov was denounced as homophobic by the U.S.-based group Human Rights Watch. Luzhkov features on a list of public officials that Human Rights Watch says have actively promoted prejudice against homosexuals. Others on the list, produced to coincide with the International Day Against Homophobia, which was marked on May 17, include Nigeria's President Olusegun Obasanjo and Dutch Immigration Minister Rita Verdonk.
Of course, some progress has been made over the past decade. Homosexuals in this country are no longer treated as criminals and are not thrown behind bars. But when it comes to their rights, — 'perverts' have no rights.
Homophobia is widespread not only among senior officials and those who call themselves "Christians" and "patriots". Many ordinary Russians think the same. Many Russians I know personally express no pity or support for gay activists. "No-one would have hurt them if they had just stayed at home. After all, they can go on campaigning on their websites," a colleague remarked.
モスクワ・プライド:モスクワでロシア初のゲイパレード中に120人拘束