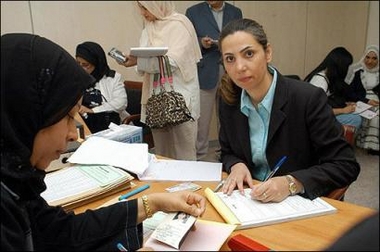 Kuwaiti candidate for the parliamentary election Rula Dashti (R) registers for the 11th legislative election slated next June 29, at the election department in Kuwait City. Five Kuwaiti women made history by becoming the first females to register as candidates for parliamentary elections, ending a 44-year-old ban on their political participation.(AFP/Yasser Al Zayyat)
After long wait, Kuwaiti women campaign
By DIANA ELIAS, Associated Press Writer
Mon May 29, 1:22 PM ET
After years of waiting, Kuwaiti women suddenly have the chance to run for parliament. Now they're rushing to sell voters in this conservative nation on the idea of female politicians.
Elections had been scheduled for summer 2007, the first since women were given the right to vote and run for office in 2005. But on May 21, Kuwait's ruler, Sheik Sabah Al Ahmed Al Sabah, dissolved the all-male 50-member parliament because of a rowdy dispute over election laws and ordered early elections June 29.
Women who thought they had more than a year to plan their campaigns had only five weeks.
"The advantage is that we will be working and concentrating harder," said Fatima al-Abdali, who submitted her application to run on the first day of registration last week.
The elections department at the Interior Ministry said the 340,000 eligible voters include about 195,000 women — or 57 percent. So far, 17 women have registered as candidates.
However, many believe that women in this traditional society will cast their ballots according to the wishes of their husbands, fathers and brothers along tribal, sectarian and family lines.
"It is a challenge, but we'll be ready," said Rola Dashti, a U.S.-educated economist who has been planning her candidacy — and working to build a voter base — since parliament gave women the right to vote.
Kuwait, one of the strongest U.S. allies in the Gulf, is one of the last election-holding Mideast nations to give women the vote. The sole holdout now is Saudi Arabia, which holds all-male municipal elections only.
Though Kuwait has had a parliament since the 1970s, it was a long fight to open elections up to women. For six years, Muslim fundamentalists and conservative tribal lawmakers blocked attempts by the ruling emir to push through legislation. A suffrage bill finally passed in May 2005.
The sudden change in election scheduling is prompting al-Abdali to "change techniques" in her campaigning. She is canceling visits to voter homes and instead concentrating on public seminars and media appearances to gain more exposure. She also is increasing her campaign work force.
Women had their first chance to run and vote for public office in April after a Municipal Council seat became vacant. Although turnout was lower than expected, one of the two females candidates finished second to the tribal nominee. More men than women voted for her.
Many Kuwaiti observers say the upcoming election could begin rearranging the political map along the lines of reform rather than the tribal lines that have dominated its experiments in democracy.
That is partly because of the debate that prompted the emir to dissolve parliament. Sheik Sabah said public arguments over a Cabinet-proposed electoral reform bill had become too "charged" and were threatening the country's stability.
The government proposed reducing the number of constituencies in the election from 25 to 10, but Islamists, liberals and independents demanded a deeper cut — to five constituencies — saying the larger precincts would minimize vote buying and voting for members of the same tribe or religious sect.
Women's rights activist Iqbal al-Ahmed said one month of campaigning will not be enough to educate voters, especially women, so they do not choose along tribal and sectarian lines.
Kuwaiti women are educated and have reached high positions in government. But many do not believe in entering what has been the men's world of politics and need to be persuaded to cast ballots.
Al-Ahmed, former editor in chief of the state-owned Kuwait News Agency, believes the brief period of campaigning will hurt women's chances of winning any seats in parliament.
"In their first two elections, they will make little difference," she said. "But when the society absorbs (the idea), they will become a force and they will acquire more confidence that they can bring about change."