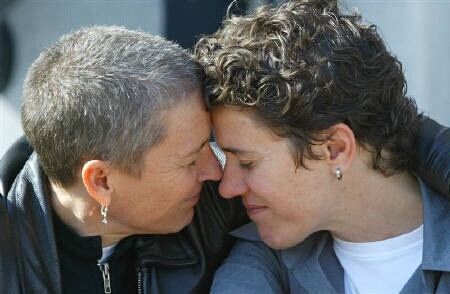 5月31日、ニューヨーク州最高裁は、同性婚を認めない州法を違憲だとする同性愛者の権利保護団体の訴えに関する公聴会を開始した。写真は昨年2月、同性愛者の集会で(2006年 ロイター/Kimberly White)
NY州最高裁、同性愛婚の是非を審理
14:58 JST

 [ニューヨーク州オルバニー 31日 ロイター]
 ニューヨーク州最高裁は31日、同性婚を認めない州法を違憲だとする同性愛者の権利保護団体の訴えに関する公聴会を開始した。
米国では2004年の大統領選挙以来、同性愛をめぐる議論が白熱しており、今回のように同性愛者の権利を求める訴訟が何件も起こされている。
多くの同性愛者を代表するNGO、アメリカ自由人権協会(ACLU)の弁護士、ロベルタ・カプラン氏は「ニューヨークには子供のいる同性愛者カップルが4万6000組もいる。彼らは安定した家族を形成しているにもかかわらず、結婚という恩恵を受けられないでいる」と主張。
全米で同性愛婚が認められているのは、現在マサチューセッツ州のみ。バーモント州では同性愛者カップルは婚姻したカップルと同等の権利を認められているが、そうした関係は「シビル・ユニオン」と呼ばれている。
今回のニューヨークでの訴訟は、48組の同性愛者カップルが原告。
施行されて97年になる州法には結婚は男女間で行うものという規定があるが、同性愛者らは、この州法は性差別を助長するもので違憲だと主張している。
The New York Times
June 1, 2006
Highest Court in New York Confronts Gay Marriage
By ANEMONA HARTOCOLLIS

ALBANY, May 31 —
As the issue of gay marriage finally reached New York State's highest court on Wednesday, the six judges who heard the passionate arguments from both sides put forth a fundamental question: Has marriage been defined by history, culture and tradition since the dawn of Western civilization, or is it an evolving social institution that should change with the times?
During the two and a half hours of oral argument, the judges on the Court of Appeals grappled with essential questions of social values, asking tough questions without tipping their hands as to their ultimate decision.
They wanted to know whether there were studies showing that children raised by mothers and fathers turned out better than those raised by same-sex couples, and they wanted to know whether opening the door to gay marriage would also open the door to bigamy or polygamy.
They wanted to know whether asking the courts to rewrite New York State's marriage laws was a way of letting the State Legislature escape responsibility for taking a position on a social controversy.
The case before the court was a challenge to New York State's marriage laws, filed by 44 same-sex couples. Their lawyers argued that marriage was a fundamental right, and compared laws assuming marriage to be a union of a man and a woman to the laws prohibiting interracial marriage, which the Supreme Court struck down in 1967.
Lawyers defending the marriage laws argued that even if the institution had evolved, it was the job of the Legislature — not the courts — to change them.
The plaintiffs' lawyers argued that the court merely had to change the gender-based language of the current law, which refers to "husband" and "wife," to something neutral, like "spouse." If the court agreed to legalize same-sex marriages, New York would become only the second state, after Massachusetts, to do so.
The judges' questions pointed to the precedent-setting nature of the debate. "Isn't this the only one where you have literally the whole history of Western civilization against you?" asked Judge Robert S. Smith of the state's domestic relations law. "That does go back right to the dawn of civilization."
After first citing traditional views of marriage, Judge Smith then asked whether the time was ripe for the courts to approve same-sex marriage. Judge Smith also wondered whether the issue of same-sex marriage deserved special attention because of the history of discrimination against gay people.
"Aren't homosexuals about the classic example of people who have been abused and discriminated against," and who therefore need the protection of the courts? he asked.
Peter H. Schiff, senior counsel to the state attorney general, said there was no urgent need to change the law, and pointed out that same-sex couples accounted for only 1.3 percent of all households in New York State, a "very small" number.
"I don't think anybody 100 years ago was thinking about this issue," Mr. Schiff said. "It wasn't on the radar screen."
The main lawsuit in this case was filed by a gay and lesbian rights group, Lambda Legal Defense and Education Fund, on behalf of five same-sex New York City couples against the city clerk, Victor L. Robles, who issues marriage licenses.
In New York, the legal dispute over same-sex marriage goes back two years. In February 2005, a State Supreme Court judge in Manhattan found that state marriage law violated the State Constitution. That decision was overturned last December by the Appellate Division of State Supreme Court, which said it was up to the Legislature to change the law.
In yesterday's hearing, the New York City plaintiffs were joined by three other groups of plaintiffs from across the state. New York City's lawyer, Leonard Koerner, said yesterday that even in its own case law, the Court of Appeals had affirmed the reason for marriage as "the begetting of offspring," not, as the plaintiffs argued, as the sanctioning of a loving and committed union between two people.
Mayor Michael R. Bloomberg has said that New York City is appealing the case to clarify the issue, and that he supports legislative change.
Roberta A. Kaplan, arguing for same-sex marriage on behalf of 12 of the couples across the state, said there were 46,000 families with children headed by same-sex couples in New York State, and that they could not wait until their children were grown for the law to change.
The seventh judge on the Court of Appeals, Albert M. Rosenblatt, removed himself from the case. His daughter, a lawyer, has argued on behalf of advocates for same-sex marriage in California. Judge Rosenblatt has been perceived as a swing vote in many cases. A spokesman for the court said that in the event of a 3-3 tie, another judge could be brought in. He said a tie had occurred only once in the last 20 years or so.
Judge Victoria A. Graffeo asked whether, under the plaintiffs' argument, the Legislature should afford more rights and benefits to other types of family arrangements, such as two sisters raising children. "Was the Legislature denying them due process or equal protection?" she asked.
Judge George Bundy Smith asked what the consequences of legalizing gay marriage had been in Massachusetts.
"Basically nothing," Ms. Kaplan replied. "There is not a breakdown of civil society in Massachusetts and there certainly isn't a breakdown of marriage."
Judge Bundy Smith also asked why gay couples were not satisfied with civil unions — a remedy that the plaintiffs argued would make them second-class citizens.
Chief Judge Judith S. Kaye said the court would have to decide the constitutional questions, "whether we do it frontally or whether we do it in some more subversive way," like changing language about gender.
To which Terence Kindlon, a lawyer for same-sex couples in Albany, replied, "Subversive is one of the words I've liked all my life, your honor."
Gay couples take marriage fight to NY's top court
By Holly McKenna
Wed May 31, 7:04 PM ET
Reuters
New York State's highest court started hearing a case on Wednesday that gay rights activists hope will overturn as unconstitutional a state law defining marriage as the union of a man and a woman.
The New York case is one of several initiatives by gay rights activists across the United States where gay marriage has been a divisive issue in recent years, particularly in the 2004 presidential election.
"There are 46,000 families of same-sex couples with children in New York and there is no dispute they are stable families who are excluded from the benefits of marriage," said Roberta Kaplan, a lawyer for the American Civil Liberties Union who was representing many of the same-sex couples.
In more than two hours of argument before the State Court of Appeals, Kaplan said the court should change the state's ban on gay marriage just as in the past it threw out laws that had allowed marital rape and criminalized sodomy.
"Despite tradition, this court found that these laws were unconstitutional and didn't meet rational basis," she said.
Massachusetts is the only state to permit gays to marry, while Vermont allows same-sex couples the rights and benefits of marriage but calls them civil unions.
In the November 2004 election, ballot measures were passed in 11 states to ban gay marriages.
The New York case involves 48 gay and lesbian couples who filed four separate cases from across the state. The cases are being heard together by the court in Albany.
In one of the cases, couples were married by local clergy but denied marriage licenses at city hall.
Dan O'Donnell, an openly gay state lawmaker who brought one of the cases, was in the quiet but packed courtroom. He is the brother of entertainer Rosie O'Donnell, who married her lesbian partner in Massachusetts.
"We will prevail here," he said outside the courthouse. "It's the right and just thing to do."
Under 97-year-old state law, marriage is defined as between a man and woman. The same-sex couples claim the law violates their constitutional rights because it defends sex discrimination. They argue that the state constitution doesn't ban gay marriage and can be more loosely interpreted.
In February, the law was upheld in a lower appeals court, forcing the fight to the State Court of Appeals.
STATE LEGISLATURE
New York's Deputy Solicitor General Peter Schiff said it was a matter for the state legislature to change the law.
"The state said it was a case for the state legislature, but I think it's a case of discrimination that needs to be addressed," said Cindy Swadba, a lesbian who married her partner in Massachusetts and came to show her support.
Seventeen-year-old Alya Shain came from New York City with her parents, Jo-ann Shain and Mary Jo Kennedy, who will celebrate their 25th anniversary together in June. "These are my two parents and they have instilled values in me and they deserve the same rights as married people," Alya Shain said.
There was no sign of protesters against gay-marriage at the courthouse. Among groups that filed briefs ahead of the case, the Catholic Conference of New York State was one of the main opponents of same-sex marriage, along with other religious and family-based groups from around the nation.
Next month, Congress is set to introduce the Protection of Marriage Amendment. If the amendment is passed, a federal constitutional amendment will supersede any state laws.
Gay couples seek right to wed in New York
By MICHAEL HILL, Associated Press Writer
Thu Jun 1, 2:23 AM ET
Lawyers for same-sex couples seeking the right to marry in New York told the state's highest court Wednesday they are being treated as "unequal citizens" and denied a constitutional right.
The 44 couples want the Court of Appeals to follow the lead of high court judges in neighboring Massachusetts and rule that New York's constitution gives same-sex couples the same right to wed that straight couples have always had.
"We are evolving as a society," said Terence Kindlon, one of the lawyers representing the couples in four lawsuits before the court, "and just because we did something 200 years ago, or 100 years ago or 50 years ago, it's not necessarily a good justification to do it now."
The couples have lost in lower appeals courts and are at odds with Gov. George Pataki's health department and state Attorney General Eliot Spitzer's office, which claim New York law prohibits issuing licenses to same-sex couples.
The cases argued Wednesday were filed two years ago, when gay marriage controversies flared up from Boston to San Francisco.
A decision from the court could come in a month or two.
URL: http://www.aclu.org/lgbt/relationships/25718prs20060531.html

ACLU Urges New York High Court to Strike Down Law Banning Same-Sex Couples from Marriage (5/31/2006)

FOR IMMEDIATE RELEASE
CONTACT: media@aclu.org
ALBANY – The American Civil Liberties Union appeared before New York's highest court today to urge the court to strike down a state law that bars same-sex couples from marriage and the hundreds of family protections provided to married couples.
"We've known all along that this case was headed to New York's high court, so it was especially rewarding to hear the lawyers explain why it's unfair for the state to ban us from marriage and the many family protections that come with it," said Carol Snyder of White Plains. When Snyder was being treated for breast cancer, her partner of 15 years, Heather McDonnell, was repeatedly questioned and asked to leave her side even though the couple had secured paperwork hoping to avoid this kind of treatment.
The ACLU, the New York Civil Liberties Union and the law firm Paul, Weiss, Rifkind, Wharton and Garrison, LLP brought the legal challenge on behalf of same-sex couples from throughout the state. In addition to the ACLU case, the New York Court of Appeals heard oral arguments today in three other cases seeking marriage for same-sex couples, including a case brought by Lambda Legal on behalf of couples from New York City and separate cases brought by couples in Ithaca and Albany. The court's decision will apply to all lesbian and gay New Yorkers.
"We are hopeful that we succeeded in persuading the members of the Court of Appeals that denying same-sex couples protections for their families is inconsistent with New York's unique and rich history of tolerance and equality for all," said Roberta Kaplan of Paul, Weiss, Rifkind, Wharton and Garrison, LLP, who argued on behalf of the couples in the case. "Lesbians and gay people who fall in love, make commitments to each other, and raise children together deserve to have all of the protections that married New Yorkers take for granted."
"It is unfair for the state to treat committed couples as legal strangers," added James Esseks, Litigation Director of the ACLU Lesbian Gay Bisexual Transgender Project. "As many lesbian and gay couples throughout the state have learned so painfully, family protections become critical during times of crisis."
Among the couples who were present for the arguments were:
- Cindy Bink and Ann Pachner of West Hurley, who have been together for 18 years. Bink had to leave her job as a counselor at a community college in New Jersey, where she had worked for 17 years because the college did not offer domestic partner benefits. Forced to search for a job that would allow her to cover Pachner on her health insurance policy, she finally found a job working for the City of New York that provides health care for both of them.
- Regina Cicchetti and Susan Zimmer, who live in Port Jervis, recently celebrated their 35th anniversary. Cicchetti has survived two life-threatening illnesses – breast cancer and a pituitary tumor – and says that she could never have made it through these crises without Zimmer's support. The couple wants the security of knowing no questions will be asked about their relationship should one of them be hospitalized in the future.
- John Wessell and Billy O'Connor of New York City will be celebrating their 27th anniversary next week. Now nearing retirement, the couple worries that they would be barred from visiting each other in the hospital or kept out of conversations about emergency medical decisions. Although they have wills, they also worry that their wishes will not be respected when one of them passes away.
"Lesbian and gay couples seek out and establish long-term commitments just as straight couples do," said Arthur Eisenberg, Legal Director of the New York Civil Liberties Union. "There is simply no good reason for the state to refuse to provide equal benefits and equal status under the law to all couples who seek the legal protections of civil marriage."
It is unknown when the court will issue its ruling.
Esseks and Sharon McGowan of the ACLU Lesbian Gay Bisexual Transgender Project, Eisenberg of the NYCLU and Kaplan and Andrew Ehrlich of Paul, Weiss, Rifkind, Wharton and Garrison, LLP are the legal team representing the plaintiffs.
Biographical information on all of the clients, the legal documents and other background materials about
Samuels and Gallagher, et. al. v. New York Department of Health
are available at:
www.aclu.org/caseprofiles