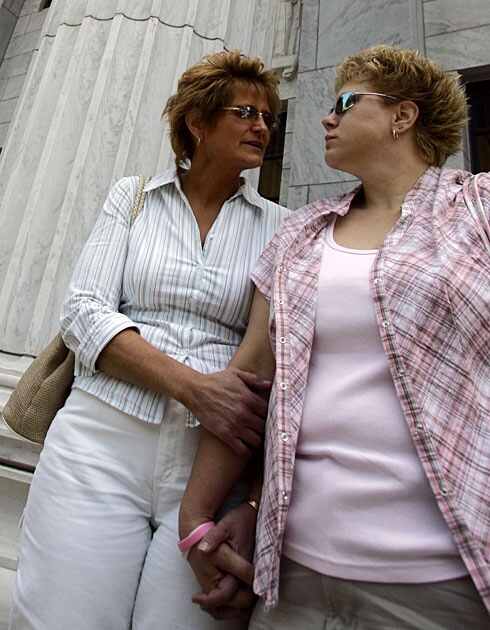 By Jim McKnight, AP
Kathy Burke, left, and Tonja Alois wait for New York State's highest court to hear arguments on gay marriage Wednesday. Polls show that Americans are evenly divided over the proposed constitutional amendment to ban gay marriage.
USA Today
Our View
Just say 'I don't'
Updated 5/31/2006 9:35 PM ET
Apparently, issues such as immigration, corruption, gas prices, the budget deficit, the war in Iraq and the prospect of Iran acquiring nuclear weapons aren't substantial enough to occupy members of Congress.
When senators return from their Memorial Day recess next week, their thoughts will turn to June weddings. They plan to spend their time on a bitter, divisive and unnecessary debate over a proposed constitutional amendment to ban gay marriage.
Even supporters of the Marriage Protection Amendment readily concede that the measure to ban same-sex marriage nationwide has virtually no chance of becoming part of the Constitution. (It would need approval from two-thirds of both chambers of Congress, plus ratification by three-fourths of the states.)
So why bother?
Well, Election Day is a few months off. Supporters hope the controversy will energize their base of social and religious conservatives opposed to same-sex marriage.
Their plan could well backfire. Polls show that Americans are evenly divided about the amendment. Religious activist groups are annoyed that President Bush, who supports the amendment, isn't lobbying hard enough for it.
At the same time, the 31 Republican sponsors risk alienating moderate and independent voters who are turned off by the pandering for a futile effort that will further divide the nation.
The gay-marriage issue exploded when Massachusetts' highest court ruled in November 2003 that same-sex couples have a right to marry. Since then, more than 7,300 gay couples there have done so. The commonwealth has survived.
But the public backlash elsewhere has been strong. Nineteen states have amended their constitutions to ban gay marriage. Most other states prohibit it as well.
The state activity makes the proposed constitutional amendment all the more unnecessary. It would take away the traditional authority of states to regulate marriage and impose a one-size-fits-all edict on a nation still grappling with the issue.
Most partisan drives to write social policy into our enduring Constitution have, fortunately, failed. The prohibition of alcohol was such a disaster that it was repealed 14 years later. The Framers purposely made it difficult to amend the Constitution so that intense passions of the day wouldn't lead to laws that might last forever.
Supporters of the amendment trumpet the need to protect the "sanctity" of marriage. But preserving the authority of states to decide how to handle same-sex unions — whether through marriage or some domestic partnership or civil union law that protects the basic financial, health and legal rights that heterosexual couples take for granted — doesn't affect anyone else's marriage. And the 1996 federal Defense of Marriage Act already says states may refuse to recognize same-sex marriages performed in other states.
The proposed amendment would squelch the important debate going on at the state level and poison political dialogue. It should be jilted and left at the altar.
Find this article at:
http://www.usatoday.com/news/opinion/editorials/2006-05-31-our-view_x.htm?csp=34
Opposing View
Protect traditional marriage
Posted 5/31/2006 9:33 PM ET
By Wayne Allard
Respect for the democratic process compels this Congress to protect traditional marriage in the face of a coordinated effort to redefine marriage through the courts.
Marriage, the union between a man and a woman, has been the foundation of every civilization in human history. It is incorporated into the fabric of our culture and civic life. It is the platform on which children, families and communities are nurtured.
Unfortunately, the U.S. Constitution is being amended to reflect a new definition of marriage — not by democratically elected members of Congress, but by unaccountable and unelected judges.
As a result, I introduced an amendment to the Constitution that simply defines marriage as the "union of a man and a woman," while leaving to state legislatures the freedom to address the question of civil unions and domestic partnerships. The amendment would not overturn current state and local laws dealing with these arrangements.
Democracy and representative government are at the core of this debate. In 2004 and 2005, voters in 14 states overwhelmingly passed constitutional amendments protecting marriage. Today, 19 states have constitutional amendments protecting marriage, and 26 have statutes designed to protect traditional marriage. The will of the people is clear on this issue.
Unfortunately, dissatisfied with the outcome of these votes, activists have intensified their campaign to circumvent the democratic process and redefine marriage through the courts. Currently, nine states face lawsuits challenging traditional marriage laws. Among these lawsuits are challenges to state constitutional amendments passed by an overwhelming majority of voters.
Recent decisions by activist judges not only fail to respect the traditional definition of marriage, they also highlight a lack of respect for the democratic process. The courts are driving a redefinition of marriage contrary to democratic principles.
The process to amend the U.S. Constitution is one the American people can trust.
My amendment reflects a belief that the institution of marriage is too precious to surrender to the whims of a handful of unelected, activist judges. The American people should have a say in the matter. If we in Congress fail to define marriage, the courts ultimately will not hesitate to define it for us.
Sen. Wayne Allard, R-Colo., is the author of the Marriage Protection Amendment.
Find this article at:
http://www.usatoday.com/news/opinion/editorials/2006-05-31-opposing-view_x.htm