SPIEGEL ONLINE - June 6, 2006, 02:44 PM
URL:
http://service.spiegel.de/cache/international/spiegel/0,1518,419770,00.html
Poland's Parade of Democracy
Gays in Eastern Europe Fight Mounting Homophobia
By Jan Puhl

Gays are often the targets of violence and derision in Eastern Europe. And from Budapest to Riga to Moscow, populist politicians have discovered their value as scapegoats.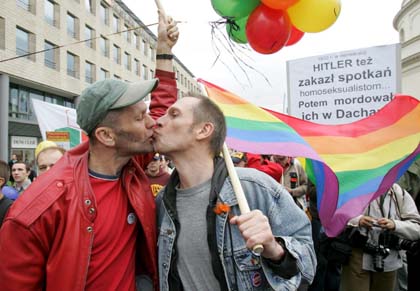 DPA
In many Eastern European countries -- including Poland where this gay rights event was held in 2005 -- homophobia is deeply entrenched in the political culture. Increasingly, there is an East-West divide in Europe when it comes to gay rights.
Tomasz Baczkowski's mobile phone beeps. He opens up a text message. "We're watching you. Sieg Heil," it reads.
This is the kind of electronic message Baczkowski, the chairman of Warsaw's Equality Foundation, has been receiving several times a day ever since radical right-wingers published his phone number on the Internet. Baczkowski, who is organizing this year's "Parade of Equality" in downtown Warsaw, is currently persona non grata for Poland's right-wing Catholic nationalists. The parade is scheduled for next Saturday.
For the past two years Lech Kaczynski, Warsaw's former mayor and now the country's president, has banned the demonstration on behalf of equal rights for gays and lesbians. But this year Poland's gays and lesbians plan to take to the streets on June 10, with or without the blessing of city officials. And, once again, they'll likely be facing off with vicious counter-demonstrators, evoking the ugly images of last year's anti-gay attacks in the country. Life for homosexuals has become dangerous -- not just in Poland, but also across broad swaths of Eastern Europe. Britain's Guardian newspaper recently wrote that these prejudices are drawing a "new line between East and West" in Europe. Even deeply Catholic Spain now permits gay marriage. But in many parts of Eastern Europe, gays and lesbians face severe discrimination.
Last July, hundreds of police officers had to protect a few dozen gay rights demonstrators from an angry mob in the Latvian capital, Riga. In Romania and Moldova, authorities have instituted an outright ban on demonstrations against gay and lesbian discrimination.
In this environment, it comes as no surprise that Russian radical right-wingers attacked Volker Beck, a member of the German parliament representing the Green Party, during a Moscow gay rights march held on May 27. Beck came away from the attack with a head wound, but his attackers didn't even get arrested. Indeed, Eastern Europe's homophobes are given largely free rein in countries where even the highest-ranking government officials seem to share their views. Commenting on gay pride parades, Moscow Mayor Yuri Luzhkov recently said that they "may be acceptable for some kind of progressive, in some sense, countries in the West, but it is absolutely unacceptable for Moscow and Russia."
Latvian Prime Minister Aigars Kalvitis has spoken out in favor of a general ban on gay rights demonstrations on the grounds that "the Latvian state is based on Christian values." Indeed, the Baltic Sea nation is the first EU member to have enacted a constitutional ban on same-sex marriage.
Zsolt Semjén, the leader of Hungary's Christian Democratic People's Party, used anti-gay rhetoric to attract votes in that country's recent elections. "If you want your son to have his first sexual experiences with a bearded, older man, you should vote for the Liberals," he infamously stated.
Polish President Lech Kaczynski did allow the Parade of Equality to take place once when he was mayor of Warsaw. However, as the presidential election campaign approached, he suddenly remembered his Catholic principles and banned the colorful event. And now that his Law and Justice party has formed a coalition government with the Catholic nationalist "League of Polish Families," life has become even more unpleasant for Poland's homosexuals.
Favorite scapegoats of the right
The current anti-gay mood is fueled in part by an obsessive homophobia practiced within the League's youth organization. Wojciech Wierzynski, the League's deputy leader in the Polish parliament, recently went so far as to demand that the Interior Ministry look into connections between the gay milieu and "pedophiles and the drug mafia."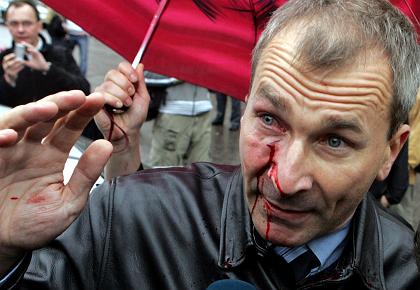 REUTERS
Homophobes attacked German parliamentarian Volker Beck at a gay rights protest near Red Square in Moscow on May 27.
Latent homophobia, however, is nothing new in Eastern Europe. The Communists stigmatized homosexuals in their propaganda for decades, portraying them as representatives of a decadent, Western lifestyle. In the Soviet Union, homosexual acts were punishable with up to five years in prison.
Eastern European politicians have revived the taboos of the past, a tactic that helps them gain political traction with disenfranchised voters who have had trouble adjusting to the changes that globalization and European unity has brought. With hardly any lobby to speak of, gay and lesbians serve as the ideal scapegoats here -- and they are often blamed for a wide range of ills, including a supposed decline in values, AIDS, drug abuse, child abuse -- and even organized crime.
For Tadeusz Janiszewski, the situationis intolerable. Janiszewski, an actor with the "Theater of the Eighth Day" in the Polish city of Poznan, spoke out against intolerance and discrimination during the communist era and was forced to go into exile in Italy as a result. It's been 16 years since the fall of communism, and yet the former dissident is still concerned about his life's work. Janiszewski witnessed the police brutally suppressing a gay rights demonstration last November. "It reminded me of the days when the Communists were trying to crush the Solidarity movement," he recalls. Nevertheless, he plans to take to the streets with Poland's homosexuals once again on June 10 because, as he says, "it's about more than just the rights of a few gays and lesbians." Hundreds of supporters are also expected to travel to Warsaw from Berlin to take part in the parade, and not just because thousands of gay Poles have fled to the tolerant German capital in recent years. Prominent politicians have also announced plans to attend, including the recently battered Volker Beck.
High school and university students plan to attend, as do members of the post-communist left. Even Polish pop star Michal Wisniewski, who also has a following in Germany, expects to be there. Bit by bit, Poland's small gay rights movement is transforming itself into a larger civil rights movement against the intolerance of the Catholic nationalist coalition government. "The gays could be Poland's saviors," writes a gleeful liberal Warsaw journalist.
Chief organizer Baczkowski expects non-gays to outnumber homosexuals at this year's parade. "Our demonstration," he explains, "was never a carnival like it is in the West, but instead was highly political -- a parade of democracy."
Translated from the German by Christopher Sultan