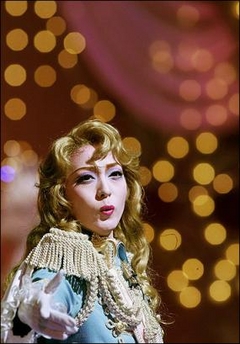 Performer of the Takarazuka Revue on stage in February 2006. The Takarazuka Revue, which has performed for nearly a century starring young single women, has drawn generations of devoted, yet decidedly mild-mannered, fans.(AFP/File/Toshifumi Kitamura )
AFP
In Japan, theater by women, for women
by Kaori Kaneko
Fri Jun 9, 1:11 PM ET
Japan's traditional kabuki theater is a man's world, with male actors even in the roles of women. But there is also a passionate flip side: the Takarazuka Revue -- a troupe by women, for women.
The rigorously trained company, which has performed for nearly a century starring young single women, has drawn generations of devoted, yet decidedly mild-mannered, fans.
Hisako Fujimatsu, a 35-year-old office worker, has been going to see the Takarazuka since her grandmother took her to one of their plays at the age of three. She has already booked tickets for several performances this year.
"Actresses playing male roles are attractive in a different way than real men," she said.
"They are gentle, stylish, beautiful and broad-minded. Above all, it is good that they exist only in a dream world on the stage."
In a rigid training regiment akin to kabuki -- which has banned women from acting since the 17th century -- only graduates of the Takarazuka Music School are allowed to take to the stage.
They study for two years between ages 15 and 18, with about 50 girls entering annually.
Their careers at the Revue can be short-lived, as they must quit if they marry, although some go on to lucrative television and film positions.
The troupe, with a theater in Tokyo and several others in western Japan, has some 470 performers, divided into five troupes under the names Flower, Moon, Snow, Star and Cosmos.
Takarazura's motto is, "Modesty, Fairness and Grace".
"In Japan, we have the kabuki culture in which men play women's roles. The Takarazuka are the opposite. Actresses play the parts of the men of women's dreams. And the audience is fascinated," said top young actress Yuri Shirahane.
Shirahane dressed in pannier-style dress with tiara and feather in her hair as an 18th-century princess to play the leading role in the company's most loved production, "The Rose of Versailles", a Japanese take on Marie-Antoinette.
Since it was first adapted into a musical comedy in 1974, "The Rose of Versailles" has drawn more than four million Japanese -- mostly affluent middle-aged women and their daughters.
Among them was Shirahane herself, who saw the pageantry of the Takarazuka's play on television as a girl.
Based on a cult manga first published in 1972, "The Rose of Versailles" ("Berusaiyu no bara") relates the tale of France's opulent final queen from a female perspective. It features a fictional Lady Oscar-Francois de Jarjayes, who is raised as a boy and disguises herself as a man to guard the Austrian-born princess.
The play was a turning point for Takarazuka Revue by bringing gender-bending roles to center-stage, said Atsuro Kawauchi, a theater critic and professor at Shukugawa Gakuin College.
"Takarazuka used to play typical love stories attracting both male and female theater goers," Kawauchi said.
"But the themes of their plays have changed since 'The Rose of Versailles' which offered the audience not just a love story but also comradeship and women's self-empowerment," he said.
"Takarazuka also attracted those female comic fans," Kawauchi said.
Takarazuka Revue, established by Ichizo Kobayashi, who was a founder of the Hankyu Corporation of railways, first performed in 1914. It is named after the troupe's birthplace in Takarazuka, a small spa town in the western Japanese prefecture of Hyogo.
The all-women phenomenon has a special appeal, according to critic Akira Izumo.
"Japanese female fans of the Takarazuka's male role actresses probably feel close to the performers as they are also women," Izumo said.
"But the Takarazuka's success also owes to the success in creating stars through 'The Rose of Versailles'," he added.
Shinji Ueda, 73, legendary director of the Revue, who has written dozens of scripts for Takarazuka in the past fifty years, says performers have moved with the times.
"The change is rapid. Since abundant information has become available all over the world, the actresses clearly know what is good or bad and which role will bring benefit for them," he said.
"Ten, 20 years ago, they were simply working hard in practicing their art because there was not much news around," he added.
The actresses in the coveted roles are celebrities for the hundreds of fans who waited outside the Tokyo Takarazuka Theater when "The Rose of Versailles" ended for the night.
The fan club members lined up in rows as they watched the actresses leave, and wore scarves, jackets and other mementoes of the performers they were supporting.
In a tacit rule, the fans never scream or get carried away with emotion. Instead, they quietly take photos or hand letters or presents to the actresses.
Many of the fans include mothers heading to the theater with their daughters, building the next generation of Takarazuka fans.
"Male role performers are attractive because they come off as beautiful men while being sexually neutral," said Kayoko Uchida, a 53-year-old mother who came out of the theater with her daughter Chiaki.
For Chiaki, the theater has an air of fantasy.
"The perfomers' luxurious costumes and the stage set are like a dream world and I can be in it by watching the play," Chiaki said.