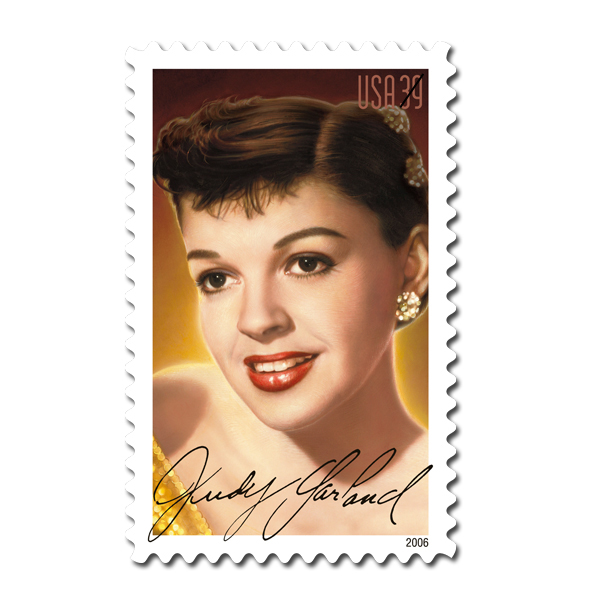 Judy Garland
As the 12th inductee in the Postal Service's Legends of Hollywood series, Judy Garland is considered by many to be one of the greatest entertainers of the 20th century. An all-around performer, she acted with equal effectiveness in comedy or drama, sang a varied repertoire with unparalleled skill, and partnered with the leading male dancers of her time, Gene Kelly and Fred Astaire among them. Her show business colleagues have been nearly unanimous in their praise of Garland's natural brilliance - indeed, she was a "star of stars."
Garland triumphed in most media of her era. She appeared in 32 feature films, winning international fame as Dorothy, the girl who rides a tornado from her home in Kansas to an imaginary land in the 1939 musical The Wizard of Oz. She also was a best-selling recording artist who released more than a dozen albums and nearly 100 singles and made hundreds of radio broadcasts. She starred in her own television show and made guest appearances on many others. Her live performances, widely regarded as her supreme showcase, frequently broke box office records for theaters, concert halls, and nightclubs.
Garland's extraordinary talent was honed from an early age. She was born Frances Ethel Gumm, June 10, 1922, in Grand Rapids, MN, where her father, Frank, managed a theater, and her mother, Ethel, played the piano. The family was musical: Frank and his wife billed themselves as Jack and Virginia Lee, Sweet Southern Singers, and their three daughters performed as The Gumm Sisters. Frances made her professional debut at the age of two, on December 26, 1924, first singing with her two older sisters, Mary Jane and Virginia, and then delighting the audience with a solo rendition of "Jingle Bells." A laudatory review in a local newspaper noted that "the two oldest girls are becoming accomplished entertainers, while the work of Frances, the two-year-old baby, was a genuine surprise."
In 1926, the family moved to California, settling in Lancaster (north of Los Angeles) in 1927. In her new home, "Baby" Gumm, as she was known, continued to receive glowing reviews. As a student at Lawlor's Hollywood Professional School, where she was enrolled by her mother, Frances first met Mickey Rooney, also a student. They first shared the bill at a Lawlor recital in 1933.
The Gumm Sisters renamed themselves The Garland Sisters in 1934 at the suggestion of entertainer George Jessel, headliner at Chicago's Oriental Theatre when the girls played there that year. Frances soon began to be called "Judy," a name she chose after hearing it in a song, and was signed in 1935 to a contract with MGM. She made her network radio debut shortly thereafter
It took some time to find an appropriate property for the precociously talented girl who sang with the voice of a woman, but within four years MGM had made Garland a star. When the box office records for 1939 were posted, two Garland movies, The Wizard of Oz and Babes in Arms, were on the list of top 10 pictures. In 1940, Garland won a special Academy Award "for her outstanding performance as a screen juvenile during the past year" and one of the songs she sang in the Wizard of Oz, "Over the Rainbow," won the Oscar for "best song."
The movie, For Me and My Gal (1942), in which Garland co-starred with Gene Kelly, set box office records and received rave reviews. Garland had an even bigger hit with Meet Me in St. Louis (1944), in which she sang "The Trolley Song" and "Have Yourself a Merry Little Christmas." She played her first dramatic role in The Clock, released the following year.
Garland vividly conveyed a range of emotions when performing, and was felt by many who saw her in concert to erase the line between popular and high art. She won a special Tony Award for her storied run at New York's Palace Theater beginning in 1951, and frequently moved audiences to tears.
Garland received an Academy Award nomination as "best actress" for her role in A Star Is Born, the 1954 film in which she sang another of her signature songs, "The Man That Got Away." She received another Academy Award nomination for her supporting role in the drama Judgment at Nuremberg (1961), in which she played a German matron.
In April of 1961, Garland gave a concert in New York City at Carnegie Hall that immediately became a show business legend. The recording of that celebrated performance topped sales lists for 13 weeks. "Judy at Carnegie Hall" won five Grammy Awards in 1962, including those for "album of the year" and for "best female vocal performance."
A television special, "The Judy Garland Show," featuring Frank Sinatra and Dean Martin, was broadcast in 1962 and garnered several Emmy nominations. The following year, Garland began work on her own series for the CBS television network.
In addition to her many professional achievements, Garland was also the mother of three accomplished children: Liza Minnelli, Lorna Luft, and Joe Luft.
After her death on June 22, 1969, Judy Garland was lauded around the world for enriching the lives of her legion of fans. Many celebrated contemporary entertainers, Aretha Franklin, Barbra Streisand, and Bette Midler among them, have hailed Garland as an inspiration and influence.
Update: U.S. Postal Service to Celebrate Life and Legacy of Judy Garland Through Music and a New Postage Stamp


WASHINGTON, June 9 /PRNewswire/
-- The following is being issued by the U.S. Postal Service:
WHAT: On what would have been her 84th birthday, the U.S. Postal
Service honors legendary entertainer Judy Garland with a 39-
cent First-Class commemorative postage stamp. The stamp will
debut only in New York on June 10. It will be available
nationwide June 11.
WHO: Lorna Luft, Daughter of Judy Garland, professional singer
Joe Luft, Son of Judy Garland
Liza Minnelli, Daughter of Judy Garland (via video)
Robert Osborne, film historian, host of TV's Turner Classic
Movies
Michael Feinstein, Professional singer and pianist
Rufus Wainwright, Singer, songwriter, and performer
Jane Powell, Metro-Goldwyn-Mayer actress and colleague of
Judy Garland
Dick Cavett, television host, moderator, and author
Terrance McNally, American Playwright
Diane Schuur, acclaimed jazz singer
Anita Bizzotto, USPS Chief Marketing Officer and Executive
Vice President
WHEN: June 10, 2006
7:30 p.m.
The event is free and open to the public. Tickets will be
available at the Carnegie Hall box office beginning at 5 p.m.
WHERE: Carnegie Hall (Zankel Hall)
57th Street & 7th Avenue
New York, NY 10019-3210
BACKGROUND: The 39-cent Judy Garland stamp is the 12th in the "Legends of
Hollywood" series, and the first in the program to be debuted
outside of California. Art director Ethel Kessler designed
the stamp using a portrait of Garland by Brooklyn artist Tim
O'Brien, based on a publicity photo for A Star Is Born.
Garland's signature appears at the bottom of the stamp, and
the photo on the selvage shows her in her signature role as
Dorothy in The Wizard of Oz.
Carnegie Hall was the venue for Garland's legendary 1961
concert, heralded as "the greatest night in show business
history."
Website: http://www.usps.com/