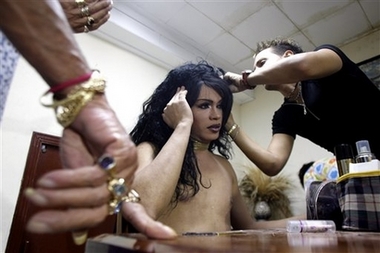 Abrahan Bueno, whose stage name is 'Dark Imperio,' prepares for a show as he gets his wig adjusted in a night club in Havana,Cuba, June 2, 2006. Once persecuted, then excluded, and finally tolerated, gay Cubans such as Bueno have seen the debate over sexual diversity explode in recent weeks as the nation is riveted by a soap opera featuring gay characters. Bueno hopes such debate will eventually allow gays to form associations and set up public spaces where they can express themselves with official approval, rather than gathering somewhat clandestinely. (AP Photo/ Javier Galeano)
Cuban soap opera sparks debate
By ANDREA RODRIGUEZ, Associated Press Writer
Wed Jun 14, 4:46 PM ET
Once persecuted, then excluded, and finally tolerated, Cuban homosexuals have seen the debate on sexual diversity expand in recent weeks as a state-sponsored soap opera featuring some gay characters has riveted the nation.
In a recent episode of "La Cara Oculta de la Luna," or the "Dark Side of the Moon," Yasel, who is married and the father of a little girl, is as surprised as viewers are to discover he is physically attracted to another man, named Mario.
The attraction leads to a sexual relationship and Yasel's subsequent contraction of the HIV virus that causes AIDS.
The series on state television is intended to educate Cubans about AIDS by telling the stories of those with the virus.
But it also has sparked a more open debate about homosexuality in a society where macho attitudes persist. And while some Cubans have welcomed the debate, others have been offended, questioning why such subject matter is even discussed on "revolutionary" state television.
"From now on, these themes will have to be discussed with more frankness," said Fredy Dominguez, script writer for the telenovela that has sparked discussions among Cubans of all ages and walks of life.
Reactions from some viewers were so intense that the government brought together a panel of experts to discuss the show. One viewer called in, outraged that homosexual relationships were presented "as if they were natural."
"It compels us to be better people, to be more tolerant," said panelist Manuel Calvino, a well-known psychologist.
"The show isn't a work of art; a lot of criticisms could be made," Mariela Castro, director of Cuba's National Center for Sex Education, said in an interview. "But the debate is satisfying."
Castro, whose center works to educate the public about sexual diversity, said an open discussion of such issues can help ease persisting prejudices and stigmas.
"Before, it would have been unthinkable to show this subject on Cuban television," agreed Tomas Fernandez Robaina, a 65-year-old gay professor.
But some other gay Cubans worry the show could perpetuate the idea that AIDS is punishment for homosexual activity.
"In the end, it treats homosexuality from an unhappy point of view. It's a sad story," said Olivia Prendes, a 34-year-old lesbian. "It's a continuation of the same silence."
What Cuban gays need is not just tolerance, but acceptance and respect, Prendes and others said.
Still, things have changed greatly since the 1960s, when gays were placed in work camps to be re-educated along with political dissidents, Jehovah's Witnesses and hippies.
The camps were phased out in the 1970s, but gays continued to live on society's margins, kept away from young people and key government jobs.
The exclusion gays suffered during those years was famously described by the late Cuban exile author Reinaldo Arenas in his memoir, "Before Night Falls," which was made into a film released in 2000, and other works. The film led to an Oscar nomination for actor Javier Bardem, who portrayed Arenas.
After losing his job and being jailed in the 1970s, Arenas left the island during the Mariel boatlift of 1980 and settled in New York, where he later died.
In the 1990s, the Cuban film "Fresa y Chocolate," or "Strawberry and Chocolate," did much to confront the stereotypes of homosexuality on the island.
Nominated for an Academy Award in the Best Foreign Film category in 1995, the movie by Cuban filmmaker Tomas Gutierrez Alea told the story of Diego, a sophisticated gay writer, and his non-sexual friendship with a naive young man named David who begins to question his long-held prejudices.
"Discrimination against homosexuals is a problem that now has been largely overcome," President Fidel Castro said in a recently published interview.
Cuban gays generally agree with that assessment, saying they no longer fear they will be arrested or lose their job because of their sexual orientation.
But many say they still lack associations and public spaces where they can express themselves with official approval, rather than gathering somewhat clandestinely.
Some would like official approval for clubs where transvestites can stage shows using female impersonators. Although some such clubs exist, and are tolerated, they are still illegal.
"What would be best today is that the work of ... transvestites be officially recognized," said transvestite performer Abrahan Bueno, whose stage name is "Dark Imperio," or "Dark Empire." "That's what I would ask for as a gay person."