The New York Times
Music Review | Rufus Wainwright
Somewhere Over the Rainbow, Conjuring Judy Garland
By STEPHEN HOLDEN
Published: June 15, 2006
They came to commune with a legend and to pay their respects to the singer channeling her.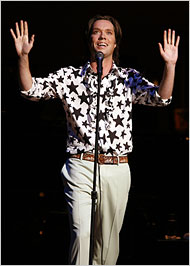 Richard Termine for The New York Times
Rufus Wainwright, the 32-year-old singer-songwriter and opera maven, last night at Carnegie Hall re-creating song by song Judy Garland's 1961 concert, which became the most beloved of all pre-rock concert albums.
"They" would be the heavily gay, male, over-30 audience at the sold-out Carnegie Hall last night and tonight; the legend would be Judy Garland; and the gawky, flouncing pop shaman conjuring her would be Rufus Wainwright, the 32-year-old singer-songwriter and opera maven descended from folk-rock royalty.
It didn't matter that Mr. Wainwright sounds nothing like Garland or that his voice, an astringent drone with a quavering edge, uncertain intonation and slightly garbled diction, isn't half as good an instrument as Garland's.
The spirit was there. At the very least, his loving song-by-song recreation of "Judy at Carnegie Hall," Garland's brilliant 1961 concert that became the most beloved of all pre-rock concert albums, was a fabulous stunt. Not even Madonna, pop music's ultimate pop provocateur, has attempted anything so ambitious.
What unfolded onstage was a tour de force of politically empowering performance art in which a proudly gay male performer paid homage to the original and longest-running gay icon in the crowded pantheon of pop divas. Accompanying Mr. Wainwright was a 36-piece orchestra conducted by Stephen Oremus playing the original 1961 arrangements transposed several notes lower to suit his voice.
The concert was a two-family affair, with the Garland clan represented by Lorna Luft, who arrived onstage late in the 2½-hour marathon to put her seal of approval on the project by joining Mr. Wainwright in a duet of "After You've Gone."
Besides Rufus, the Wainwrights were represented by his sister Martha, who brought down the house with a whooping and swooping "Stormy Weather," and his mother, Kate McGarrigle, who accompanied him on piano during "Over the Rainbow," and in an encore of "Ev'ry Time We Say Goodbye" that's not on the Garland album.
Because Garland's stamina onstage was legendary, Mr. Wainwright biggest challenge was to build and sustain the kind of electrical connection between performer and audience that in Garland's case approached a vampirish symbiosis.
If Mr. Wainwright doesn't begin to convey emotional extremes Garland embodied like a great method actress, he, like Garland, is a natural clown and showman. One of his many amusing anecdotes described his childhood identification with "The Wizard of Oz." On good days, he was Dorothy and on bad ones, the Wicked Witch of the West.
For those who came to worship, Mr. Wainwright could do no wrong. His courage to stand as a surrogate for every audience member who ever gazed into the mirror and fantasized slipping into Dorothy's ruby slippers spoke for itself.
Details
Somewhere over the top
New York fell in love with Rufus Wainwright when he sang Judy Garland's hits, says Gaby Wood
Gaby Wood
Sunday June 18, 2006
Observer
For weeks, in certain parts of New York City, few things had been as ardently anticipated as Rufus Wainwright's two-night-only recreation of Judy Garland's famous Carnegie Hall concert of 1961. Forty-five years on, it had been announced, the 32-year-old singer-songwriter would reproduce, in exactly the same venue, song for song, with identical orchestral arrangements, his greatest idol's greatest moment. The idea was breathtaking in its chutzpah and panache: a homage and a provocation. He sparkled on the cover of Time Out New York. He was adored in the pages of the New York Times. In Marc Jacobs's menswear boutique in Greenwich Village virtually nothing was for sale except T-shirts advertising the show - bold rip-offs of the original Garland poster, shouting 'RUFUS RUFUS RUFUS'. Sam Mendes was making a movie of the whole thing.
At the first of the two sold-out concerts on Wednesday, fans were standing outside the normally serene Upper East Side venue offering up to $1,000 for a ticket. Were they joking? No one would skip this for the world. Every male couple in New York was there - and Sarah Jessica Parker.
The man emerged to roars of love. He sang the first two songs, took a break to remove the jacket of his cream-coloured dinner suit and said, breathily: 'Thank you so much. I'm going to speak now, because on the album Judy speaks here.' He proceeded to tell a story about his childhood, and how he always wanted to be Dorothy - when he wasn't too busy wanting to be the Wicked Witch. The audience was gripped. He was, he'd said, 'drawing upon a collective unconscious' - and posing, perhaps, as the hero of one of his own songs, 'Gay Messiah'.
There were many such knowing moments, when he'd sit on a stool and cross his legs, fling back his hair or dab sweat from his face, archly recognising the debt. But this was not a drag act. Wainwright was not so much impersonating Garland as inhabiting the songs. 'Do It Again', sung by Garland with such languorous vulnerability, was his in an instant - done in the same key, turned sweet, and bruised from time to time by Wainwright's signature half-growl; 'How Long Has This Been Going On' was a beautiful surprise, and had a way of making you feel it was always about to tumble into a minor key; 'The Man That Got Away', which one would have thought unmatchable, was spectacular.
When Judy Garland gave her Carnegie Hall performance, she had just survived a near-fatal bout of hepatitis (the resulting album, which won five Grammys, has never been out of print). This was after enduring struggles with drink, and eight years before her death from a drug overdose. She was witty that night and triumphant, but underneath lay the sound of damage. It has often been suggested that an affinity with Garland's suffering is what has led to her gay following, but Wainwright, in interviews, has had no truck with this notion. Though a survivor of his own family and drug-related battles, and a writer of wrenchingly personal songs, he has said he loves the Carnegie Hall concert for the music itself. And so it was on the night: he had no intention of falling apart - he was having far too much fun.
Yet over two-and-a-half hours, some of Wainwright's renditions lacked what Garland's wounds had once provided. At the end of the night, when he said he felt 'a real connection to Judy Garland', it was possible to wonder whether what he'd learned from her was more visible, in fact, in his own songs - whether there was already more of Judy Garland in the unvarnished Rufus Wainwright, and whether, instead of all that staging, he just had to tap his heels.
ルーファス・ウェインライト、伝説のジュディ・ガーランド・カーネギー・ホール・コンサートを「再現」