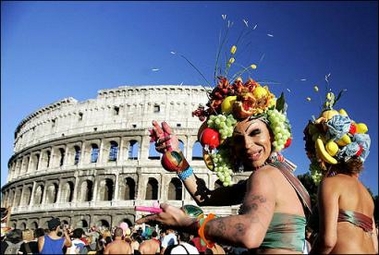 Demonstrators pass the Colosseum during a gay pride parade in Rome in 2005. Italy's Gay Pride parade in Turin attracted around 50,000 participants and about the same number of spectators, police said, as controversy over possible changes to legislation for same-sex partnerships gripped the country.(AFP/File/Filippo Monteforte)
Gay Pride wows Turin as storm brews over same-sex laws
Saturday, June 17 2006
AFP
Italy's Gay Pride parade in Turin attracted around 50,000 participants and about the same number of spectators, police said, as controversy over possible changes to legislation for same-sex partnerships gripped the country.
Crowds of spectators of all ages took part in a party-like atmosphere as floats and demonstrators filed through the streets of the northern Italian city, the Italian news agency Ansa reported.
The gay, lesbian, bisexual and transgender groups organising Gay Pride are demanding equal rights for same-sex couples, a call supported by one left-wing party and a handful of well-known figures on the right.
The move is vehemently opposed by the Roman Catholic Church, which retains a strong influence in Italy.
Barbara Pollastrini, Italy's minister for equal rights, told Gay Pride's organisers on Friday that she is considering "humane and wise legislation for common law partnerships, same-sex or otherwise".
The announcement, received with embarrassment by the centre left and denounced by conservatives, is in line the governing coalition's plans, said Italian Social Solidarity Minister Paolo Ferrero, who took part in the parade.
Romano Prodi's centre left coalition promised in its electoral manifesto to legally recognise common law partnerships, stressing that "their sexual orientation will not be an obstacle."
The Vatican and the Italian Church have stepped up their opposition in recent weeks of civil partnerships and against what they consider a weakening of family values and conventional marriage.