New Straits Times
SpotLight: 'Third gender' living in legal limbo
19 Jun 2006
SARBAN SINGH
They are the non-entities of society. Their misery is deepened by the reluctance of the authorities to recognise them as transsexuals. Yet they cling to the hope that society will one day accept them for who they are.
NISHA gyrated with consummate grace to the hugely popular Indonesian number Goyang Bali, her every move cheered by the boisterous crowd at the Jalan Yang Kalsom dangdut lounge in Ipoh.
She was dressed in a ravishing cream-and-red kebaya, and her complexion, long silky hair and full figure would be the envy of any woman.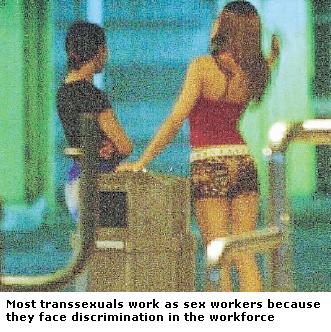 Seeing some unfamiliar faces among her fans, the lithe Nisha sashayed towards a table and in the most gracious manner extended a hand in welcome.
"Hello, how are you?" she asked with a dazzling smile. "I'm Nisha."
After a quick exchange of pleasantries, Nisha, who looked to be in her late 20s, waltzed back to the dance floor and picked up where she had left off as queen of the night.
"I'd bet my last ringgit she's a woman," said Anil, refusing to believe that Nisha was actually a male transsexual.
Since I was already working on a story on the plight of transsexuals, I though it would help if I could talk to Nisha.
"Do you know that I am the Maria Menado of Ipoh?" asked Nisha, dabbing sweat off her forehead.
Later, admitting he was born male, Nisha shows me three other transsexuals on the dance floor who could easily pass off as women.
Nisha is a Mak Nyah, a term used for men who manifest femininity. Disparagingly referred to as bapuk or pondan here, ah kua across the Causeway, kathoey in Thailand, balka in the Philippines, warias in Indonesia and hijras in India, they face extreme prejudice and discrimination.
The good old days of the Indian and Chinese eunuchs died with the Mughal empire and the great Chinese dynasties.
Today, they are mocked and insulted by just about everyone.
"I feel like a woman and want to live as one," said Nisha, "but what's the point when I won't be able to get my sex status changed in my official documents, especially my identity card?"
Nisha said she also had problems securing employment despite holding a diploma from a private college in Ipoh.
National Registration Department (NRD) director-general Datuk Mohd Abdul Halim Muhammad says the department cannot change the sex status of an individual, even if the person has undergone sex change surgery.
The rule is simple: The sex stated in the birth certificate of the individual will only be changed if erroneously entered.
"We are not the experts to determine if a person is a male or female. That is beyond us," Halim said, adding that this responsibility rested with the legal system.
Universiti Utara Malaysia associate professor Teh Yik Koon begs to differ.
"The authorities must allow this. We cannot rob transsexuals of their fundamental rights," said Teh, a trained criminologist from a British university and a lecturer in criminology and sociology at UUM.
Last year, however, the High Court made a landmark ruling allowing a transsexual to have his gender status officially changed. And Teh has an ally in lawyer John Clark Sugumod, who fought the case.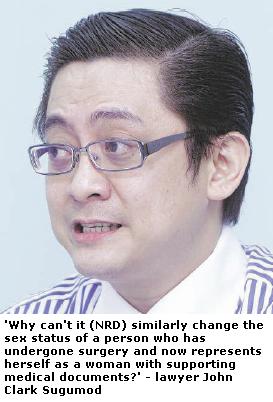 The NRD, Sugumod said, was rigid in interpreting the provisions in the Act which actually provides sweeping powers to the director-general on such matters.
"The department can straightaway change the status of an individual whose sex at birth is wrongly entered," said Sugumod. "Why can't it similarly change the sex status of a person who has undergone surgery and now represents herself as a woman with supporting medical documents?"
A study by Teh in 2001 showed that between 70 per cent and 80 per cent of the estimated 15,000 transsexuals were Malay.
In a survey of 507 transsexuals, she found that 65 per cent were sex workers, 25 per cent worked in clubs, hair salons, beauty clinics and boutiques, and two per cent in small businesses. Only eight were gainfully employed in the private and public sectors.
Also, about 30 per cent lived below the poverty line of RM450 then, and most earned less than RM1,000.
"We respect the decision of the Fatwa Council banning Muslims from going under the knife," Teh said. "In the past some Muslim organisations had also objected to in-vitro fertilisation, but this was allowed later."
She added that it was unfair to leave transsexuals in limbo.
Teh said several Muslim nations allowed sex-change operations although they initially forbade it.
Cases include three sisters in Saudi Arabia who underwent gender reassignment surgery last June after tests indicated a greater amount of male hormones in their bodies.
Ayatollah Khomeini, Iran's theocratic founder, also issued a fatwa that transgenderism was a disorder akin to illness, and therefore medical and surgical intervention was allowed.
(The leading sex-change surgeon in Iran is Prof Bahram Mirjalali, who has done over 320 operations in the last 12 years.)
Authorities in Jordan, Lebanon, Syria and Egypt also permit this.
TransgenderASIA, a group comprising psychologists, sociologists, medical and legal experts, said transgenderism was a difference, not a disorder.
The group noted transsexuals had won a number of legal cases before the European Court of Human Rights and in Australia and New Zealand.
"These include for the purpose of civil status, marriage, discrimination in employment and pension rights," it said.
We can understand Nisha's pain, but a review of her status may not be on the cards so soon.
In Asia, only Singapore, Japan and Hong Kong allow transsexuals who have undergone operations to have their status changed in their identity cards.
In Hong Kong, the Government actually provides funding for sex reassignments through the Gender Reassignment Programme.
However, both Singapore and Hong Kong Governments still require their citizens to have their status at the time of birth stated in their birth certificates.
Doctors in Singapore, once a world leader in sex-change operations, performed their first sex-change surgery in 1971.
Since that groundbreaking operation, more than 500 have been done in the republic.
In Thailand, the world's capital for such operations, a kathoey would legally remain a male even after sex reassignment. This is because the predominantly Buddhist nations believes that one becomes a kathoey due to "bad karma", as "punishment" for sexual indiscretion in a previous life.
Non-Muslims benefit from landmark ruling
NON-MUSLIM male transsexuals can now have their sex status in their identity cards changed accordingly. This was enabled by a little-known landmark ruling by the Kuala Lumpur High Court in February last year.
All that is needed is medical evidence of their transformation by sex-change surgery.
Jasmine Goh, 31, a transsexual from Penang, had filed an originating summons in February 2003 seeking that he be allowed to change his sex status in the identity card following sex-change surgery in Thailand.
Goh underwent gender reassignment surgery at the Siroros Hospital in Yala in May 1996, where he was admitted for a week. The operation was performed by a licensed medical practitioner.
Goh supported her subsequent application with confirmation of her new sex status from a consultant obstetrician and gynaecologist at a private hospital in Kuala Lumpur.
Following this, High Court judge Datuk James Foong directed the National Registration Department to change the last digit of Goh's identity card number from odd for male to even for female, to show that Goh was now a woman.
"Since the court decided so, we issued Goh a new identity card," said NRD director-general Datuk Mohd Abdul Halim Muhammad, adding that this was the only such case in the country so far.
The decision came three months after Ipoh High Court judge Datuk V.T. Singham dismissed an application by 33- year-old Wong Chiou Yoong, who underwent surgery to have her sex status changed from female to male.
Wong underwent the operation at a private hospital in Penang on April 8, 2002.
Singham had said that transsexuals in Malaysia were in "legal limbo" as there were no provisions in the National Registration Act allowing them to change their sex status.
Any change to their status would have to be made in Parliament, he said, as there was no specific legislation dealing with gender reassignment.
Wong failed in his application despite having two specialists confirm that he was a "functioning man".
(Muslims are not covered by this ruling as the National Fatwa Council issued a directive in 1983 prohibiting Muslims undergoing gender reassignment surgery.)
Goh's counsel John Clark Sugumod, when contacted, said he had asked the court to consider applicants' psychological aspects and not biological ones.
"I told the court there had been many cases in Australia and New Zealand where the courts had given precedence to the psychological aspect rather than the biological aspect of the applicant," Sugumod said. "The psychological reasoning has to override the biological one."
Sugumod told the court if doctors and psychologists could prove the individual only possessed the characteristics of the opposite sex and that he or she had undergone surgery, it was "only proper" that he or she was allowed to change his or her sex in their identity card and other documents.
"What is important is how the person feels," he said. "Yes, the person may have male chromosomes but psychologically, she is a woman."
Sugumod put forward two other conditions for the court to consider:
• Article Five of the Federal Constitution, which states that no one shall be subjected to torture or to cruel, inhuman or degrading treatment or punishment. The prejudice against transsexuals was clearly discrimination and as such could be argued against under this provision.
• The NRD had a restrictive interpretation of provisions in the Act. Claims by the director- general that he only had powers to effect a change if an error had been entered into the identity card was open to debate. Sugumod said this was a matter of interpretation as there were several clauses in the Act which gave sweeping powers to the director-general to approve a change.
Following the outcome of the Ipoh case, Deputy Home Affairs Minister Datuk Tan Chai Ho said the Government might review the Births and Deaths Act 1957 to cater for transsexuals who had undergone sex change.
What they say about the court ruling
"Many of my fellow researchers all over the world have come to a similar conclusion, that this is a biological phenomenon. You can send men who feel they are women for psychotherapy but let me assure you that they would not be changed." - Associate Prof Teh Yik Koon, Universiti Utara Malaysia
"The sexual identity of a person is based on three biological factors: chromosomal, gonadal (ovaries and testes) and genital (internal sex organs at the time of birth of the individual). The courts have so far rejected a fourth factor: the psychological basis, which is accepted by all medical experts. This will need to be further debated by experts." - Dr Ravindran Jegasothy, Ethics Committee, Malaysian Medical Association
"If we are to speak on moral grounds, sex-change surgery should not be allowed. But then who are we to decide this? At the end of the day, the individual must be allowed to decide what he wants." - Datuk A Vaithilingam, President, Malaysia Hindu Sangam
"Islam forbids sex change. Since it only recognises man and woman, it is a non-issue. Yes, we understand that some men tend to be effeminate but that's simply because they have more female hormones. In Islam, there are special provisions for them. The golden rule is that you cannot make changes to your anatomy." - Nasharuddin Mat Isa, Pas deputy president
"There is no need to fight this out in court. If medical experts can prove this, why should this be further deliberated in the courts? The bottom line is that that all Malaysians, irrespective of creed and colour, should feel protected. There should be no room for discrimination against anyone." - Harcharan Singh, Vice-president, Malaysian Consultative Council of Buddhism, Christianity, Hinduism and Sikhism
"The laws must be made flexible to accommodate them. The necessary amendments must be made to the laws. If a man has undergone surgery to become a woman but is still forced to use the men's toilet, then it is tantamount to impinging on her privacy." - R.R. Chelvarajah, Former Bar Council president
"We are clear that when God created human beings, he created them as men and women. There is a very clear distinction between the genders. Christianity says the woman then bears the child and experiences labour pains. Again the distinction is clear. Since this has been decided by God, any alteration is unacceptable. God is perfect and any such changes would be a violation of His creation." - Reverend Wong Kim Kong, Secretary-general, National Evangelical Christian Fellowship