The New York Times
Week in Review
U.S. Needs Japan's Diplomacy, but Tokyo Isn't Talking
By NORIMITSU ONISHI
Published: June 25, 2006
TOKYO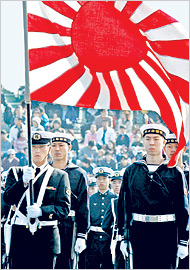 Yoshikazu Tsuno/Agence France-Presse - Getty Images
South Korea and China are troubled by what they see as an increase in Japanese nationalism.
Related
Japan to Pull Ground Troops Out of Iraq, Koizumi Says (June 21, 2006)
NORTH KOREA and its potential test of a long-range missile will top the agenda, no doubt, when Prime Minister Junichiro Koizumi of Japan visits Washington next week. But what will, or should, President Bush say about Japan's ever-more-tenuous relations with its Asian neighbors?
American and Japanese coordination in the face of a possible launching last week could not have been more finely tuned, said J. Thomas Schieffer, the American ambassador to Japan.
But at a time when regional cooperation is needed as well, Japan is barely talking to China and South Korea. In fact, on Thursday, South Korea's President Roh Moo Hyun said that his country must strengthen its military deterrence, not against the North, but against Japan, because of a worsening territorial dispute.
Japan's relations with the two countries are their worst in decades, in great part because of bitter disagreements over Japan's militarist past. History is getting in the way even as Japan, with America's blessing, wants to play a bigger role in the region.
The last time they met, in Kyoto in November, Mr. Bush asked Mr. Koizumi about the troubled relations, but is said to have refrained from commenting. Since then, relations have remained frozen, and prospects for improvement look uncertain.
Worries have grown among American policy makers and scholars that the tensions are hurting Japanese — and American — interests in Asia. Calls have multiplied for the United States to become active, at least informally, in trying to resolve the disputes.
While Japan and China are at loggerheads over regional influence, natural resources and territory, Mr. Koizumi's visits to the Yasukuni Shrine, the memorial to Japan's war dead and its 14 highest-ranking war criminals, have drawn particularly strong criticism from Beijing, and from Seoul as well.
Mr. Koizumi says he prays for peace and for Japan's war dead when he visits Yasukuni. But China and South Korea consider the visits evidence of Japan's lack of repentance over its past. Both countries have refused to hold top-level meetings with Japan, citing the visits.
"The Yasukuni issue is undermining the efficacy of Japanese diplomacy in the region," said Kent Calder, director of the Reischauer Center for East Asian Studies at Johns Hopkins. "And that is important for the United States, particularly in a period when we are so involved in the Middle East and we don't have the resources and time that we should be devoting to East Asia."
The disputes have put the United States — which wants a more assertive Japan, but with which it shares its own wartime history — in an uncomfortable position.
Mr. Koizumi has cemented good relations with Mr. Bush by doing the previously unthinkable: deploying troops to Iraq, deepening military ties and moving Japan toward a revision of the Constitution.
The new military assertiveness, though, has given voice to conservatives who have long wanted to restore prewar symbols. Teachers are now being punished for refusing to sing the national anthem. Government-endorsed textbooks play down Japan's past militarism.
If Asia has been troubled by the rise of Japanese nationalism, it has also been perplexed by America's silence. Yasukuni, after all, enshrines leaders who waged war against the United States, too, and its museum propagates the rightist view that the United States forced Japan into war.
"It is one thing not to encourage Japanese nationalism, but the United States has not been discouraging it either," said Han Sung Joo, a former South Korean ambassador to the United States. "Japan seems to have little regard for how South Korea sees things, and the United States seems to have little regard for how Japan affects Korean sensitivities."
That, Mr. Han said, has undermined the trilateral alliance, the basis for America's security in Asia. "If one side of the triangle is weakened," he said, "the other sides suffer, too."
The silence has also encouraged Japanese hard-liners to take such a tough stance against China that the two countries no longer hold meaningful talks, said Kazuhiko Togo, a former Japanese diplomat who now teaches East Asian Studies at Princeton.
"They believe that America is backing this approach," Mr. Togo said. "But is that the case? If Japan cannot manage its relations with a rising China, I think that is a burden to the United States. I think that America should tell Japan that this situation it has created is not in anyone's interests."
But Mr. Togo — who is a grandson of Shigenori Togo, a wartime foreign minister who is one of the 14 prominent war criminals enshrined at Yasukuni — said American involvement in a debate over history could open a Pandora's box. A big gap in perception of history also exists between Japan and the United States.
Akio Takahara, a professor of politics at the University of Tokyo, said: "The atomic bombs are the most symbolic. What kind of historical view of the bombs do you have? How do you evaluate and perceive them?" The two countries have "completely different" perceptions, he added. Ambassador Schieffer said he found the view of history propagated by the Yasukuni war museum "very disturbing."
"If you viewed those exhibits or read those explanations, I think any American would be uncomfortable," Mr. Schieffer said, adding, however, that he believed Mr. Koizumi's explanations about his visits.
Japan and China have to work out their history problems by themselves, Mr. Schieffer said, adding, "I don't think it's helpful for foreigners to intervene."
Still, last month, Representative Henry J. Hyde, chairman of the House International Relations Committee and a World War II veteran, said that Mr. Koizumi should pledge not to visit Yasukuni if he wanted to address a joint session of Congress. The Japanese said the prime minister never asked to do so.
Either way, he won't be going to Congress. Instead, after a visit to Arlington National Cemetery, Mr. Bush will take Mr. Koizumi, a longtime Elvis fan, to Memphis for a tour of Graceland.