US フロントライン
更新2006年07月07日 12:07米国東部時間

2州最高裁、同性婚認めず 「推進派」大きな痛手
 ニューヨーク州最高裁は6日、婚姻は男性と女性の間でのみ成立するとした州法は州憲法に違反しないとする判断を示し、同性婚を法的に認めるよう求めた同性カップルの請求を退けた。
 ジョージア州最高裁もこの日、同性婚を禁じた州の規定を合憲とし、同性婚を合法とした下級審判断を覆した。リベラルとされるニューヨーク州でも合法化が認められなかったことで「推進派」に大きな痛手となった。
 同性婚をめぐっては、マサチューセッツ州が2004年、米国の州レベルで初めて合法化に踏み切ったが、その後同性婚を禁じる州が続出した。
 ニューヨーク州では州知事選候補同士が合法化をめぐり対立。また、カリフォルニアなど複数の州で近く、同性婚合法化をめぐる州裁判所の判断が示される予定で、11月の中間選挙を前に再び論議が活発化するとみられる。(共同)
「私の同性家族を愛しています」
JULY 08, 2006 03:00 東亞日報・日本語版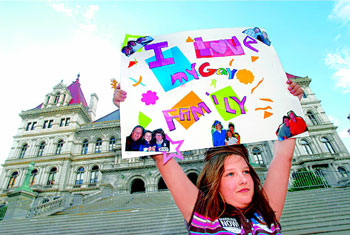 米ニューヨーク州最高裁判所が同性間の結婚を認めない州家族法は州憲法に違反しないという判決を出した6日、州議会庁舍前で同性愛者たちが抗議デモを繰り広げている。ある同性カップルに入養されたマリア・リチャードさん(11)も「私は私の同性家族を愛しています」と書かれたピケットを手に持ってデモに参加している。
同性の結婚不許可「州憲法に違反せず」 NY州最高裁
2006年07月07日18時54分 朝日
 米ニューヨーク州最高裁は6日、同性婚を州が認めないのは州憲法違反だとする44組の同性カップルの上告を棄却した。7人の判事が4対2(1人不参加)と割れ、主任判事は「未来の世代は、今日の結論について不幸な誤りだと振り返ることになると信じる」と反対の付帯意見を表明した。
 決定は、州法が結婚を男女間のものと規定していると認定。同性の婚姻より異性の婚姻の方が子どものいる家族に安定をもたらし、子どもにとって父親と母親がいた方がいいと行政が結論づけるのは容認できるとした。しかし「州立法府が同性のカップルに結婚などの権利を認める時期がきているのかもしれない」とする付帯意見もあった。 一方、ジョージア州最高裁も同日、同性婚の禁止を打ち出した04年の有権者の投票の有効性を確認する決定を出した。
The New York Times
N.Y. / Region
N.Y. Court Upholds Gay Marriage Ban
By ANEMONA HARTOCOLLIS
Published: July 6, 2006
New York's highest court today turned back a broad attempt by gay and lesbian couples across the state to win the right to marry and raise children under New York State's marriage law, saying that denying marriage to same-sex couples does not violate the state constitution.
Related
The Ruling (courts.state.ny.us)
Ruling Disappoints Gay Couples
In a 4-2 decision, the Court of Appeals found that the state's definition of marriage as a union between a man and a woman, enacted more than a century ago, could have a rational basis, and that it was up to the State Legislature, not the courts, to decide whether it should be changed.
The majority decision, written by Judge Robert S. Smith, who was appointed by Gov. George Pataki, found that limiting marriage to opposite-sex couples could be based on rational social goals, primarily the protection and welfare of children.
"Plaintiffs have not persuaded us that this long-accepted restriction is a wholly irrational one, based solely on ignorance and prejudice against homosexuals," Judge Smith wrote in his 22-page opinion. For example, he wrote, it could be argued that children benefit from being raised by two natural parents, a mother and a father, rather than by gay or lesbian couples.
Chief Judge Judith Kaye wrote a dissenting opinion and was joined by Judge Carmen Beauchamp Ciparick, both appointed by Gov. Mario Cuomo, a Democrat. Judge Kaye warned that future generations would look back at yesterday's decision as "an unfortunate misstep," and would consider the barring of gay marriage as an injustice akin to the laws that once barred interracial marriage, an analogy the majority on the court rejected.
Gay and lesbian groups viewed the decision as a major setback, even though the court's ruling was not altogether unexpected.
"Today is a sad day for all New Yorkers who believe in the constitutional guarantee of equal protection under law," said Roberta A. Kaplan, a lawyer for the plaintiffs in Samuels v. Department of Health, one of four cases consolidated in the same ruling. "Chief Judge Kaye's dissent got it exactly right in saying that future generations will come to see today's decision as a terrible mistake."
Advocates for recognizing same-sex marriage acknowledged that getting any major change in the law through New York's divided legislature would be a difficult challenge.
New York lawmakers have not appeared in any rush to act on the issue, although the leading Democratic candidate for governor, Attorney General Eliot Spitzer, has promised gay rights groups that he will seek to legalize gay marriage if he is elected in November. Mr. Spitzer's Democratic rival in the race, Thomas R. Suozzi, and the Republican nominee, John Faso, oppose legalizing gay marriage.
Today's court decision comes at a critical juncture, when the country seems deeply divided, both politically and legally, on the issue of gay marriage.
So far the highest court in Massachusetts is the only appellate court in the country to have ruled that recognition of same-sex marriage is required by the state's constitution.
By contrast, the Georgia Supreme Court rejected a constitutional challenge to that state's laws against same-sex marriage today, overruling a lower court, just as the New York court did.
In an earlier ruling, Vermont's high court came down in between, finding that the benefits of marriage should be provided to same-sex couples but deferring to the legislature on the means. Vermont and Connecticut have enacted laws recognizing civil unions between gay couples, rather than marriages.
Cases like New York's are pending in the courts of New Jersey and the state of Washington.
Many states and the federal government have enacted "defense of marriage" laws, restricting the rights and benefits of same-sex couples. Yet President Bush's push for a constitutional ban on same-sex marriage was rejected by the Senate in June.
In an unusual split for the New York Court of Appeals, two separate opinions were issued supporting the decision. The one written by Judge Smith was signed by two other judges — George Bundy Smith, a Cuomo appointee and the only black member of the panel, and Susan Phillips Read, a Pataki appointee.
The second opinion, written by Judge Victoria A. Graffeo, a Pataki appointee, upheld the majority, saying their decision was rational. But she seemed to be distancing herself from the sociological arguments that the purpose of the marriage law was to promote families with children.
"Marriage can and does serve individual interests that extend well beyond creating an environment conducive to procreation and child-rearing," Judge Graffeo wrote in a 22-page concurrence.
The judge exhorted the Legislature to take up the issue: "It may well be that the time has come for the Legislature to address the needs of same-sex couples and their families, and to consider granting these individuals additional benefits through marriage or whatever status the Legislature deems appropriate."
In the majority opinion, Judge Smith said that because same-sex marriage was not deeply rooted in history and tradition, barring it was not a violation of fundamental rights and liberties.
The majority decision argued that any comparison with anti-miscegenation laws was flawed because discrimination against homosexuals has been recognized only recently, while "racism has been recognized for centuries — at first by a few people, and later by many more — as a revolting moral evil."
On the issue of child-rearing, the majority wrote: "Despite the advances of science, it remains true that the vast majority of children are born as a result of a sexual relationship between a man and a woman. Intuition and experience suggest that a child benefits from having before his or her eyes, every day, living models of what both a man and a woman are like."
Judge Kaye, however, argued that the historic and cultural understanding of marriage did not justify discrimination.
"Simply put, a history or tradition of discrimination — no matter how entrenched — does not make the discrimination constitutional," Judge Kaye wrote in her 27-page dissent. "As history has well taught us, separate is inherently unequal."
"The claim that marriage has always had a single and unalterable meaning is a plain distortion of history," she wrote. Until well into the 19th century, for instance, she said, wives were considered the property of their husbands and married women could not own property or enter into contracts.
"Only since the mid-twentieth century has the institution of marriage come to be understood as a relationship between two equal partners, founded upon shared intimacy and mutual financial and emotional support."
She said that while encouraging opposite-sex couples to marry could be good for the welfare of children, denying marriage to same-sex couples did not serve that interest in any way.
"The state's interest in a stable society is rationally advanced when families are established and remain intact, irrespective of the gender of the spouses," Judge Kaye wrote.
"The ability or desire to procreate is not a prerequisite for marriage," she said. "The elderly are permitted to marry, and many same-sex couples do indeed have children."
She noted that the United States Supreme Court has held that even prison inmates have a fundamental right to marry, despite the limits of prison life that may make it impossible to conceive children.
And she said there were other legitimate ways to encourage people to raise children, such as subsidizing child care or requiring employers to provide family leave for parents.
"Marriage is about much more than producing children, yet same-sex couples are excluded from the entire spectrum of protections that come with civil marriage — purportedly to encourage other people to procreate," she wrote.
Judge Kaye's dissent was a departure from the dry legal language of the main decision. She noted that the plaintiffs in the cases before the court represented a cross-section of ordinary New Yorkers, including a police officer, a doctor, a teacher and an artist, who wanted "only to live full lives, raise their children, better their communities and be good neighbors."
Most people, she noted, look forward to a wedding "as among the most significant events of their lives," and she said it was wrong for gays and lesbians to be denied marriage "because of who they love."
The court's ruling combined four different lawsuits filed by 44 gay and lesbian couples throughout the state, who argued that they had a constitutionally protected right to marry the way heterosexual couples do, and that current law denies them due process and equal protection of the law, violating the state constitution.
Only one of the four cases, Hernandez v. Robles, won a victory in the lower courts, in February 2005. New York City Mayor Michael Bloomberg, who was facing a primary campaign for re-election at the time, appealed the decision.
Mayor Bloomberg insisted that he supported allowing same-sex couples to marry, and that he appealed the case only to clarify the parameters of the law and the constitution. However, the court's decision closely tracked the arguments raised by the city's corporation counsel.
The other cases before the Court of Appeals, which were consolidated under the same ruling, are Samuels v. New York State Department of Health and Kane v. Marsolais, both brought in Albany County, and Seymour v. Holcomb, in Tompkins County.
米NY州控訴裁判所、同性婚を認めず