The Wall Street Journal
He, Once a She, Offers Own View On Science Spat
By SHARON BEGLEY
July 13, 2006; Page B1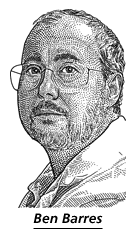 Ben Barres had just finished giving a seminar at the prestigious
Whitehead Institute for Biomedical Research 10 years ago, describing to scientists from the Massachusetts Institute of Technology, Harvard and other top institutions his discoveries about nerve cells called glia. As the applause died down, a friend later told him, one scientist turned to another and remarked what a great seminar it had been, adding, "Ben Barres's work is much better than his sister's."
There was only one problem. Prof. Barres, then as now a professor of neurobiology at Stanford University, doesn't have a sister in science. The Barbara Barres the man remembered was Ben.
Prof. Barres is transgendered, having completed the treatments that made him fully male 10 years ago. The Whitehead talk was his first as a man, so the research he was presenting was done as Barbara.
Being first a female scientist and then a male scientist has given Prof. Barres a unique perspective on the debate over why women are so rare at the highest levels of academic science and math: He has experienced personally how each is treated by colleagues, mentors and rivals.
Based on those experiences, as well as research on gender differences, Prof. Barres begs to differ with what he calls "the Larry Summers Hypothesis," named for the former Harvard president who attributed the paucity of top women scientists to lack of "intrinsic aptitude." In a commentary in today's issue of the journal Nature, he writes that "the reason women are not advancing [in science] is discrimination" and the "Summers Hypothesis amounts to nothing more than blaming the victim."
In his remarks at an economics conference in January 2005, Mr. Summers said "socialization" is probably a trivial reason for the low number of top female mathematicians and scientists. But Prof. Barres, who as Barbara received the subtle and not-so-subtle hints that steer smart girls away from science, doesn't see it that way. The top science and math student in her New Jersey high school, she was advised by her guidance counselor to go to a local college rather than apply to MIT. She applied anyway and was admitted.
As an MIT undergraduate, Barbara was one of the only women in a large math class, and the only student to solve a particularly tough problem. The professor "told me my boyfriend must have solved it for me," recalls Prof. Barres, 51 years old, in an interview. "If boys were raised to feel that they can't be good at mathematics, there would be very few who were."
Although Barbara Barres was a top student at MIT, "nearly every lab head I asked refused to let me do my thesis research" with him, Prof. Barres says. "Most of my male friends had their first choice of labs. And I am still disappointed about the prestigious fellowship I lost to a male student when I was a Ph.D. student," even though the rival had published one prominent paper and she had six.
As a neuroscientist, Prof. Barres is also skeptical of the claim that differences between male and female brains might explain the preponderance of men in math and science. For one thing, he says, the studies don't adequately address whether those differences are innate and thus present from birth, or reflect the different experiences that men and women have. Harvard psychologist Steven Pinker, who defends the Summers Hypothesis, acknowledges that the existence of gender differences in values, preferences and aptitudes "does not mean that they are innate."
The biggest recent revolution in neuroscience has been the discovery of the brain's "plasticity," or ability to change structure and function in response to experiences. "It's not hard to believe that differences between the brains of male and female adults have nothing to do with genes or the Y chromosome but may be the biological expression of different social settings," says biologist Joan Roughgarden of Stanford, who completed her own transgender transition in 1998.
Jonathan Roughgarden's colleagues and rivals took his intelligence for granted, Joan says. But Joan has had "to establish competence to an extent that men never have to. They're assumed to be competent until proven otherwise, whereas a woman is assumed to be incompetent until she proves otherwise. I remember going on a drive with a man. He assumed I couldn't read a map."
Actually, Ben Barres says there may be something to the stereotype that men are better map readers. The testosterone he received to become male improved his spatial abilities, he writes in Nature, though "I still get lost every time I drive."
Still, there is little evidence that lack of testosterone or anything unique to male biology is the main factor keeping women from the top ranks of science and math, says Prof. Barres, a view that is widely held among scientists who study the issue. Although more men than women in the U.S. score in the stratosphere on math tests, there is no such difference in Japan, and in Iceland the situation is flipped, with more women than men scoring at the very top.
"That seems more like 'socialization' than any difference in innate abilities to me," geneticist Gregory Petsko of Brandeis University wrote last year. In any case, except in a few specialized fields like theoretical physics, there is little correlation between math scores and who becomes a scientist.
Some supporters of the Summers Hypothesis suggest that temperament, not ability, holds women back in science: They are innately less competitive. Prof. Barres's experience suggests that if women are less competitive, it is not because of anything innate but because that trait has been beaten out of them.
"Female scientists who are competitive or assertive are generally ostracized by their male colleagues," he says. In any case, he argues, "an aggressive competitive spirit" matters less to scientific success than curiosity, perseverance and self-confidence.
Women doubt their abilities more than men do, say scientists who have mentored scores of each. "Almost without exception, the talented women I have known have believed they had less ability than they actually had," Prof. Petsko wrote. "And almost without exception, the talented men I have known believed they had more."
Which may account for what Prof. Barres calls the main difference he has noticed since changing sex. "People who do not know I am transgendered treat me with much more respect," he says. "I can even complete a whole sentence without being interrupted by a man."
Write to Sharon Begley at sharon.begley@wsj.com
Transgender prof defends female scientists
By LISA LEFF, Associated Press Writer
Wednesday, July 12, 2006
As an Ivy League-trained neurobiologist who oversees a research lab at Stanford, Ben Barres feels qualified to comment on whether nature or nurture explains the persistent gender gap in the scientific community.
But it wasn't just his medical degree from Dartmouth, his Ph.D from Harvard and his studies on brain development and regeneration that inspired him to write an article blaming the shortage of female scientists on institutional bias.
Rather, it was that for most of his academic life, the 51-year-old professor who now wears a beard was once known as Dr. Barbara Barres, a woman who excelled in math and science.
"I have this perspective," said Barres, who switched sexes when he started taking hormones in 1997. "I've lived in the shoes of a woman and I've lived in the shoes of a man. It's caused me to reflect on the barriers women face."
Barres' opinion piece, published in Thursday's issue of the journal Nature, was a response to the debate former Harvard president Lawrence Summers reignited last year when he said innate sexual differences might explain why comparatively few women excelled in scientific careers.
Summers' clashes with faculty — including over women in science — led to his resignation, though not before he committed $50 million on childcare and other initiatives to help advance the careers of women and minority employees.
Even so, Barres thinks a meaningful discussion of what he calls the "Larry Summers Hypothesis" ended too soon, leaving missed opportunities and a bad message for young female scientists.
"I feel like I have a responsibility to speak out," he said. "Anyone who has changed sex has done probably the hardest thing they can do. It's freeing, in a way, because it makes me more fearless about other things."
In his article, Barres offers several personal anecdotes from both sides of the gender divide to prove his own hypothesis that prejudice plays a much bigger role than genes in preventing women from reaching their potential on university campuses and in government laboratories.
The one that rankles him most dates from his undergraduate days at MIT, where as a young woman in a class dominated by men he was the only student to solve a complicated math problem. The professor responded that a boyfriend must have done the work for her, according to Barres.
Barres makes a point of saying that he never felt mistreated or held back as a female scientist. At the same time, he wonders if his personal experience somehow shielded him from the more insidious effects of gender bias.
"I wasn't subject to the same stereotype threat because I never identified with women when I was growing up," he said. "In a way that was one of the lucky things for me about being transgender."
Aside from his unique vantage point, the thrust of Barres' article is that neither Summers nor the prominent scientists who defended his position used hard data to back up the claim that biology makes women less inclined toward math and science.
He cites several studies — including one showing little difference in the math scores of boys and girls ages 4 to 18 and another that indicated girls are groomed to be less competitive in sports — to support his discrimination argument.
"If a famous scientist or the president of a prestigious university is going to pronounce in public that women are likely to be innately inferior, would it be too much to ask that they be aware of the relevant data?" he writes in Nature.
"It would seem just as the bar goes up for women applicants in academic selection processes, it goes way down when men are evaluating the evidence for why women are not advancing in science."
Harvard University psycholinguist Steven Pinker, whom Barres names in his commentary as a leading defender of Summers, already has written a letter to the editors of Nature criticizing the piece as "polemic" that "contains numerous falsehoods and scurrilous statements."
Pinker said both he and Summers relied on "a large empirical literature showing differences in mean and variance in the distributions of talents, temperaments, and life priorities" among men and women to explain why women might be underrepresented in some scientific disciplines.
"He should learn to take scientific hypotheses less personally," Pinker said.
Barres said he won't be surprised if the Nature article makes him the kind of lightning rod for criticism that Summers was last year. He said he is disappointed that more senior women faculty have remained silent on the issue.
"Women have heard this stuff so much from people like Larry Summers, some corner of their brain starts to believe it," he said.
___
On the Net:
Nature journal: http://www.nature.com
Transgendered Professor Stirs Debate Over Women in Science By E.J. Mundell
HealthDay Reporter

WEDNESDAY, July 12 (HealthDay News) --
When former Harvard University President Larry Summers voiced the opinion last year that women might be intellectually inferior to men when it comes to math and science, he touched off a nationwide firestorm of controversy.
Now, Stanford University professor of neurobiology Dr. Ben Barres is wading into the fray with an essay in this week's Nature, contending that women are just as scientifically inclined as men -- if given a level playing field and the chance to shine.
He should know: Ten years ago, as Barbara Barres, this M.D. and Ph.D. made the decision to undergo hormone therapy and begin living as a man.
In his provocative essay, Does Gender Matter?, Ben Barres contends that it does -- that the attitude of others in the sciences changed toward him soon after he made the switch.
"The main difference that I have noticed is that people who don't know that I am transgendered treat me with much more respect," he writes. "I can even complete a whole sentence without being interrupted by a man."
That fundamental lack of respect for women is what Barres, 51, believes drives the relatively low representation of females in the world of science -- not any innate genetic inability.
For many girls, these stereotypes and stigmas may keep them from pursuing a career they might love and excel in, according to Barres. "From an early age, girls receive the messages that they are not good enough to do science subjects or will be less liked if they are good at it," he writes. "The messages come from many sources, including parents, friends, fellow students and, alas, teachers."
As a young girl, and then as a young female college student and academic, Barres said he felt the sting of discrimination first hand. While an undergrad at the Massachusetts Institute of Technology, the female Barres was the only person in a class full of men to solve a particularly tough math problem. The professor remarked that Barbara's "boyfriend must have solved it for [her]." And as a grad student at Harvard, Barbara Barres was passed over for a prestigious fellowship in favor of a male applicant who had published just one-sixth as many scientific papers as she had.
Finally, Barres remembers that, "Shortly after I changed sex, a faculty member was heard to say, 'Ben Barres gave such a great seminar today, but then his work is much better than his sister's.' "
The essay resonated with Marianne LaFrance, a Yale professor of psychology and women's gender and sexuality studies. Her work has long focused on how being born male or female affects careers.
"The thing that's so terrific about this essay is precisely that he's a transgendered person," she said. LaFrance pointed out that Barbara and Ben Barres are exactly the same person -- in terms of their talent, creativity and intellect -- and yet Ben gets much more immediate respect from his peers than Barbara ever could.
"It raises lots of questions about just where is gender? It seems to be much more in the mind of the perceiver than it is in the person who's being perceived," LaFrance said.
But Larry Summers, too, quickly found allies within academia after his speech in January 2005. A Harvard colleague, Professor Harvey Mansfield, published a book titled Manliness, in which he contended that women naturally shy away from competition and are risk-averse and overly emotional, compared to men. And British molecular biologist Peter Lawrence also penned a widely read essay in which he claimed that, even in a perfect world, women's innate deficiencies in scientific aptitude would leave them trailing men.
But Barres, who is also professor of developmental biology, neurology and neurological sciences at Stanford, cited the data on the issue. He noted that a study of math tests taken by nearly 20,000 American children aged 4 to 18 showed nearly identical scores by gender.
"And despite all the social forces that hold women back from an early age, still one-third of the winners of the elite Putnam Math Competition last year were women," Barres said.
LaFrance agreed. "Most of the evidence that we have suggests very strongly that the differences between men and women in most things are pretty small, and if you provide men and women with the same educational opportunities, lo and behold, those differences all but disappear," she said.
She pointed out that these disparities have continued to shrink as society slowly becomes more open to the idea of female excellence in the sciences.
"Now, if we're seeing real changes like that, that suggests that [the differences] are not genetic, because we know that genetic changes don't occur in just a matter of decades," LaFrance said.
"It also suggests," LaFrance added, "that if you provide the opportunities and the support structure and various other kinds of arrangements that prohibit discrimination, then you're going to get good scientists who are men -- and good scientists who are women."
More information
To learn more, visit
the Association for Women in Science
.
Nature Volume 442 Number 7099 ppxiii-222
Commentary
Does gender matter? p133
The suggestion that women are not advancing in science because of innate inability is being taken seriously by some high-profile academics. Ben A. Barres explains what is wrong with the hypothesis.
Ben A. Barres
doi:10.1038/442133a
Full Text | PDF (683K)