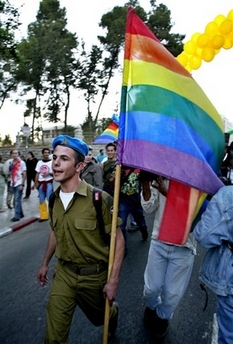 An Israeli soldier holds a rainbow-colored flag as hundreds of people participate in a gay pride parade in downtown Jerusalem in this photo from Thursday June 3, 2004. The international gay pride parade in Jerusalem, scheduled for August 10, 2006 was intended, organizers say, to bring a rare sense of cross-cultural unity to a city torn by conflict. It already has been wildly successful, uniting the city's conflicting religions in anger against their plan. (AP Photo/Oded Balilty)
Faiths in Jerusalem united over gay march
By RAVI NESSMAN, Associated Press Writer
Wed Jul 12, 4:58 AM ET
Christian leaders condemned it. Jewish radicals put a bounty on participants. Muslim clerics threatened to flood the streets with protesters. Jerusalem's conflicting religions have found rare common ground: opposition to an international gay pride parade next month.
"We consider this offensive and harmful to the religious integrity of the city," said Sheik Taissir Tamimi, head of the Islamic court in the West Bank and Gaza Strip.
"This group of homosexuals, we consider them impure," he said, calling on Palestinians to take to the streets to prevent marchers from entering east Jerusalem, where the holy sites are located. They "must not be allowed to enter Jerusalem."
The march is the centerpiece of the seven-day WorldPride festival, intended to bring people of different faiths and cultures to a strife-torn city in an example of peaceful coexistence, said Hagai Elad, executive director of the Jerusalem Open House for Pride and Tolerance, which is organizing the event.
It also makes the statement that gays have as much right to the holy city's heritage as anyone else, he said.
"People on the one hand talk about the holiness of Jerusalem and at the same time are speaking in unacceptable ways against the dignity of other human beings," he added. "How that contributes to the holiness of Jerusalem is something that I don't understand."
A previous WorldPride festival was held in another holy city — Rome — in 2000. This year's event is expected to draw 20,000 people from around the world starting Aug. 6. It includes a Youth Day, arts and cultural exhibits, and a conference by religious leaders — nearly all of them from abroad — who support the gay community.
But local leaders in this deeply conservative city are pushing to have the gathering canceled.
Rabbi Shlomo Amar, one of Israel's two chief rabbis, wrote a letter to Pope Benedict XVI, urging him to issue a "strong, emotional, unequivocal statement against this terrible phenomenon."
"The evil are coming upon (Jerusalem) to desecrate its honor and to humiliate its glory with acts that the Torah despises and that are despised by all the religions," Amar wrote. "In addition, they also want to negatively influence babies, children and teenagers, to ruin them and bring them down the path of destruction."
The ultra-Orthodox United Torah Judaism Party has submitted a no-confidence motion against the government over the parade, accusing authorities of not doing enough to stop it.
Jerusalem Mayor Uri Lupolianski, himself an ultra-Orthodox Jew, has called for the parade's cancellation, but his office said Tuesday he had no authority to take such action. The police, who are responsible for authorizing parades, said they had not decided whether to grant a permit.
The festival was originally scheduled for last summer, but organizers delayed it out of sensitivity for Israel's withdrawal from the Gaza Strip. Thousands marched in a local gay pride parade instead, weathering insults from protesters and a stabbing attack by an ultra-Orthodox Jew that wounded three people.
The threat of violence has resurfaced this year. An anonymous flyer distributed in some ultra-Orthodox neighborhoods Tuesday offered about $4,400 to anyone who killed a marcher.
Three Christian Zionist groups based in Jerusalem issued a joint statement condemning the march, saying its choice of venue was intended to spur conflict.
"It's provocative, confrontational and it's a PR move. It's a gimmick," said David Parsons, spokesman for the International Christian Embassy, an Evangelical group that signed the statement. "It exploits what Jerusalem means to us. I don't think it means anything to the gay and lesbian community."
Archbishop Aristarchous, of the Greek Orthodox church, took a softer line, calling on "the sanctity of Jerusalem to be respected by them, and by everybody."
Wadiya Abu Nasr, a former Catholic Church official here and a commentator on Christianity, said he believed the gay community had the right to march, but suggested the secular city of Tel Aviv, which is much friendlier to the gay community, would be a better place to do it.
"One has to be not only just, but to be wise and not to be provocative. There are other places they could express themselves without directly offending anybody," he said.
Elad said marching in Tel Aviv would detract from the event's significance.
"Tel Aviv is a wonderful city, but Tel Aviv does not carry the international symbolism that Jerusalem does. There is only one Jerusalem," he said.
The proposed route would take the marchers from Independence Park in west Jerusalem toward the Israeli parliament, keeping them miles away from the Old City, which holds the Western Wall, the Dome of the Rock and the Church of the Holy Sepulchre, three of the city's holiest sites.
Uzi Even, an openly gay former lawmaker from the dovish Meretz Party, said the organizers needed to be careful to stay away from those sites, but the parade should proceed because it carries important symbolic value.
"That is why the religious people are so much against it," he said. It shows "that we are here, that we cannot be silenced, that we don't want to hide in the closet anymore, that we demand our rights, even from the religious parties."