The New York Times
Dismissing 'Sexist Opinions' About Women's Place in Science
By CORNELIA DEAN
Published: July 18, 2006
Perhaps it is inevitable that Ben A. Barres would have strong opinions on the debate over the place of women in science. Dr. Barres has a degree in biology from M.I.T., a medical degree from Dartmouth and a doctorate in neurobiology from Harvard. He is a professor of neurobiology at Stanford. And until his surgery a decade ago, his name was Barbara, and he was a woman.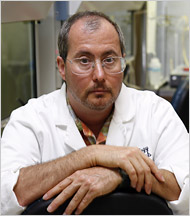 Ben A. Barres recently.



Related
Editor's Summary of 'Does Gender Matter?' (Nature)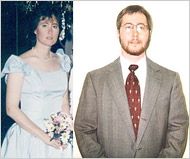 Courtesy of Ben A. Barres
NOW AND THEN Ben A. Barres as Barbara, age 34; and as Ben at 42.
Now he has taken his unusual perspective to the current issue of the journal Nature, in a commentary titled "Does Gender Matter?"
Dr. Barres (pronounced BARE-ess), 51, who grew up in West Orange, N.J., said he had been thinking about the gender issue for over a year, since Lawrence H. Summers, then the president of Harvard, gave a talk in which he suggested that one explanation for women's relative absence at the upper ranks of science might be innate intellectual deficiencies. Assertions of innate differences by other researchers — "sexist opinions," Dr. Barres calls them — fueled his anger, especially because they came from scientists.
Dr. Barres discussed his commentary, his career and sexism in science in a telephone interview from his home in Stanford, Calif.
Q.
What's your response to people who say you rely too much on your own experience and should take scientific hypotheses less personally?
A. They should learn that scientific hypotheses require evidence. The bulk of my commentary discusses the actual peer-reviewed data.
Q.
Why do some people attribute differences in professional achievement to innate ability?
A. One of the reasons is the belief by highly successful people that they are successful because of their own innate abilities. I think as a professor at Stanford I am lucky to be here. But I think Larry Summers thinks he is successful because of his innate inner stuff.
Q.
What about the idea that men and women differ in ways that give men an advantage in science?
A. People are still arguing over whether there are cognitive differences between men and women. If they exist, it's not clear they are innate, and if they are innate, it's not clear they are relevant. They are subtle, and they may even benefit women.
But when you tell people about the studies documenting bias, if they are prejudiced, they just discount the evidence.
Q.
How does this bias manifest itself?
A. It is very much harder for women to be successful, to get jobs, to get grants, especially big grants. And then, and this is a huge part of the problem, they don't get the resources they need to be successful. Right now, what's fundamentally missing and absolutely vital is that women get better child care support. This is such an obvious no-brainer. If you just do this with a small amount of resources, you could explode the number of women scientists.
Q.
Why isn't there more support for scientists who have children?
A. The male leadership is not doing it, but women are not demanding it. I think if women would just start demanding fairness, they might get it. But they might buy in a little bit to all this brainwashing. They are less self-confident. And when women speak out, men just see them as asking for undeserved benefits.
Q.
Why are you a scientist?
A. I knew from a very young age — 5 or 6 — that I wanted to be a scientist, that there was something fun about it and I would enjoy doing it. I decided I would go to M.I.T. when I was 12 or 13.
Q.
As a girl, were you pressured not to try for M.I.T.?
A. Of course. I was a very good math and science student, maybe the best in my high school. And despite all that, when it came time to talk to my guidance counselor, he did not encourage me. But I said, I want to go to M.I.T.; I don't want to go anywhere else. So I just ignored him. Fortunately, my parents did not try to dissuade me.
Q.
Were there girls at M.I.T. then?
A. Very few, but M.I.T. from its very start took women. I loved it. I am not saying it is perfect, but it was a great place to go to school.
Q.
Why did you decide to specialize in neuroscience? Did the fact that you were a transgendered person spark your interest in the brain?
A. I think all transgendered people and gay people are aware from childhood that something is going on. But I thought I would be a chemist or an engineer. It was when I took a course from a fabulous neuroscientist that I just got interested in understanding the brain and how disease affected the brain.
Q.
When you were a woman did you experience bias?
A. An M.I.T. professor accused me of cheating on this test. I was the only one in the class who solved a particular problem, and he said my boyfriend must have solved it for me. One, I did not have a boyfriend. And two, I solved it myself, goddamn it! But it did not occur to me to think of sexism. I was just indignant that I would be accused of cheating.
Then later I was in a prestigious competition. I was doing my Ph.D. at Harvard, which would nominate one person. It came down to me and one other graduate student, and a dean pulled me aside and said, "I have read both applications, and it's going to be you; your application is so much better." Not only did I not win, the guy got it, but he dropped out of science a year later.
But even then I did not think of sexism.
Q.
Why didn't you see these episodes as sexism?
A. Women who are really highly successful, they are just as bad as the men. They think if they can do it, anyone can do it. They don't see that for every woman who makes it to the top there are 10 more who are passed over. And I am not making this up, that's what the data show.
And it may be that some women — and African-Americans, too — identify less strongly with their particular group. From the time I was a child, from the littlest, littlest age, I did not identify as a girl. It never occurred to me that I could not be a scientist because I was a woman. It just rolled off my back.
Now I wonder, maybe I just didn't take these stereotypes so seriously because I did not identify myself as a woman.
Q.
As a transgendered person, are you viewed as having an unusually valuable perspective?
A. I think because I am transgendered some people view anything I say with suspicion. I am very different from the average person. But I have experienced life both as a woman and as a man. I have some experience of how both sexes are treated.
Q.
What about the idea that male scientists are more competitive?
A. I think that's just utter nonsense. Men just make this stuff up. But when women are made to feel less confident, they are less likely to enter the competition. I think a lot of this is just the way men and women are treated from the time they are very young.
Take my experience with M.I.T. If I had been a guy who had been the only one in the class to solve that problem, I am sure I would have been pointed out and given a pat on the back. I was not only not given positive feedback, I was given negative feedback. This is the kind of thing that undermines women's self-confidence.
Q.
What about the idea that women are too emotional to be hard-headed scientists?
A. It is just patently absurd to say women are more emotional than men. Men commit 25 times the murders; it's shocking what the numbers are. And if anyone ever sees a woman with road rage, they should write it up and send it to a medical journal.
Q.
Are men more careerist?
A. I think people do what they are rewarded for doing, and I think women realize, whether it's conscious or unconscious, they are not going to get the rewards. So they put the hours into their families or whatever. That's just a guess.
Science is like art, it's just something you have to do. It's a passion. When I go into a lab, I'll go without sleep, I'll go hours and hours, day after day. And I think women would do that if they weren't given so much negative feedback.
Q.
You write that as a man, you can complete a sentence without being interrupted. Are you treated differently in other ways?
A. It's when people don't know that I was a woman that I can really see the difference. Even in just stupid things. You go into a department store and people are more likely to wait on you.
Q.
As a woman and then as a man, you have been a scientist for about three decades. Do you see things improving for women in science?
A. Slowly, but not nearly at the rate one would expect. In biology, something like 50 percent of the best postdocs are women. It's still very bad in physics and engineering and chemistry, but even in biology you don't see women making the leap to tenure. And this disturbs me greatly. These women have worked very hard. They have fulfilled their side of the social contract. I think what we've got is just a lot more highly trained, frustrated women.
A New View of the Boys Club