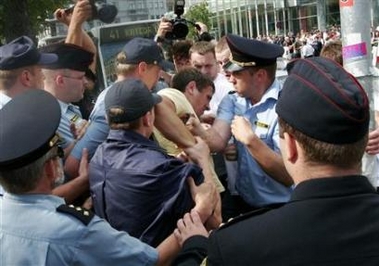 Police officers restrain a protester outside the Reval Hotel in Riga, Latvia July 22, 2006 where 'Latvia Pride - Riga Pride 2006' participants gathered for a meeting. Gay pride participants said they were pelted with eggs and bags of excrement on Saturday as they left a service at the Anglican Lutheran church in the old town of the Latvian capital Riga. (Ints Kalnins/Reuters)

Latvian gay priders hit with eggs and excrement
By Jorgen Johansson
Sat Jul 22, 11:41 AM ET
Reuters
Gay pride participants said they were pelted with eggs and bags of excrement on Saturday as they left a service at the Anglican Lutheran church in the old town of the Latvian capital Riga.
The Reverend Maris Sants, co-organizer of the gay pride festival, told Reuters that security police had been informed about the church service but failed to provide protection.
"There were seven or eight of them waiting for us outside the church and as soon as we came out I was hit with a bag full of sh*t and had to go wash up," Sants said, adding that several other people were hit by similar projectiles and eggs.
Police later confirmed that five people were arrested in connection with the incident.
A Latvian court upheld on Friday a ban on a gay pride parade in the capital imposed by centre-right leaders for what they said were security reasons.
Organizers of the festival decided to go ahead with other activities surrounding the event.
The European Union, the European Parliament and civil rights groups have criticized Poland and Latvia for banning gay pride marches and for worrying signs of growing homophobia, mainly in new EU members in central and eastern Europe.
At a news conference for gay pride, Spanish European Parliament member Raul Romeva said the European Union was founded on equal rights and freedom for all.
"We are asking for more respect, including respect for our sexual orientation," he said.
Outside, some 80 protesters had gathered to shout derogatory names at people representing the Organizers of the festival.
Antons, 27, who declined to give his last name but is a member of anti-gay protest group No Pride, said he was protesting against the popularization of homosexuality.
There has been scant comment by politicians on the gay pride events, but Interior Minister Dzintars Jaundzeikars earlier this week said the parade should be canceled for security reasons.
Last year, Latvia's first gay pride parade was met with fierce protests from hundreds of people.
Latvian gays dodge protestors to stage pride event
by Karin Zeitvogel
Sat Jul 22, 4:36 PM ET

RIGA (AFP)
- Latvian gays and lesbians along with supporters from the European Union and the United States dodged anti-gay protestors in Riga to stage alternative gay pride events after a parade was banned.
Around 50 gays and their supporters, including Dutch European lawmaker Sophie Int'Veld, were blockaded inside a church where they had gathered for a morning service to show solidarity with sexual minorities by an angry mob.
The mob chanted anti-homosexual slogans and pelted some of the church-goers with human excrement when they left the mass.
This year's gay pride march was to have taken place in the capital on Saturday but was banned by Riga city council earlier this week, over an alleged high-level security threat.
The organizers hastily put on an alternative event, at a large hotel in central Riga, to show "we are not defeated and will not be defeated in the long term," said Linda Freimane of the gay and lesbian support group, Mozaika, which organized the banned parade.
"Homosexuals are dirty sinners. They are immoral people and they don't have a place in normal society," said Viktors Birze, leader of the Latvian national radical organisation NSS said.
Pastor Juris Calitis, who led the service, was among the worshippers hit by eggs and bags of excrement as they left.
"When we came out of the church, about 15 to 20 protesters threw human excrement on us. I was covered with it from head to foot. It was quite smelly," Calitis told a news conference in Riga.
Ivan Arenas, from the United States, was also hit by a bag of excrement.
"You can see the cowardice -- I got hit in the back with an egg as I left and when I turned around to ask what was going on, I got hit by a bag of excrement," he told AFP afterwards.
Outside the hotel, around 200 anti-gay protesters gathered, mostly Russian Christian fundamentalists and Latvian nationalists.
They spat at people as they entered the hotel and threw eggs at them as they left.
One woman prostrated herself on a car in which two of the gay pride organizers were leaving. Clutching an icon of St John, the patron saint of Riga, she screamed out prayers as the crowd shouted "No pride".
Ivans Goloveckis had brought his two sons, aged eight and 12, to the protest because he was "worried for their future."
"My ideology is based on the Bible, which says homosexuality is a sin and a man should love a woman. If we allow them to continue," he said, gesturing towards the second floor of the hotel, where the gay event was being staged, "my children will have no future."
Latvian folk singer Kaspars Dimiters said he was protesting because the gay pride organisers had ignored the wishes of Latvians in organising their march.
"There was no dialogue about the gay march. That's why I am against it. They (the organisers) ignored that we are a conservative society. We can't adopt European values and rights overnight," said Dimiters.
The march that was to have taken place Saturday would have been the second gay pride parade staged in Latvia, which joined the EU in 2004.
"The fact it's banned for security reasons says a lot about the climate in Latvia at the moment," Tjeerd Herrema, deputy mayor of the Dutch city of Amsterdam, told AFP.
"I really get the feeling that the security issue is used as a cover not to hold the march," said Herrema.
Fourteen people were detained during the protests. One of them faces criminal charges while the others would just be fined, the police said.
Calitis, the pastor at the church where gays and their supporters were assaulted, blamed Saturday's unrest on "leaders of our society who incite hatred."
"I want to very specifically say that responsibility for this lies with politicans, the church and media who have been expressing views of hatred," he said.
European lawmaker Int'veld condemned not only the banning of the parade but also the attacks on gays and their supporters.
"I had the dubious pleasure to see again today with my own eyes how people can be driven by hatred and fear," she said.