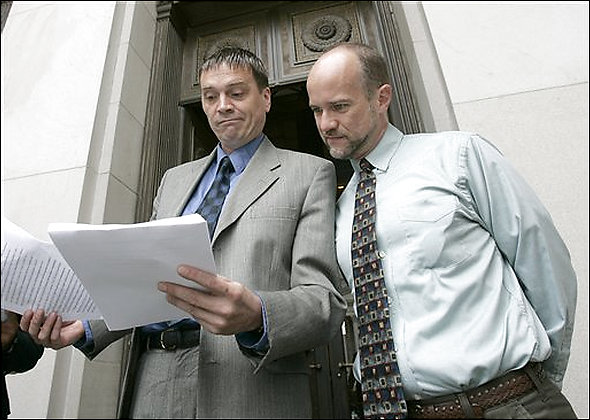 Jeff Kingsbury, left, and his partner Alan Fuller, look over the Washington State Supreme Court ruling that upheld the state's ban on gay marriage Wednesday, July 26, 2006 at the Capitol in Olympia, Wash. Kingsbury and Fuller, who live in Olympia, Wash., and say they have been a couple for 14 years, were plaintiffs in a lawsuit against the state that led to the ruling. The 5-4 decision leaves Massachusetts as the only state to grant full marriage rights to gay and lesbian couples. (AP Photo/Ted S. Warren)
Wash. court upholds gay marriage ban
By CURT WOODWARD, Associated Press Writer
Wednesday, July 26, 2006

OLYMPIA, Wash. -
The Washington Supreme Court upheld the state's ban on gay marriage Wednesday, dealing the gay rights movement its second major defeat in less than a month in another liberal-leaning state that had been regarded as a promising battleground.
Massachusetts is still the only state that allows same-sex couples to wed.
In a 5-4 decision, the court said lawmakers have the power to restrict marriage to a man and a woman, and it left intact the state's 1998 Defense of Marriage Act.
Earlier this month, New York's high court dealt gay couples a similar blow when it upheld a state law against gay marriage.
Wednesday's ruling surprised and delighted gay-marriage opponents, given Washington state's liberal politics, particularly in Seattle.
"This is more than we could have imagined. We are shocked, and pleasantly shocked. We were prepared for the other direction," said Jon Russell, field director for the conservative Faith and Freedom Network.
Disappointment was perhaps greatest in Seattle, home of the state's most visible gay community.
"There aren't words to describe how hurt people in the gay and lesbian community are. There's a lot of tears and a lot of anger right now. Emotion is raw," said state Rep. Ed Murray, a Seattle Democrat and one of four openly gay state lawmakers.
The state Supreme Court overruled two lower courts that had found the ban violated the Washington Constitution's "privileges and immunities" section.
The gay-marriage ban "is constitutional because the Legislature was entitled to believe that limiting marriage to opposite-sex couples furthers procreation, essential to survival," Justice Barbara Madsen wrote in the controlling opinion.
However, Madsen and other members of the majority invited the Legislature to take another look at the "clear hardship" that the ban causes for same-sex couples.
In a dissent, Justice Mary Fairhurst said the majority improperly bowed to public opinion. "Unfortunately, the (majority) are willing to turn a blind eye to DOMA's discrimination because a popular majority still favors that discrimination," she wrote.
The 19 gay and lesbian couples who sued to overturn the law were dismayed by the ruling.
"I believe that our constitution should treat all of its citizens the same, and in this case the court was willing to treat my family differently than other families," said Brenda Bauer of Seattle, who sued along with her partner, Celia Castle. "Today's a pretty sad day for our family."
Leaders in the Legislature and Gov. Chris Gregoire — all Democrats — did not commit themselves to any course of action.
"Just as the public is divided over the issue, so is the Legislature," said Senate Majority Leader Lisa Brown. Gregoire said: "The Supreme Court has ruled, and we must accept their decision whether we agree with it or not."
In Seattle, King County Executive Ron Sims, who backed the push to legalize marriage for same-sex couples, said his next step would be to press for civil unions. They give gay couples many of the rights that come with marriage and are allowed in Vermont and Connecticut.
"There's still hope in the long run," Sims said. "I still dream for a just society."
Forty-five states have laws banning marriage between same-sex couples or limiting marriage to between a man and a woman.
In other recent rulings on the issue, courts reinstated voter-approved bans on gay marriage in Nebraska and Georgia, and Tennessee's Supreme Court ruled that voters there should have a say on allowing marriage for same-sex couples.
___
Associated Press writers David Ammons in Olympia and Donna Gordon Blankinship in Seattle contributed to this report.
___
On the Net:
Supreme Court of Washington: http://www.courts.wa.gov
Wednesday, July 26, 2006 · Last updated 7:12 p.m. PT
Washington's gay marrige ban upheld
By THE ASSOCIATED PRESS
WEDDING BELL BLUES: Washington's high court upholds the state's 1998 Defense of Marriage Act, which defines marriage as the union of a man and a woman. Both sides had predicted the ban would be thrown out.
SHATTERED COURT: The vote was 5-4, but six separate opinions were handed down. Three justices, led by Barbara Madsen, wrote the main opinion dismissing the constitutional challenges to the ban, but inviting the Legislature to address the issue. Two other justices forged a bare majority by voting to affirm DOMA. The chief justice wrote a separate concurrence. Four justices, led by Mary Fairhurst, wrote a ringing defense of marriage equality. Three justices elaborated in individual dissents.
EARLY REACTION: Foes of gay marriage were jubilant, but gay activists said the fight will continue. Gov. Chris Gregoire said she favors giving gays the same civil and legal rights as heterosexuals, but said marriage is the province of people and their churches.
NEXT STEP? It could be a hot topic on the campaign trail, including three Supreme Court races, and in the 2007 legislative session. Gregoire and Senate Majority Leader Lisa Brown, D-Spokane, said they expect a range of ideas to be discussed, including civil unions, overturning the marriage ban, and a constitutional amendment to enshrine the ban in the constitution. Brown and House Speaker Frank Chopp, D-Seattle, indicated lawmakers are split and that there aren't enough votes to change the status quo right now.
A LITTLE LIGHT READING? Wait for Cliff's Notes. The six opinions total 207 pages. Undaunted? Click on http:http://www.courts.wa.gov
Washington state supreme court rejects gay marriage
Wednesday, July 26, 2006
AFP
In another setback for defenders of same-sex marriage, the US state of Washington ruled that a law defining marriage as strictly between a man and a woman does not violate the state constitution.
The Washington court narrowly rejected arguments by a group of same-sex couples who said they were unfairly denied full marriage rights by the state's Defense of Marriage Act of 1998.
The act, which defines marriage as being between a man and a woman, was upheld by the court by a vote of 5 to 4.
"The legislature was entitled to believe that limiting marriage to opposite sex couples furthers the state's legitimate interests in procreation and the well-being of children," wrote Justice Barbara Madsen in the decision.
Dissenting Justice Mary Fairhurst disagreed with this logic. "Denying same-sex couples the right to marry has no prospect for furthering any of those interests," she wrote.
The plaintiffs, 19 same-sex couples, sought full marriage rights, not civil unions as are offered in the states of Vermont and Connecticut. Many gays criticize civil unions as not carrying all the benefits and rights of marriage.
The Supreme Court of the State of New York earlier this month also ruled a state law constitutional which defined marriage as between a man and a woman.
Although the US Congress recently voted down a proposal for a constitutional amendment that would ban gay marriage, 45 of 50 states have laws that limit marriage as only between opposite-sex couples. Massachusetts is currently the only US state that currently allows gay marriage.
Washington's top court upholds same-sex marriage ban
- Matthai Chakko Kuruvila, San Francisco Chronicle Staff Writer
Wednesday, July 26, 2006
(07-26) 09:07 PDT OLYMPIA, WASH. -- A narrowly divided Washington state supreme court upheld the state's ban on gay marriages today, dashing activists' hopes for a ruling that could have changed the landscape of same-sex marriages around the nation.
The 5-4 ruling upheld the state's Defense of Marriage Act, which defines the institution as a relationship between one man and one woman.
The majority opinion said the state constitution and case law demanded such a decision, arguing that the definition of gay marriage should be left to the legislature or voters. In doing so, the court left open the possibility that gay marriages could someday be allowed in the state.
"While same-sex marriage may be the law at a future time, it will be because the people declare it to be, not because five members of this court have dictated it," Justice Barbara Madsen wrote in the opinion.
Washington state allows nonresidents to obtain marriage licenses. Many had believed that -- if the court ruled in favor of same-sex marriage --
gay couples from around the country would marry in Washington and then demand recognition of their union in their home states.
That, in turn, would have led to an almost automatic challenge to the 1996 federal law that allows states to ignore same-sex marriages from other states or countries.
Currently, Massachusetts is the only state that allows gay couples to marry, but the right is limited to state residents.
Read the full ruling here:
www.courts.wa.gov/newsinfo/content/pdf/759341opn.pdf
.
E-mail Matthai Chakko Kuruvila at mkuruvila@sfchronicle.com.
URL: http://sfgate.com/cgi-bin/article.cgi?file=/c/a/2006/07/26/MNG4VK5PT54.DTL
Washington state court upholds gay marriage ban
By Daisuke Wakabayashi
Wed Jul 26, 4:56 PM ET
Reuters
Washington state's highest court upheld a ban on same-sex marriage on Wednesday, ruling by a 5-4 majority that the legislature had the power to limit marriage to one man and one woman.
Nineteen gay and lesbian couples had challenged the constitutionality of the Defense of Marriage Act, a law passed by the state legislature in 1998 to restrict marriage to heterosexual couples.
The state Supreme Court's lead opinion stressed it was ruling on the constitutionality of the law, not on the issue of gay marriage itself. It saw no reason why the rights of marriage should not be extended for gays and lesbians through a state ballot.
"It is important to note that the court's role is limited to determining the constitutionality of DOMA," Justice Barbara Madsen wrote. "Our decision is not based on an independent determination of what we believe the law should be."
The court's ruling was the latest blow to U.S. gay marriage advocates. Earlier this month, New York's highest court ruled that the state Constitution does not guarantee same-sex couples equal access to the rights and privileges of marriage.
The Georgia Supreme Court on July 6 reinstated a gay marriage ban that had been thrown out by a lower court. Voters in Alabama also approved a constitutional amendment banning same-sex marriage.
"Today is a triumph for marriage," said Kristen Waggoner, an attorney representing Allies for Marriage and Children. "This (decision) is an action that is right in line with what other courts have been finding all around the nation."
LEGAL IN MASSACHUSETTS
Gay rights advocates had hoped that Washington would have been the second U.S. state after Massachusetts to legalize same-sex marriage.
"A defeat like today is immensely disappointing," said Jennifer Pizer, senior legal counsel for gay rights group Lambda Legal. "We learn from history that social change takes time ... and public support has been growing quite quickly."
In one of the dissenting opinions, Justice Bobbe Bridge said the ruling condoned blatant discrimination against the state's gay and lesbian citizens and does not achieve a goal of encouraging marriages that result in children.
"We should not have to go through the same painful process of waiting for popular opinion to catch up with the constitution to declare denial of the right to marry unconstitutional," Bridge wrote in a lengthy dissent.
Nancy Sigafoos arrived at the Washington Supreme Court building in Olympia with her partner Tina Witcher-Sigafoos and their daughter, Harper, hoping to be among the first to know if homosexual couples can marry legally, but the pair left upset.
"I feel really angry. I've been in a relationship for 14 years. I have a child with my partner. I'm struggling not to use any expletives right now," Sigafoos said.
In 2003, Massachusetts' Supreme Judicial Court ruled in favor of gay marriage, leading to America's first same-sex marriages the following year. The U.S. Supreme Court has not taken a case on gay marriage, leaving states to decide the issue.
Marriage between same-sex couples is currently legal in Canada, Belgium, the Netherlands and Spain. It is expected to be legalized in South Africa before the end of the year.
(Additional reporting by Tom Banse in Olympia, Elaine Porterfield in Seattle)
Seattle Post-Intelligencer
Seattle Times