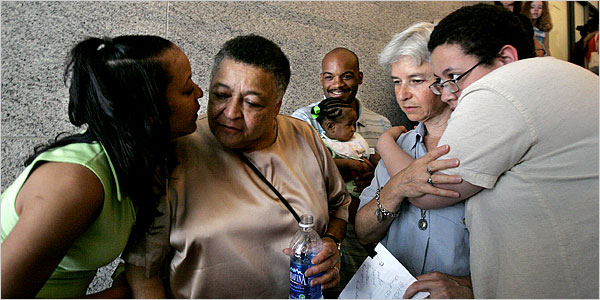 Elaine Thompson/Associated Press
Barbara Steele, second from left, and Beth Reis, second from right, were comforted by family members in Seattle Wednesday. They were plaintiffs challenging a same-sex marriage ban. They lost the case.
The New York Times
Washington Court Upholds Ban on Gay Marriage
By ADAM LIPTAK and TIMOTHY EGAN
Published: July 27, 2006
In an angrily divided 5-to-4 decision, the Washington Supreme Court yesterday upheld a state law banning same-sex marriages.
Related
Text: Washington Supreme Court Opinions
House G.O.P. Lacks Votes for Amendment Banning Gay Marriage (July 19, 2006)
New York Judges Reject Any Right to Gay Marriage (July 7, 2006)
Readers' Opinions
Forum: Gay Rights
The justices issued six opinions in the case, with some in the majority emphasizing that the Legislature remained free to extend the right to marry to gay and lesbian couples.
The four dissenting justices said the majority relied on speculation and circular reasoning to endorse discrimination.
Massachusetts remains the only state that sanctions same-sex marriages. New York's highest court, by a vote of 4 to 2 earlier this month, upheld state laws limiting marriage to opposite-sex couples. The New Jersey Supreme Court is expected to rule soon on the legality of same-sex marriages there.
Legal scholars said the closeness of the Washington and New York decisions suggested that the legal status of same-sex marriages would remain unsettled and controversial. That alone, they said, represents a significant change in public and judicial attitudes.
When the Washington courts last addressed the question of same-sex marriage in 1974, by contrast, an appeals court unanimously voted against the plaintiffs and the State Supreme Court refused to hear the case.
"You've gone in 32 years from something that was more or less a slam dunk to where the court is almost evenly and very bitterly divided," said William B. Rubenstein, a law professor at the University of California, Los Angeles, and author of "Sexual Orientation and the Law." "The issue is in play."
Opponents of same-sex marriage said yesterday's decision demonstrated that the public and the courts remained opposed to altering the traditional definition of marriage.
"Today is a great day for marriage and the family," said Mathew D. Staver, the chairman of Liberty Counsel, a group that opposes the legal recognition of same-sex marriages. "We are pleased that this latest attempt by the homosexual agenda to radically redefine our culture has been stopped dead in its tracks."
The decision consolidated two cases in which state trial courts had struck down a 1998 state law prohibiting same-sex marriages. The cases were brought by 19 gay and lesbian couples seeking the right to marry or to have their marriages from other jurisdictions recognized. State and local laws in Washington protect people there from discrimination based on sexual orientation and provide some benefits to same-sex couples, but the state has no civil-union law.
Beth Reis, one of the plaintiffs, said the decision was a setback for her, her partner, Barbara Steele, and their four children.
"We are saddened that the court has said that my 28-year committed relationship and my children, grandchildren and great-grandchildren aren't entitled to the same legal protections and obligations as other Washington families," Ms. Reis said.
The controlling opinion in yesterday's decision, signed by three justices, reversed the lower court's, holding that the 1998 law, the Washington Defense of Marriage Act, was supported by rational reasons.
"Limiting marriage to opposite-sex couples," Justice Barbara A. Madsen wrote in that opinion, "furthers procreation, essential to the survival of the human race, and furthers the well-being of children by encouraging families where children are reared in homes headed by the children's biological parents."
In a dissent signed by three other justices, Justice Mary E. Fairhurst questioned the logic of that assertion. "Would giving same-sex couples the same right that opposite-sex couples enjoy injure the state's interest in procreation and healthy child rearing?" Justice Fairhurst asked.
Justice Bobbe J. Bridge, also dissenting, equated the majority's position with the endorsement of racial discrimination. The majority, Justice Bridge wrote, contended "that it is not our place to require equality for Washington's gay and lesbian citizens." Under that reasoning, she said, "there would have been no Brown v. Board of Education," the 1954 United States Supreme Court school desegregation case.
Justice Madsen repeatedly emphasized the limited nature of the court's ruling. All that was required for the 1998 law to pass constitutional muster, she wrote, was some rational basis.
"We see no reason, however," Justice Madsen added, "why the Legislature or the people acting through the initiative process would be foreclosed from enacting the right to marry to gay and lesbian couples in Washington."
The justices who signed the controlling opinion said they were sympathetic to the fact that "many day-to-day decisions that are routine for married couples," including ones involving children, health care and death, "are more complex, more agonizing and more costly for same-sex couples."
The decision seemed to invite targeted constitutional challenges to the denial of equal treatment to homosexual couples.
Jane Schacter, a law professor at Stanford, said the reaction to the 2003 decision of the Massachusetts Supreme Judicial Court legalizing same-sex marriage there might have left other courts gun-shy about making sweeping rulings.
"There is a real self-consciousness in this decision and the New York decision about the role of the courts," Professor Schacter said. "We've traditionally looked to the courts to buck public opinion to defend liberty and equality, but we're not seeing that here."
Gary Randall, the president of the Faith and Freedom Network and Foundation, a Washington religious group, took the opposite view, saying the decision was "a decisive victory that upholds the values of the faith community."
Two justices in the majority, James M. Johnson and Richard B. Sanders, took a harder line in opposing same-sex marriage in a concurring opinion. There is, Justice Johnson wrote, "a compelling governmental interest in preserving the institution of marriage."
"This conclusion," he continued, "may not be changed by mere passage of time or currents of public favor and surely not changed by courts."
Washington State Upholds Ban on Same-Sex Marriage
By Blaine Harden
Washington Post Staff Writer
Thursday, July 27, 2006; A03
SEATTLE, July 26 -- Deferring to state lawmakers and agreeing with most other U.S. courts, the highest court in Washington state on Wednesday upheld a state law that bans same-sex marriage.
The Washington Supreme Court, though, was bitterly divided in its 5 to 4 decision, producing six separate opinions in rejecting the claim of 19 gay couples that they are victims of state-sanctioned discrimination that harms their children and their financial security.
In its lead opinion, the Washington court insisted repeatedly that elected lawmakers have wide discretion to define marriage -- while judges do not.
"At the risk of sounding monotonous," the lead opinion said, "legislative bodies, not courts, hold the power to make public policy determinations." It added that where "no fundamental right is at stake, that power is nearly limitless."
The court ruled that gay couples challenging Washington's 1998 Defense of Marriage Act had failed to show that it denies them either a "fundamental right" or equal protection under the law.
"Although marriage has evolved, it has not included a history and tradition of same-sex marriage in this nation or in Washington State," the opinion said. It added that because state law prevents both sexes from entering into a same-sex marriage, it does not discriminate on the basis of sex.
The opinion dismissed a lower-court ruling, which had found a fundamental right to same-sex marriage, as "astonishing, given the lack of any authority supporting it."
Only one state, Massachusetts, allows same-sex marriage, and then only for its own residents. If the Washington court had overturned the ban, state law here would have allowed nonresident gay couples to come here and get married. Earlier this month, the high courts in New York and Georgia also ruled against same-sex marriage. At least a half-dozen other states have legal challenges about same-sex marriage pending.
Wednesday's decision here shows the continued difficulty that proponents of same-sex marriage have in their legal challenges.
The Washington court's lead opinion suggested several times that the majority of justices may disagree with the state's ban on same-sex marriage but that they had ruled narrowly on its constitutionality. The decision "is not based on an independent determination of what we believe the law should be," the opinion said.
A sharply worded dissent, written by Justice Mary E. Fairhurst and signed by three other justices, said the court was using "the excuse of deference to the legislature to perpetuate the existence of an unconstitutional and unjust law."
The majority ruling condoned "blatant discrimination against Washington's gay and lesbian citizens in the name of encouraging procreation" and raising children in homes with opposite-sex parents, Fairhurst wrote. She argued that the court ignored "the fact that denying same-sex couples the right to marry has no prospect of furthering any of those interests."
Senior political leaders in Washington state, where Democrats control most top offices, were critical of the much-anticipated ruling on a case that was heard by the state's high court more than 15 months ago.
Arguing that marriage "is not the business of the state," Gov. Christine Gregoire said she does not believe government should discriminate against any citizen. But she urged respect for the ruling "whether we agree with it or not."
At a news conference in downtown Seattle, King County Executive Ron Sims, who two years ago had encouraged gay couples to sue him to overturn the state ban on same-sex marriage, stood with dozens of disappointed plaintiffs and compared Wednesday's decision to the U.S. Supreme Court's ruling in Plessy v. Ferguson , which affirmed the principle of separate but equal in race relations.
"This is an unwise decision," said Sims, who is black and who said that gays must continue to fight for change, just as blacks did. "Sometimes it takes longer than we might like to bring about needed social change."
As for the plaintiffs, they said they were surprised and angry, and determined to press the state legislature to overturn the marriage law.
"We are reeling today," said Elizabeth Reis, a Seattle health teacher who has been together with her partner, Barbara Steele, a retired researcher in communicable diseases, for 29 years. They raised four children together and have 14 grandchildren and two great-grandchildren.
"Courts have said you can get married if you have been married six times before," Reis said. "Courts have said you can get married if you owe your children entire childhoods of back child support. But this court says I cannot marry a woman I have loved nearly my entire adult life."
Washington Court Upholds Gay-Marriage Ban
In a 5-4 ruling, the state Legislature's 1998 ban is upheld. But three judges in the majority call on lawmakers to revisit the issue and its effects.
By Sam Howe Verhovek, Los Angeles Times Staff Writer
July 27, 2006

SEATTLE —
Opponents of gay marriage racked up another legal victory Wednesday, as the highest court in Washington state ruled 5 to 4 that there was no constitutional right for people of the same sex to marry each other.
But even as the state Supreme Court upheld the Legislature's 1998 Defense of Marriage Act, three judges in the majority urged lawmakers to revisit their ban on same-sex marriage and the "clear hardship" it imposed on gay people and their children.
The ruling in liberal-leaning Washington echoed one this month in New York, and it left opponents of same-sex marriage elated and hopeful that the national movement was sputtering to an end.
"Christians all over the state have been praying for this decision, and there is a sense of joy," said Rick Kingham, senior pastor of the Overlake Christian Church in Redmond, Wash., and a leader of Allies for Marriage and Children, a citizens group. "We would truly say that God has intervened in the affairs of man."
For gay-marriage supporters, the ruling was a major setback. It overturned pro-gay-marriage decisions by two lower-court judges and leaves Massachusetts as the only state in the nation with legally sanctioned same-sex marriage.
But they seized hopefully on the narrow margin and the majority judges' call to lawmakers to revisit the issue as indications that their side would prevail.
"If the Legislature does not make changes first, I firmly believe that a future court will take up this issue again," said King County Executive Ron Sims, the chief elected official in a jurisdiction that includes Seattle and several eastern suburbs.
"And on that day," Sims said, "a wiser and more enlightened generation will overturn this ruling."
Sims and other gay-rights supporters had likened the struggle over same-sex marriage to earlier civil rights battles — such as school segregation and bans on interracial marriage — in which the courts stepped in to undo discriminatory laws.
But the majority of judges concluded that the matter of whether gay people should be able to marry was up to an elected legislature, or even directly up to the people via a popular referendum.
"While same-sex marriage may be the law at a future time, it will be because the people declare it to be, not because five members of this court have dictated it," wrote Justice Barbara A. Madsen in one of two opinions that made for a majority in the case.
"There is evidence that times are changing," added Madsen, "but we cannot conclude that at this time the people of Washington are entitled to hold an expectation that they may marry a person of the same sex."
In an unusual split among the majority, two justices, who are generally regarded as conservative, issued what was effectively a blistering critique of Madsen's times-may-change argument.
Those two justices, James M. Johnson and Richard B. Sanders, described their opinion as "analyzing and rejecting all constitutional claims to achieve finality" in resolving the contentious issue.
"This conclusion may not be changed by mere passage of time or currents of public favor and surely not changed by courts," wrote Johnson.
Four justices dissented altogether from the majority ruling.
"Unfortunately," Justice Mary E. Fairhurst wrote, those in the majority "are willing to turn a blind eye to DOMA's discrimination because a popular majority still favors that discrimination."
The Defense of Marriage Act, or DOMA, was passed by the Legislature in 1998 over the veto of then-Gov. Gary Locke, a Democrat.
The current governor, Chris Gregoire, also a Democrat, maintained the sort of above-the-fray approach she has taken on the issue, in which she has suggested it was fundamentally religious, not legal.
"On the issue of gay marriage, Washington is a very diverse state, and there are many strongly held opinions and personal feelings on this issue," she said in a statement responding to the court's decision.
Gregoire said the state should provide the "same rights and responsibilities to all citizens." At the same time, she said, "the sacrament of marriage is between two people and their faith; it is not the business of the state."
In news conferences and interviews Wednesday, same-sex marriage opponents emphasized what they called the positive nature of the ruling.
"We are not against anyone. We are for marriage," said Jeff Kemp, president of Families Northwest, son of former Rep. Jack Kemp (R-N.Y.) and a driving force in Allies for Marriage and Children.
"What the state is saying is that there is an ideal form of family. In this ideal we have a mother and a father," Kemp said at a rally and news conference at Seattle's Westin hotel.
But in equal measure, people on the other side of the issue — including the 19 gay and lesbian couples who were plaintiffs in the case, all seeking the right to marry — described painful feelings of exclusion upon hearing of the justices' ruling.
"There aren't words to describe how hurt people in the gay and lesbian community are," said state Rep. Ed Murray, a Seattle Democrat who is one of four openly gay members of the state Legislature. "There's a lot of tears and a lot of anger right now."
米ワシントン州最高裁「同性婚を禁じる州法は合憲」 1