The Japan Times: Friday, July 28, 2006
Fast lane toward femininity
By GIOVANNI FAZIO
Moving right along from the "gay Western" ("Brokeback Mountain"), next up is a "transsexual road movie."
Transamerica Rating: (3.5 out of 5)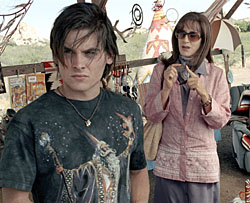 Kevin Zegers (left) and Felicity Huffman in "Transamerica" (C) TRANSPARENT FILMS LLC
Director: Duncan Tucker
Running time: 103 minutes
Language: English
Now showing (July 28, 2006)
[
See Japan Times movie listing
]
"Transamerica," which bears a very high-concept title for an indie flick, comes across as another gender-bending, genre-destroying moment in film history, but it's not, really. While the Western was an inherently conservative genre, just crying out to be queered, the road movie has always been more flexible, having already accommodated hippies ("Easy Rider"), feminists ("Thelma & Louise"), gays ("The Living End"), leftists ("The Motorcycle Diaries") and surrealist caricatures ("Wild At Heart").
"Transamerica" is basically a comedy of errors involving the question: What if long-lost dad turns up and now he's long-lost mom? Director Duncan Tucker fashions a safely liberal film, finding humor in the meeting of repressed straights and their more free-thinking queer/transgender counterparts. Much of the film, as you might expect, is dedicated to the idea of humanizing a transsexual protagonist, and -- like "Boys Don't Cry" -- this approach paid off with an Oscar nomination for its lead actress Felicity Huffman.
Huffman is so good that, if you didn't know better, you'd swear it was a man in her role. Huffman plays Bree, formerly known as Stanley, a transsexual pre-op who's going through hormone therapy and is on the verge of completing her transformation with a sex-change operation. (Excuse me, "gender realignment").
With perfectly bad timing, she gets a phone call from the son she didn't know she had, resulting from a rare use of her male plumbing some 17 years earlier. While Bree has attempted to disconnect from her past -- referring to it in the third person as "Stanley's life" -- her therapist refuses to OK her operation until she has dealt with these past "issues."
Infinitely annoyed -- and Huffman wears this face of sour distaste for much of the film -- Bree boards a plane to New York, where she hopes to throw some money at her son problem and watch it go away. She learns that she has to bail her son, Toby (Kevin Zegers), out of jail, where he has been picked up for shoplifting. Beyond that, he works as a rent boy and is addicted to drugs.
Bree realizes she has to do something, but reluctant to reveal her identity, she passes herself off as a social worker from, ahem, "The Church of the Potential Father." She buys a beatup old car with the idea of driving cross-country, and hopefully dropping Toby off in his hometown with his mother and stepfather. Ideally, all this will be done in time for Bree to dismember her most private of parts.
Director Tucker uses the road-movie format to intersperse scenes of Bree and Toby bonding and spatting in the car, with a series of encounters on the road: Toby's neighbor and stepdad in rural Kentucky, Bree's transgender friends in Dallas, a hitchhiker straight out of "Thelma & Louise," and finally Bree's estranged parents at their mansion in Phoenix, Ariz.
As is usual in such indie films, it's the "normal" residents of suburbia who come off as all messed-up: Bree's mom (Fionnula Flanagan) is an overly madeup, neurotic harpy, while dad (Burt Young) is passive and emasculated, and sis (Carrie Preston) is a barely recovering alcoholic. The twist is that Bree, with her prissy demeanor and disapproving take an Toby's debauched lifestyle, may be the most conservative character on-screen. Certainly, her church-lady taste in frocks, pink and covering every bit of skin up to the chin, reinforces that impression.
It's possible to see the casting of a woman in the role of Bree as a copout, a safety-zone for audiences who might be more uncomfortable with a man underneath the makeup and dresses. One can only argue with results, though, and Huffman is entirely convincing as a man trying too hard to be feminine in some ways -- the raised pinkie while holding a coffee cup, the all-pink wardrobe -- because he can't pass in others, like the tenor voice or the awkward posture, unsure of how to be comfortable in his own body.
"Transamerica" builds some good drama out of Bree's emotional journey: She starts off by lying to Toby and not caring all that much, but she ends up caring all too much, and not knowing how to tell him the truth. Huffman's performance is a winner, and aimed directly at the heart of "Oprah"-era America. She gives us a character so solipsistically wrapped up in solving her own "issues" that she has no sympathy for others. It's only when she allows herself to open up to her son's troubles that she becomes, well, a likable person.
The Japan Times: Friday, July 28, 2006
(C) All rights reserved
CNN LARRY KING LIVE with Felicity Huffman
Larry Discusses Transgender Individuals
Aired February 15, 2006 - 21:00 ET