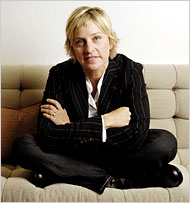 Chris Pizzello/Associated Press
Ellen DeGeneres will be the second woman to preside over the Oscars.
calenderlive.com
THE ENVELOPE
Everybody likes Ellen, especially Oscar
Seen as having broad appeal with television viewers, the comedian is tapped to host the 79th Academy Awards.
By Robert W. Welkos
Los Angeles Times Staff Writer
September 9, 2006
With no disrespect meant to Jon Stewart or Chris Rock, the last two Oscar hosts who garnered mixed reviews for their efforts, the announcement that Ellen DeGeneres will emcee the 79th Academy Awards appears designed to boost the ratings of the show by presenting a comedian who has a broader appeal with the public than her two predecessors.
"Certainly, I believe the presence of Ellen will help the ratings — absolutely," Laura Ziskin, producer of next year's Oscar show, said Friday. " … She's popular with a very wide audience. She is not a niche performer. She touches a lot of demographics."
This year's show, hosted by Stewart of Comedy Central's "The Daily Show," drew 38.8 million viewers, an 8% decline from the previous year's show hosted by Rock, who was seen as an experiment in a bid by the Academy of Motion Picture Arts and Sciences to attract a younger audience.
Ziskin, who produced her first Academy Awards telecast in 2002, said that with DeGeneres, who starred in the 1990s' sitcom "Ellen" and now hosts the Emmy-winning "The Ellen DeGeneres Show," audiences can expect humor that can be biting and pointed, but not mean-spirited. It's her first turn as Oscar host, though she has hosted the Emmys and the Grammys.
"If you go back to the classic Oscar host, Johnny Carson, you always felt good and yet he could still zing you or surprise you," Ziskin noted. "But he was nice. I like that part."
Academy President Sid Ganis described DeGeneres as "endlessly energetic, chipper and smart as a whip."
"We've had our eye on her and she's had her eye on us for a long time," he added.
Bruce Davis, the academy's executive director, said that with the selection of DeGeneres, the Oscar telecast will have had six different hosts in as many years. One reason, he said, was because "almost nobody wants to do it twice in a row anymore. It's a very hard thing to do. People feel they are competing against their own past successes if they do it back-to-back."
Davis added that the academy would be happy for any of these six comedians to return as hosts, and even noted that David Letterman, who is thought to have bombed as emcee in 1995, has since been approached about returning.
"He had the highest-rated Oscar show, except for the 'Titanic' show [in 1998], in recent history," Davis said.
But Davis said he doesn't believe the host is the most important factor in determining the show's ratings. Ziskin noted that the tune-in is often in direct proportion to the popularity of the nominated movies.
DeGeneres was not available for comment Friday.
robert.welkos@latimes.com
The New York Times
September 9, 2006
Ellen DeGeneres Is Chosen as Host of Next Year's Oscars
By SHARON WAXMAN

LOS ANGELES, Sept. 8 —
They've tried it rough. Then snarky. Now it's Ellen.
The Academy of Motion Picture Arts and Sciences has chosen the genial daytime talk show host Ellen DeGeneres to be host of next year's Academy Awards, with the latest direction of the broadcast to be "sparkly, up and fun," said the show's producer, Laura Ziskin.
"She's very warm," Ms. Ziskin said of Ms. DeGeneres on Friday. "She can be really sharp, and biting, and topical. But she's never mean or jaded." She added: "I want to do a big entertainment show, and Ellen is an entertainer."
Ms. Ziskin took pains to say that "mean or jaded" wasn't meant to describe the hosts of recent years, the often profane Chris Rock in 2005, and the political satirist Jon Stewart this year. But some in the academy did object to Mr. Rock's pointed jabs at Jude Law when he led the show, and Mr. Stewart brought a hip, caustic tone to the gig from his cynical nightly perch on "The Daily Show." The ratings dropped this year, but not as much as those for many other award shows in recent years.
Ms. DeGeneres, 48, said she had long dreamed of being the host of the Oscars, and promised to bring her own tone to the show. "It's cool to be edgy," she said in an interview on Friday. "But I think comedy should be smart, funny and able to be enjoyed by everybody, not holier than thou."
She added: "There's enough fear and negativity in the world without adding to it, and I think comedy should be all-inclusive. I'm working on how I start the Oscars next year, because I want to be proud of it. I've wanted to do this for so long, it's important to me to walk that line."
Ms. DeGeneres won wide praise for striking the right tone when she was host of the Emmys in 2001, shortly after the attacks of 9/11. In what was still a traumatic period for the country, she managed to provoke laughter when she came onstage wearing a dress with a large swan wrapped around her neck, poking fun at a similar frock once worn to the Oscars by the singer Bjork.
Ms. DeGeneres will be only the second woman to lead the show on her own. Whoopi Goldberg did so four times.
Ms. Ziskin said she would drop recent attempts to freshen the awards by having nominees come onstage, or having the host go into the audience. "I don't think that works," she said. "There are all kinds of things you can do to make the Oscars fun and exciting and different. On the other hand, they're the Oscars. It doesn't want to be reinvented."
Asked what she might wear to the awards, Ms. DeGeneres observed: "I'm wondering. Maybe I'll wear tux culottes. What do they call that? A skort?" She thought for a moment, then added: "I still have that swan dress sitting around."