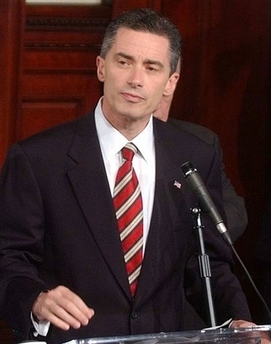 New Jersey Gov. James E. McGreevey announces he will resign Nov. 15. during a news conference at the Statehouse in Trenton, N.J. in a Thursday Aug. 12, 2004 photo. Former New Jersey Gov. James E. McGreevey, who has remained publicly silent since resigning from office two years ago after announcing he was gay, is set to tell his story on 'The Oprah Winfrey Show.' (AP Photo/Brian Branch-Price, file)
Former N.J. governor to go on Oprah show
By ANGELA DELLI SANTI, Associated Press Writer
Tuesday, September 12, 2006
Former New Jersey Gov. James E. McGreevey, who has remained publicly silent since resigning from office two years ago after announcing he was gay, is set to tell his story on "The Oprah Winfrey Show."
Winfrey landed the exclusive interview with 49-year-old McGreevey because of her sense of faith and spirituality, according to friends of the former governor. McGreevey is said to be a fan of Winfrey's education and anti-poverty work, two issues to which the former governor is devoting more time in his post-political life.
About a dozen friends accompanied McGreevey and his partner, Australian financial adviser Mark O'Donnell, 42, to Chicago for the taping scheduled for Tuesday afternoon.
Some segments of the show, including clips from the Union County home McGreevey shares with O'Donnell, were filmed previously.
The interview will air Sept. 19, the same day McGreevey's political memoir, "The Confession," goes on sale.
The book traces his life through two failed marriages, his rise to the governor's office and the sudden, public implosion of his political career.
McGreevey announced his homosexuality and his impending resignation in the same speech on Aug. 12, 2004, declaring that he had been involved in an affair with a man. A Democrat, he was governor from Jan. 15, 2002 to Nov. 15, 2004.
State Sen. Ray Lesniak and Rahway Mayor Jim Kennedy were among those planning to attend the taping of the Winfrey show.
Lesniak, who was interviewed by Winfrey's staff in preparation for the program, said they were interested in how McGreevey is now compared with how he was as governor.
"They are two different people," Lesniak said. "The first person was very guarded and very concerned about how he was perceived. He was driven to achieve and was somewhat uncomfortable.
"The McGreevey I know now has accepted who he is and has shared that with the rest of the world," he said. "He is comfortable with himself and concerned about being authentic to himself and his beliefs."