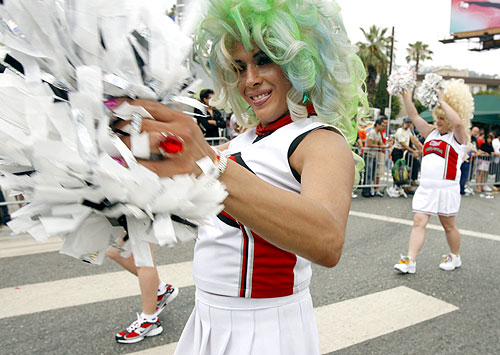 KIND OF A DRAG? Men dressed as cheerleaders march down Santa Moncia Boulevard in West Hollywood in June's gay pride parade. Some say the parade has gotten stale and perhaps should be included in a larger cultural festival.
(Ringo H.W. Chiu / LAT)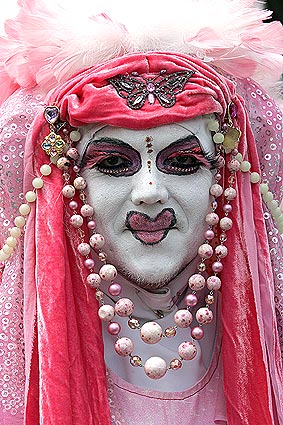 MASKING DISAPPOINTMENT: A parade participant marches with lavish makeup and costume during the Gay Pride Parade 2006 along Santa Monica Blvd. in West Hollywood.
(Ringo H.W. Chiu / For the Times)
Still Proud, but Seeking More Gaiety
Some in West Hollywood have grown tired of the same old drag queens and leather-clad bikers in their annual parade. A monthlong event is floated.
By Bob Pool
Los Angeles Times Staff Writer
September 13, 2006
Forget the bikini-clad musclemen waving from floats gaily draped in rainbow colors. Never mind the burly guys bouncing down the street in frilly pompom-girl costumes and flouncy wigs or the tight leather shorts worn by the beefcake bikers.
West Hollywood's annual gay pride parade needs to be seriously beefed up.
That's the conclusion of community and civic leaders who grumble that the 35-year-old salute to gay rights has become predictable and dull — dare we say it? — more boring than bold.
The sight of painted drag queens strutting down Santa Monica Boulevard in sequined gowns held up by basketball-stuffed brassieres might have been jaw-dropping three decades ago.
But no more.
"Our parade is pretty lame. This being the entertainment capital you'd think there'd be more creativity," said Jimmy Wood, a 38-year-old West Hollywood realty agent who has attended the parade for years and says the floats seem to be the same every year. "I like the drag queens and all the other usual suspects. But they need to get the studios involved. Our parade is pretty weak in production value."
The parade's organizers hoped to boost the event last year by making headline-grabbing celebrity socialite Paris Hilton co-grand marshal of the parade with her mother, Kathy Hilton. But the move left some parade regulars rolling their eyes — and helped prompt city leaders to get involved.
The City Council convened a special task force made up of marketing and financial experts as well as gay rights activists to study the parade. They have concluded it needs more of a head transplant than a mere facial makeover.
"People like the parade and festival, but they want to know what's new. They want the latest, hippest and coolest," said West Hollywood Mayor John Heilman. "But how do we win over some of the people who say, 'Oh, I did that five years ago?' How do we make it appealing to somebody who went to gay pride 20 years ago and doesn't have any compelling reason at this point to come back?"
The panel suggests that if the 2-square-mile city nestled between Hollywood and Beverly Hills is to maintain its reputation as Southern California's most vibrant gay enclave, it needs to both liven up and expand the gay pride celebration.
Instead of only a weekend event, there should be a monthlong series of arts, film, cultural and social activities "that celebrate the creativity" of not just West Hollywood but all of Los Angeles, the task force decided.
Professionals need to be put in charge of the marketing and promotion of the new "Pride Month," according to the recommendation.
And the city itself needs to coordinate the renewed festival — which should include the creation and enforcement of "higher standards for participation in the parade."
Leaders of the nonprofit Christopher Street West Assn., which organizes the event, say they support the changes and have some of their own in mind, including larger floats and perhaps allowing parade-goers to participate in the march.
Named for a drag-queen-led gay liberation "rebellion" staged at the Stonewall Inn bar on New York City's Christopher Street in 1969, the group has organized and run the parade since 1970. Its president, Rodney Scott, steadfastly defends the event's track record.
"I don't think it's broken," he said of the parade. "What the City Council is saying and we're saying is, 'How do you take it to the next level?' How do we reach more people with our message? It's not about stuffing more people along the parade route. It's about reaching people."
Scott, 41, defended Paris Hilton's role in the 2005 gay pride parade, although he admits it remains controversial.
Some in West Hollywood question what qualified Hilton to be the grand marshal of an event that celebrates gay rights.
"Paris Hilton became a lightning rod for some people who asked how we could select someone like that," Scott said. "People had the impression she wasn't a good role model for lesbian, gay, bisexual and transgender people."
"We never said she was a role model," he added. "We knew her participation in the parade would bring visibility. And she did."
As they begin to tinker with the parade, Scott said it's crucial that officials don't "sanitize or censure to diminish people's creativity or the individualism of our community."
The gay pride parade draws about 300,000 people a year and is one of two big annual gay-themed events in the city. The other is the Halloween carnival and celebration.
While city leaders say the parade is losing steam, they've received complaints that the Halloween celebration is getting too wild. It attracts upward of 400,000 participants and onlookers.
Now the city plans to discuss tweaks to that event as well.
But West Hollywood leaders should tread carefully, said resident Ken Sapp Jr., a 36-year-old cameraman intern.
"No disrespect to straight people, but Halloween is like Christmas for us."
bob.pool@latimes.com