APATHY, BUDGET CUTS TO BLAME
AIDS awareness falling by the wayside
By JUN HONGO
Staff writer
The Japan Times: Thursday, Oct. 26, 2006
Chizuko Ikegami believes that spreading the word on HIV/AIDS prevention is similar to teaching children the importance of brushing their teeth; it must be restated again and again to make one understand how imperative it is.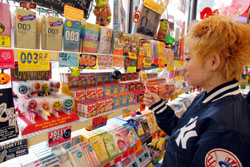 A woman examines a product at a Condomania condom shop in Harajuku in Shibuya Ward, Tokyo, on Tuesday. YOSHIAKI MIURA PHOTO
"Kids must be told repeatedly about how to protect themselves from HIV/AIDS," said the executive director of PLACE Tokyo, a community-based organization supporting people living with HIV/AIDS. "But currently there isn't sufficient education or backup from the government."
According to the Health, Labor and Welfare Ministry, 1,199 new cases of HIV/AIDS were reported in 2005, while the number of people who tested positive for HIV in the quarter between March 27 to July 2 this year reached 248.
Both figures were a record high for Japan, which remains the only industrialized country where the number of people infected with the virus is growing at a steady pace.
In Tokyo, where 417 of last year's new cases were reported, 390 came about through sexual contact.
Seventy-two percent of the people who tested positive for HIV in the city were in their 20s or 30s, while 6 percent were under 20, according to Tokyo's Bureau of Social Welfare and Public Health.
Ikegami said that 10 to 20 new clients contact her office every month to obtain information on living with HIV/AIDS, and in accordance with the national statistics, most are in their 20s to 50s, and 90 percent are males.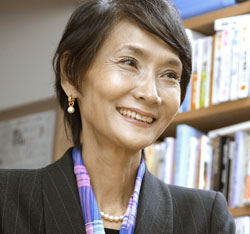 Chizuko Ikegami
"Working here, the growing number of patients with HIV/AIDS is very obvious," she said.
She blamed cuts in government spending on AIDS prevention as a major reason for the crisis.
Experts believe that the conclusion of the Green Cross Corp. scandal, which caused an outbreak of HIV/AIDS through contaminated blood products in the 1980s, resulted in a substantial reduction in AIDS prevention awareness.
Since the suit between patients and the pharmaceutical giant settled out-of-court in 1996, spending by local governments on promoting AIDS awareness has shrunk in Tokyo and many prefectures, including Osaka and Aichi.
Although those infected with HIV require at least 2 million yen a year just for medication, governments have opted not to invest in prevention.
For example, Tokyo, which had a budget of 632 million yen for AIDS awareness and prevention in 1995, only allocated 237 million yen in 2006 -- a massive 62 percent drop in the span of 11 years.
Another reason believed to be the cause for steady HIV/AIDS growth in Japan is the lack of proper sex education in schools, and some fear the situation could get worse under newly elected Prime Minister Shinzo Abe.
The conservative Abe is the head of a Liberal Democratic Party project team promoting a re-evaluation of "gender-free" education. The team claims on its Web site that radical sex education such as the use of dolls in school classes is inappropriate for children.
"I totally disagree that the use of dolls is inappropriate because it's a form of sexual education that is recognized to be efficient. To call that radical is simply unreasonable and lacks grounds," Ikegami argued.
Use of actual condoms in sex education at junior high schools is also now frowned upon, but she warns that no one will be motivated to have protected sex if the trend continues.
"When there was an outbreak of SARS, everyone was instructed to wear masks as prevention. Does it make sense not to use condoms while teaching about HIV/AIDS?" Ikegami said.
Condom makers fear that Japanese have already begun to prefer unprotected sex. Toshiaki Ishii, director of the condom manufacturers' association Nihon Condom Kogyokai, said the number of condoms produced in the country peaked in 1997 at 1.23 billion packs, but output had dropped by almost 50 percent in 2004 to 677 million.
The association analyzed whether birth control pills and the aging population contributed to the sudden drop and found that the plunge has been too sharp to attribute to declines in the sexually active population, and sales of birth control pills here have been small since their approval in 1998.
When surveys conducted by the association in an effort to halt the sales drop revealed that men didn't use condoms because they are "troublesome," "smell bad" and simply aren't "attractive," manufacturers responded by creating condoms with better smell, packaging and taste.
"We even have condoms with special tapes, which probably require 0.1 seconds to put on -- but it didn't boost sales. People are simply not using condoms," Ishii said.
He believes sex education is fundamental in preventing the spread of HIV/AIDS. However, although the association provided schools with condoms for sex education until several years ago, they have halted such programs after receiving complaints from parents claiming the condom makers were "promoting sex among children."
"We gladly help schools and teachers that ask us to provide samples and pamphlets, but other than that, there isn't much we can do in educating the children to use condoms," Ishii said.
Yorimasa Nagai of the Japanese Foundation for AIDS Prevention, a health ministry-approved organization that supports people with HIV/AIDS and works to raise awareness, also suggests that education is essential to preventing the spread of the virus.
But he says there have been schools that said using condoms in class would only promote student sex.
Nagai said that although there are approximately 12,000 people living in Japan who have tested positive for HIV or have AIDS, the disease remains a minor concern for many people because most haven't had contact with actual patients. There is also the perception that AIDS is a problem limited to other countries.
"There is no way that HIV/AIDS prevention can be taught without proper sex education and promoting prevention," Nagai said. "Enlightenment through campaigning is important, but adequate education in schools, communities and workplaces is vital as well."